FOR IMMEDIATE RELEASE
January 6, 2020
Richmond Main Street Initiative Announces New Executive Director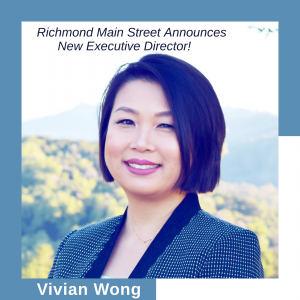 Richmond, CA – Vivian Wong, MUP, is the new Executive Director of Richmond Main Street Initiative.
Ms. Wong is passionate about community development, business technical assistance, coalition building, and development without displacement. As the new executive director of Richmond Main Street Initiative, she is excited to continue the organization's strong legacy of community-centered revitalization.
"I am looking forward to collaborating with community leaders and business partners to continue this movement to bring back Richmond's historic downtown in a way that meets the needs of our residents, businesses, and visitors," says Wong. In addition to developing relationships with downtown stakeholders, Wong plans to focus her energy on ensuring the economic vitality of Macdonald Avenue through holistic business retention and attraction strategies, activating public spaces with entertainment and art, streetscape improvements, shop local campaigns, and exploring new projects that will attract locals and visitors alike to explore and spend money Downtown.
Ms. Wong holds a Bachelor of Science in Environmental Science, Political Science, and Public Policy from the University of San Francisco and a Master of Urban Planning from the University of Washington, Seattle.
She also has 15+ years-experience in commercial corridor revitalization and program coordination. In her role as Senior Urban Planner at Chinatown Community Development Center, she managed business development programs, Noodle Fest (winner Best of the Bay 2010 for Best Neighborhood Canoodling), Art in Storefronts, transportation and streetscape improvement projects, and created a community benefits agreement based on two years of stakeholder interviews. At the San Pablo Economic Development Corporation, Wong coordinated a suite of technical assistance programs for small businesses, successful shop local and branding campaigns, workforce development programs, and developed place-based economic development strategies.
Wong is a proud Richmond resident, graphic design enthusiast, and co-owner of a home-based dog training and boarding business with her husband.
###
Richmond Main Street Initiative is a community based nonprofit dedicated to revitalizing historic downtown Richmond. RMSI partners with the City of Richmond, merchants, and residents to develop and improve downtown Richmond as a pedestrian-friendly urban village that offers products, services, arts and entertainment that reflect the community's rich and diverse heritage. The DRPBID district encompasses the core of the Historic Downtown area along the Macdonald Avenue corridor bounded approximately by 6th Street, Barrett Avenue, Bissell Avenue, and 16th Street. For more information and to read about the RMSI's events and programs, please visit www.richmondmainstreet.org.
CONTACT
Vivian Wong
P: (510) 236-4049     F: (510) 236-4052
Email: director@richmondmainstreet.org
Web: www.richmondmainstreet.org
1600 Nevin Plaza, Richmond, Ca 94801