Richmond Main Street Initiative is dedicated to strengthening Downtown Richmond's economic base through business retention, targeted recruitment, social entrepreneurship and financing, trend monitoring and education, and new equitable development.
We actively partner with the local business community, anchor institutions, and service providers to provide a wide range of technical assistance services to small businesses and emerging entrepreneurs. Whether you're the owner of an established enterprise who wants to revamp your business practices or you're an entrepreneur ready to take the next step, Richmond Main Street is here to help.
Our Current Small Business Assistance Calendar
Small Business Planning Series Summer 2019
Dates & Topics: 
Thursday, August 15: First Steps for Successful Start-Ups  REGISTER
Learn about the attributes of a successful entrepreneur, invaluable sources of information for the nuts and bolts of starting your business including licenses and permits, the business planning process and key information sources for developing your business plan, how to take advantage of the Small Business Development Center's free and low cost services for your new business, and more! Join us to learn about the key success factors every new business owner needs before starting their venture!
Thursday, September 12: Jumpstart Your Business Action Planning – Part 1  REGISTER
Thursday, September 26: Jumpstart Your Business Action Planning – Part 2  REGISTER
This 2-part, hands-on workshop series is designed to help participants define, prioritize, and achieve their business goals. Participants will learn how to articulate a mission statement, create a sustainable vision statement, and leave with clear action items to develop a strategic plan and move their business forward. 
Time: 6pm – 9pm
Location: 1600 Nevin Plaza, Richmond, CA 94801*
*Make sure you can find us: learn more about our location
Small Business Advisor: Vaneese Johnson
Cost: Free!

Hosted by: Richmond Main Street Initiative in partnership with Contra Costa Small Business Development Center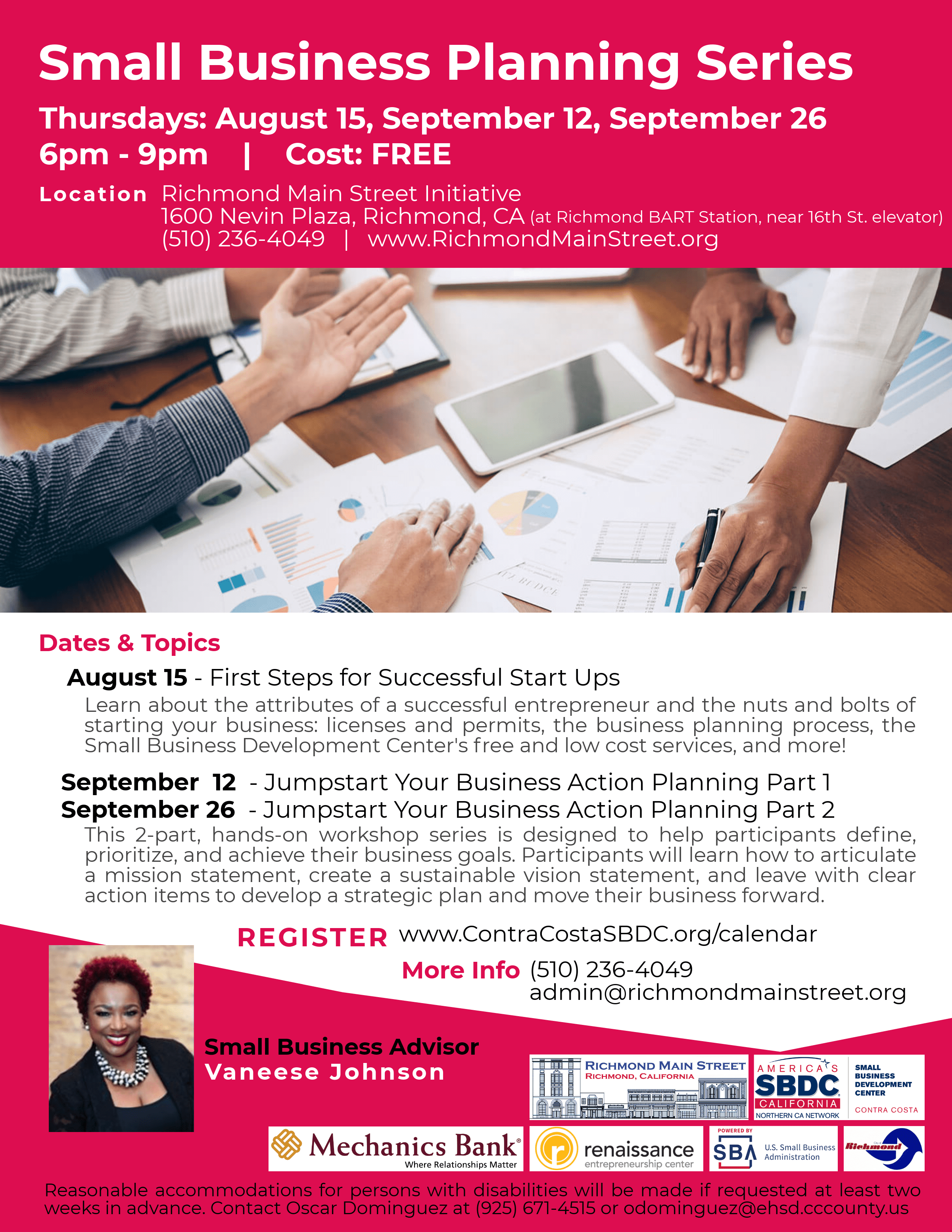 Richmond Business Bites is a free workshop series offered throughout the year featuring panelists of small business owners, advisors, City of Richmond representatives, and others offering their expertise on a range of entrepreneurship topics. Our Get Certified! For Contracts with Anchor Institutions series is a hands-on course designed to get local, small, and minority-owned businesses certified and ready for doing business with anchor institutions.
In 2018 we hosted two Get Certified! For Contracts with Anchor Institutions workshop. We hope to offer these session again in 2019. Check out the "Small Business Certifications & Procurement Resources" section on our Business Resources page for copies of the handouts, materials, and slide decks from this workshop, plus links to websites and portals to certify your business. Join our Small Business Mailer to get updates on this workshop and other resources offered by our partners.
Want to start a business? Own a business but need some help?
Currently, Richmond Main Street is not able to offer ongoing, direct business services. However, we have very strong relationships and partnerships with a variety of service providers in the area. Whether you need help developing or revising your business plan, acquiring financing, finding a storefront space, or accessing other business resources, we are here to help! Tell us a little bit about your business needs and we will happily connect you with the resources you need.