Richmond Main Street Initiative is dedicated to strengthening Downtown Richmond's economic base through business retention, targeted recruitment, social entrepreneurship and financing, trend monitoring and education, and new equitable development.
We actively partner with the local business community, anchor institutions, and service providers to provide a wide range of technical assistance services to small businesses and emerging entrepreneurs. Whether you're the owner of an established enterprise who wants to revamp your business practices or you're an entrepreneur ready to take the next step, Richmond Main Street is here to help.
Our Current Small Business Workshop Calendar
Free E-Commerce Site Support & Card Readers with Square
More than ever before, e-commerce, easy online shopping, and catering to the needs of shoppers in the COVID19 climate is vitally important for our small, independent businesses.
A recent Google survey of holiday season shoppers revealed that:
75% of shoppers

 

will shop online more than they did in previous seasons
66% of shoppers plan to shop more at local small businesses
47% of shoppers plan to buy online + use store pickup options
70% of shoppers intend to plan their shopping earlier

 

to avoid crowds
If you aren't online, you are missing out. Take action now to get ready for the holiday shopping season AND invest in your business' future! Scroll down for links to on-demand webinar tutorials, sign-up for one-on-one support, and request a free Square card reader. Keep scrolling for more e-commerce and marketing resources.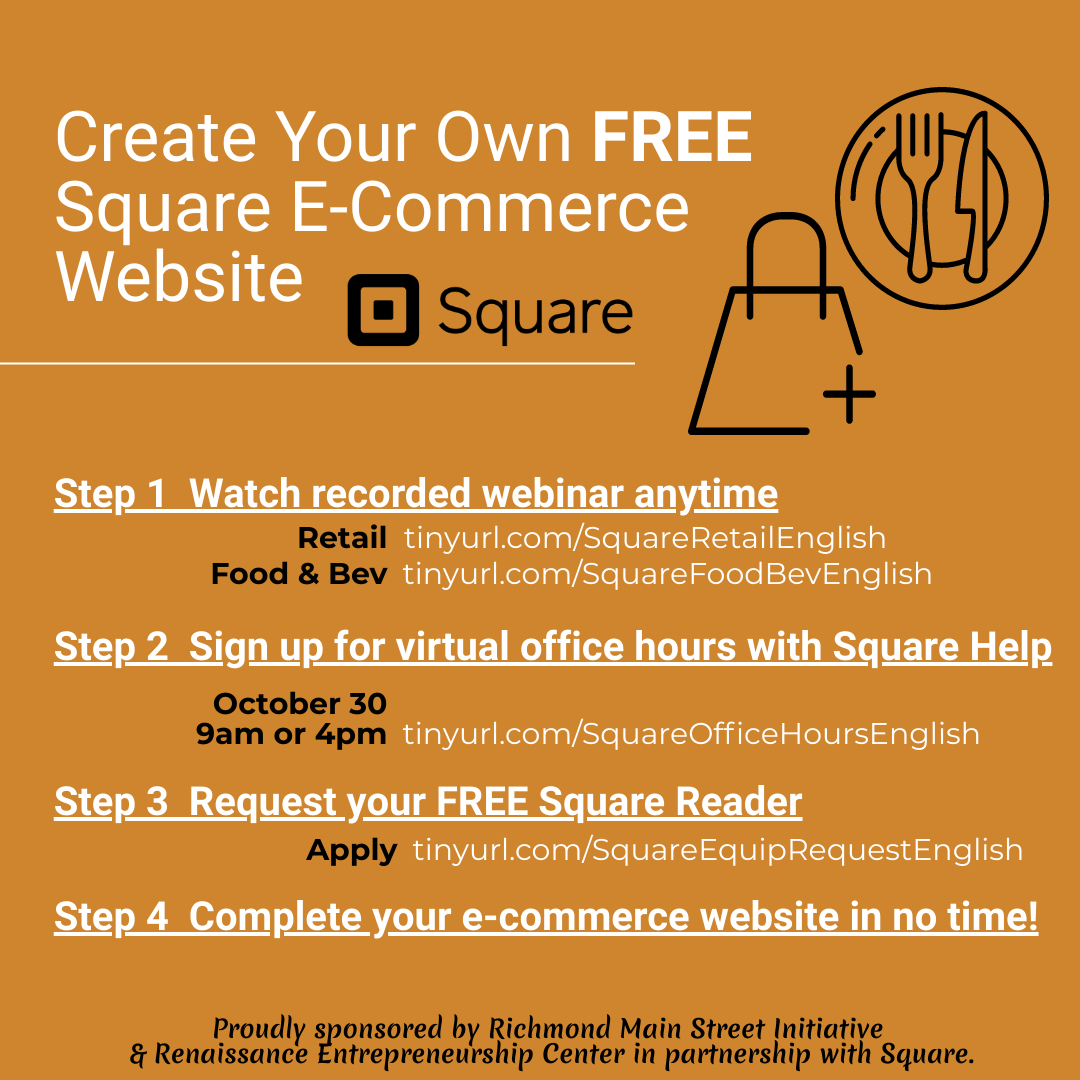 Step 1: Watch recorded webinar ANYTIME (but before your virtual office hours appointment)
Step 2: Sign up for virtual office hours with Square Online Help, to get all your questions answered
Office Hours: October 30, 9am or 4pm Register
Step 3: Request a FREE Square Reader
Step 4: Complete your e-commerce website in no time!
Need Help? Have Questions? Contact Alicia, outreach@richmondmainstreet.org
Note: Steps 2 is optional, but highly recommended if you are new to e-commerce. Step 3 is optional, but highly recommended if you do not have a Square reader or need a new one.
Proudly sponsored by Richmond Main Street & Renaissance Entrepreneurship Center in partnership with Square.
Square is also providing free credit card processing equipment to participants!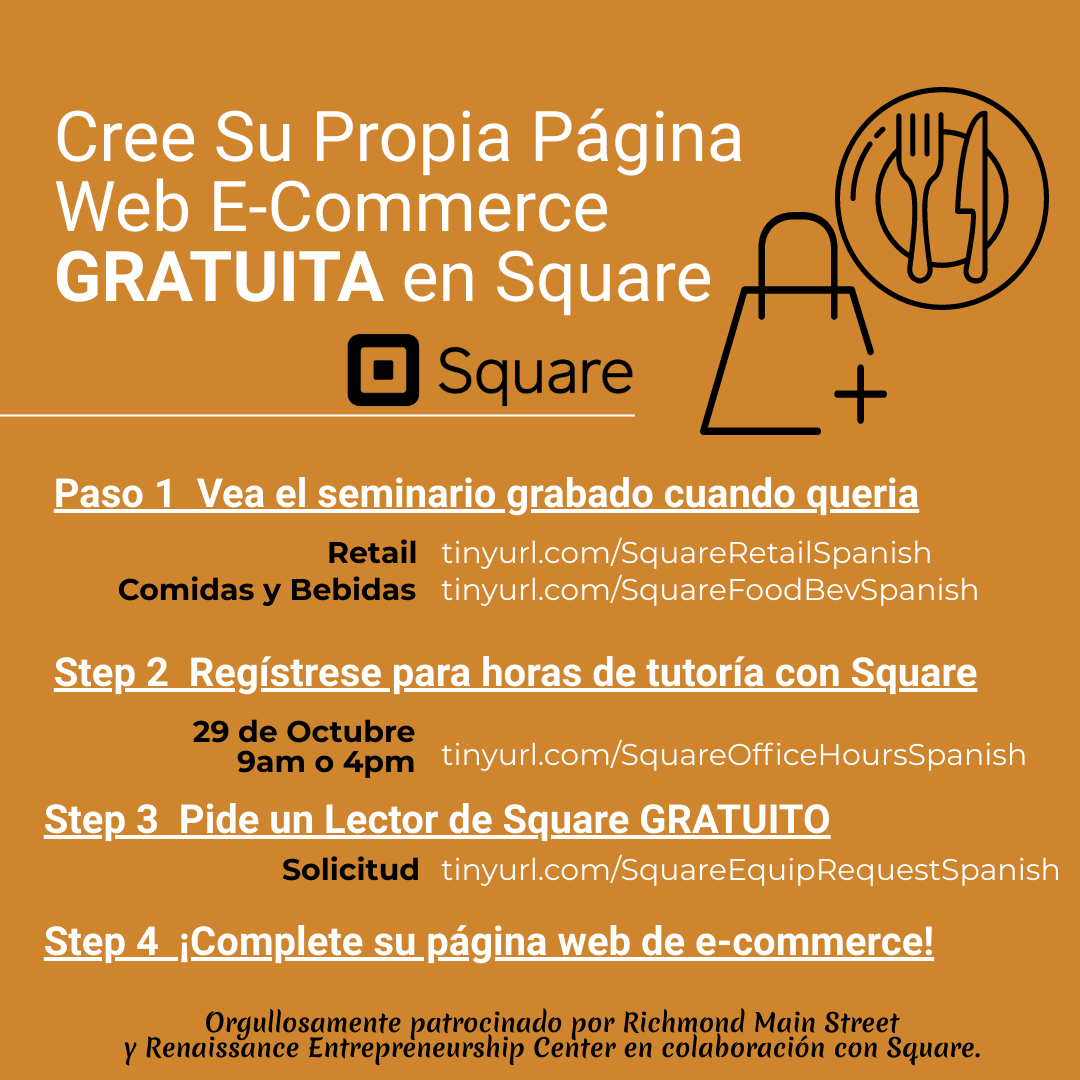 Paso 1: Vea el seminario grabado cuando quiera (pero andes de participar en la tutoría)
Paso 2: Regístrese para una hora de tutoría virtual con Square para responder todas sus preguntas
Paso 3: Pide un Lector de Square GRATUITO
Paso 4: ¡Complete su pàgina web de E-commerce enseguida!
¿Nececite Ayuda? ¿Tenga Preguntas? Contacte a Lucero, ldeleon@rencenter.org 
Punto Importante: Pasos 2 y 4 no son requisitos, ¡pero se recomiendas altamente para un impacto máximo!
Orgullosamente patrocinado por Richmond Main Street y Renaissance Entrepreneurship Center en colaboración con Square.
¡Además Square está proveyendo procesadores para tarjetas de crédito gratuito! 
Shout out to these two small businesses that have launched their e-commerce sites through this program. Click their logos to see their Square Online Sites!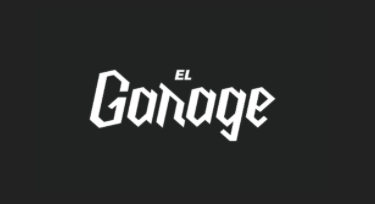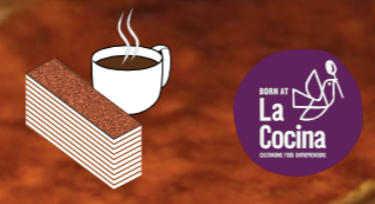 Felicitaciones a estos dos negocios pequeños que han creado sus páginas e-commerce por este programa. ¡Haga clic en los logos a ver sus páginas!
More E-Commerce Resources
Access to Capital & Debt Restructuring Workshop
*Recording, Slides & Resources Available On-Demand!*
Workshop Packet: Whether you registered and tuned in (or not) or you didn't get a chance to register, you're in luck: we recorded the workshop and have made it available for on-demand viewing. Also available are the presentation slides and links to resources mentioned during the workshop. 
About: On August 27, Richmond Main Street and a panel of experts offered a 2-for-1 small business financial health workshop: First, hear from local banks and community lenders about flexible, affordable working capital loans available and how to get your application approved. Then, learn about debt restructuring, bankruptcy options, and pro bono legal resources. 
Note: If you completed the RSVP form for this workshop, the link to the workshop packet has been emailed to you and you do not need to complete the access form. Please check your inbox for a message from us. If you are unable to locate this email, contact Alicia at outreach@richmondmainstreet.org.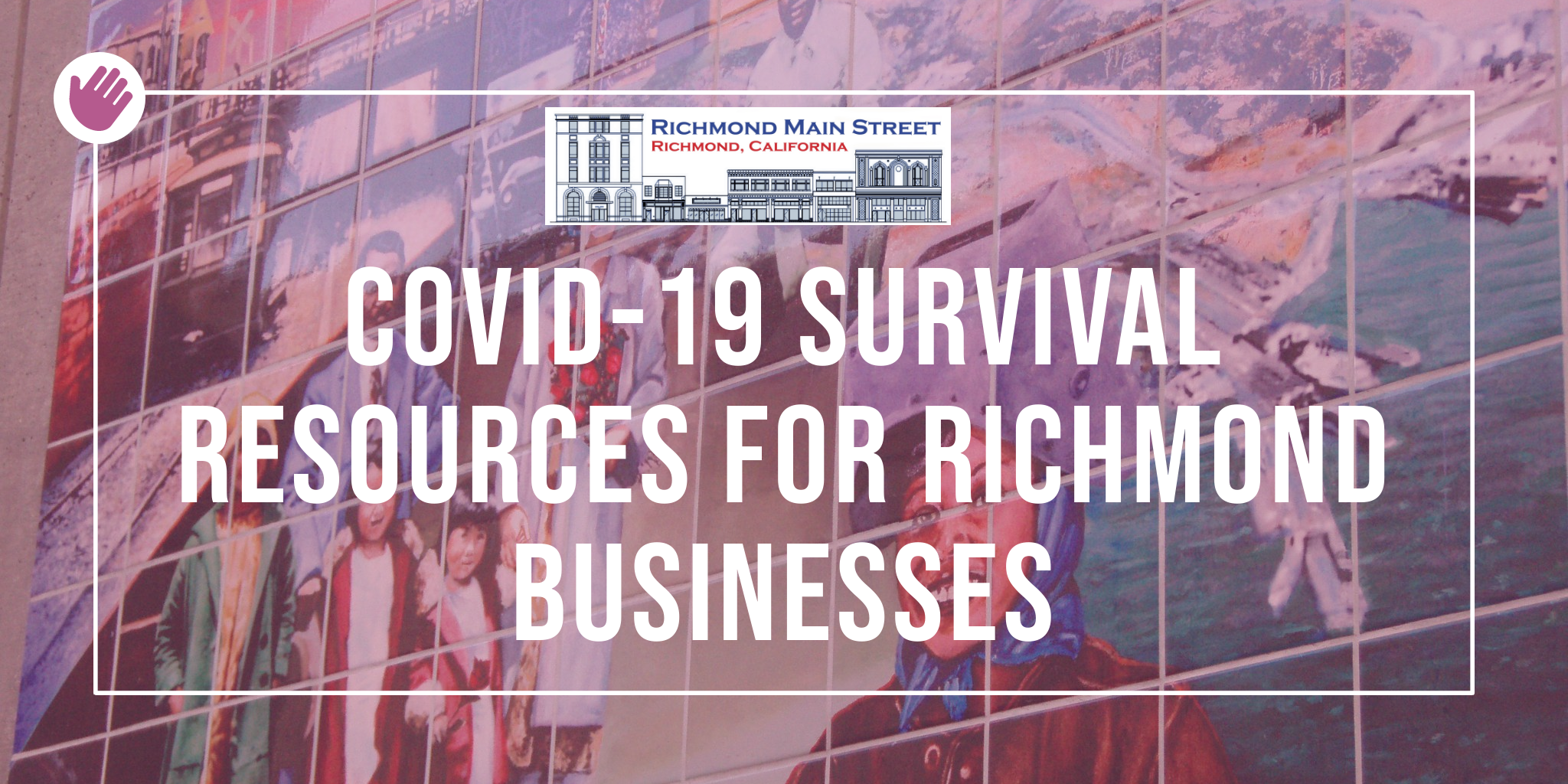 Richmond Main Street Initiative is dedicated to strengthening Downtown Richmond's economic base by hosting workshops and events for our small business and entrepreneur community. Big thanks to everyone who completed our 2020 Small Business Workshop survey. We greatly appreciate your feedback and we are working hard to plan a workshop calendar to fit your business needs.
Due to current coronavirus COVID19 pandemic, and per the current shelter in place guidelines, our office is closed until further notice, with our staff working remotely and available during our normal business hours of Monday – Friday, 9am – 5pm. The best way to reach us is via email or our website's
contact
form. Kindly allow up to 5 business days for a response.
Our Work & Commitment Right Now
Monitoring the situation closely and adjusting our work to meet the needs of our community
Actively exploring web-based solutions to hosting meetings and workshops
Supporting our local businesses by engaging with our Downtown merchants and community partners to better understand the needs of our business community, promoting those that remain open, and connecting businesses with resources through our Community Resource Directory, weekly Main Street News & Small Business Mailer, and social media accounts Facebook, Twitter, Instagram, LinkedIn
Standing up for businesses on Macdonald Avenue and beyond through our membership in the California Main Street Alliance, collaboration with community partners and City departments, and contacting our elected representatives
Want to start a business? Need help with an existing business?
 Currently, our capacity to offer ongoing, direct business assistance is limited. However, we have very strong relationships and partnerships with a variety of service providers in the area. Whether you need help developing or revising your business plan, acquiring financing, finding a storefront space, or accessing other business resources, we are here to help! Tell us a little bit about your business needs and we will happily connect you with the resources you need.
Thank you to our economic vitality sponsors and partners