Richmond Main Street Initiative is dedicated to strengthening Downtown Richmond's economic base through business retention, targeted recruitment, social entrepreneurship and financing, trend monitoring and education, and new equitable development.
We actively partner with the local business community, anchor institutions, and service providers to provide a wide range of technical assistance services to small businesses and emerging entrepreneurs. Whether you're the owner of an established enterprise who wants to revamp your business practices or you're an entrepreneur ready to take the next step, Richmond Main Street is here to help.
Our Current Small Business Assistance Programs
About 
Richmond Business Bites is a free workshop series offered throughout the year featuring panelists of small business owners, advisors, City of Richmond representatives, and others offering their expertise on a range of entrepreneurship topics. Our Get Certified! For Contracts with Anchor Institutions series is a hands-on course designed to get local, small, and minority-owned businesses certified and ready for doing business with anchor institutions.
Why Get Certified?
Federal, state, and local governments offer businesses opportunities to sell billions of dollars worth of products and services. Many government agencies require that some percentage of the procurements be set aside for small businesses. Certifying your business can help you successfully compete for government contracts.
Before you can begin bidding for contacts with the government, your business must obtain the proper certifications. Small business certifications document a special capability or status that will help you compete in the marketplace and take advantage of business opportunities through anchor institutions, such as State of California, Federal agencies, UC Berkeley, City of Richmond, and others.
Get Certified! For Contracts with Anchor Institutions
Want to grow your business? Get certified! Small business certifications will put your business "on the map" for a wide range of businesses, agencies, and entities looking to procure products and services.
When: Most recent workshop was August 20, 2018. We hope to host another one in early 2019.
Scroll down for links to the presentations, handouts, and resources from the workshop.  Join our Small Business Mailer to get updates on this workshop and other resources offered by our partners.
Who: All businesses welcome! Local, small, minority, women, and/or veteran owned businesses welcome and encouraged to participate.
Cost: Free
Invaluable Benefits
Presentations by Small Business Development Pros
Hands-on Help from Certification Experts
Networking
Breakfast & Lunch Included
Morning Session
Small Business Certification Tips & Benefits
UC Berkeley Law Practicum Legal Checklist for Entrepreneurs
Afternoon Session
Hands-On Certification Workshops: State of California and SAM.gov ***REQUIRED: Review the Get Certified Workshop Resource Guide to come prepared to create these accounts and certify your business***
Capacity: 35 *waitlist and walk-ins will be allowed as space permits*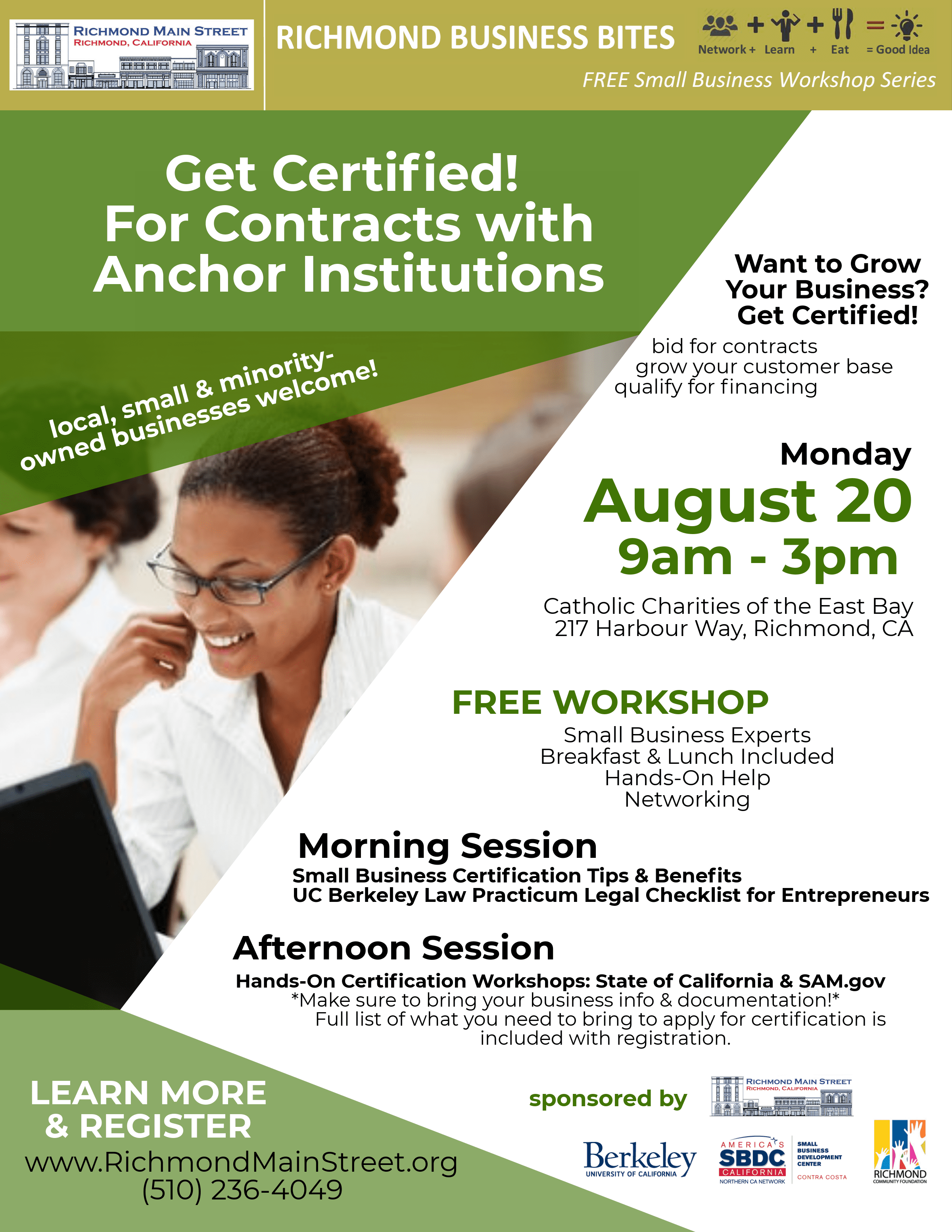 For More Information
Call (510) 236-4049
Email admin@richmondmainstreet.org
Sponsored by: UC Berkeley Partnership Grant. Hosted by Richmond Main Street Initiative with generous support from Contra Costa SBDC, UC Berkeley Law's New Business Practicum, State of California Department of General Services, Small Business Administration, and Richmond Community Foundation.
Resources & Materials
Get Prepared to Get Certified
State of California Department of General Services – Cal eProcure
Federal Government – SAM.gov
UC Berkeley Law's New Business Practicum –  BerkeleyLaw
Looking for guidance and help about business planning and financial services? Check out our Business Resources page.
Want to start a business? Own a business but need some help?
Currently, Richmond Main Street is not able to offer ongoing, direct business services. However, we have very strong relationships and partnerships with a variety of service providers in the area. Whether you need help developing or revising your business plan, acquiring financing, finding a storefront space, or accessing other business resources, we are here to help! Tell us a little bit about your business needs and we will happily connect you with the resources you need.