Support our Work Right Now
Right now we are working on a number of exciting, high impact initiatives directly serving our residents and businesses. Join our efforts now!
Each week we, in collaboration with community partners and volunteers, we are distributing thousands of high quality, nutricious meals to residents. The meals are made possible through a grant from World Central Kitchen and Eat Learn Play Foundation.
Donate so we can Purchase Supplies!
PPE to support volunteers
Bags to support meal recipients
How
Click on our PayPal donate button, Enter your amount, and Select "COVID19 Response"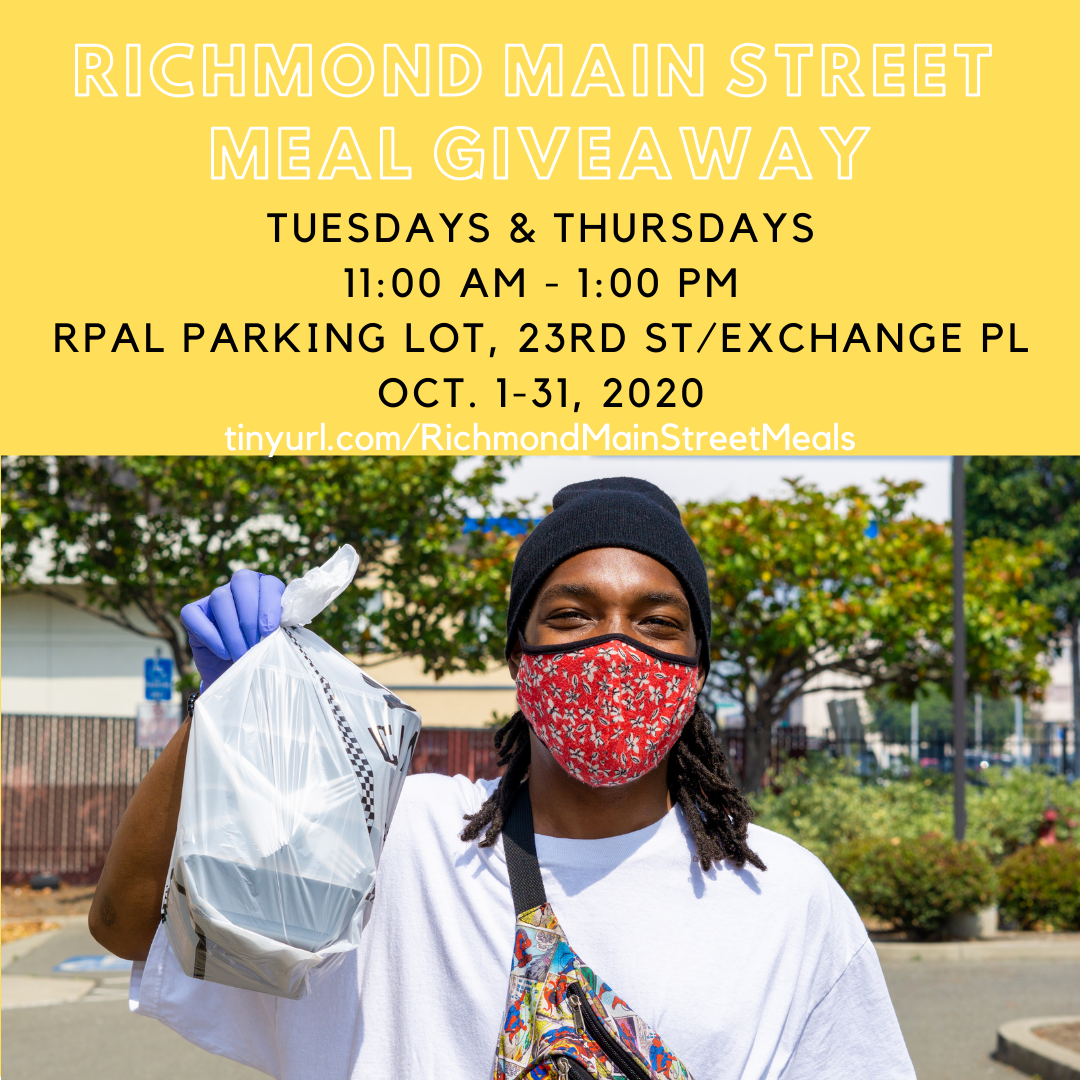 Join the Movement: Invest in Downtown Richmond
Via Credit/Debit Card or Bank Account
Monthly or one-time Donation
Check/Money Order/Cashier's Check
Payable to: Richmond Main Street Initiative
Mail to: 1600 Nevin Plaza
Richmond, CA 94801
We are revitalizing Historic Downtown Richmond. Since 2001, we have brought together the community and the Main Street Approach to develop and implement equitable economic development, beautification, arts and entertainment, and wellness programs.
Our Work & Commitment Right Now
Due to the COVID19 pandemic, our 2020 work plan has adjusted to meet the immediate needs of our businesses and residents. We are monitoring the situation closely and following County health orders, actively exploring web-based solutions to host meetings and workshops, supporting our local businesses through a variety of programs, and sharing important information about community services and resources via our digital platforms.
About Celebrate Downtown 2020
In order to ensure the health and safety of everyone who participates in our Celebrate Downtown events — guests, residents, visitors, performers, vendors, businesses, volunteers, and staff — we have made the difficult decision to cancel all in-person summer events. 
As we continue to maintain our Community Resource Directory, support our local businesses survive and build resilience, ensure a complete count for Census 2020, and keep our Neighborhood Ambassador program running, we are also actively exploring virtual and self-guided events. Some ideas that we are currently working on are: virtual Spirit & Soul Festival in September, Art In Windows exhibition featuring works of this time, visit & shop local campaigns, and low-contact beautification activities.
Help Downtown Survive & Come Out Stronger
Have a great virtual or social distancing approved event idea? Tell us!
Looking to volunteer your time and expertise? Join us!
Want to sponsor an event, program, or invest in our mission? Contact us!
Love your Downtown businesses, local art, clean streets, and want more? Sustain us!
We thank you for everything that you do to make Richmond the city of Pride and Purpose. Please continue to stay safe, shop local, and stay engaged.
Join the Movement, Invest in Downtown Richmond:
Become a Friend of Main Street
Monthly or One-Time Donation
via credit/debit card or bank account
Check/Money Order/Cashier's Check
Payable to: Richmond Main Street Initiative
Mail to: 1600 Nevin Plaza
Richmond, CA 94801
Combined Federal Campaign
If you are a federal, county, or city employee, postal worker, or member of the US military, you can give to Richmond Main Street Initiative through the Combined Federal Campaign (CFC). Our CFC number is 76729.
Federal employees, postal workers, or members of the US military can request a CFC pledge form by contacting the local CFC office. Visit the U.S. Office of Personnel Management website to learn more.
Municipal and county workers should check with the payroll office for workplace giving options to support Richmond Main Street Initiative. City of Richmond employees can also find us in their workplace giving campaign brochure.
America's Best Local Charities
Making your donation through our ABLC account gives you another way to donate and make it count even more.
Here's how:
Make a one time gift
Set-up a recurring donation
Easily request a match by your employer
Of course we encourage you to shop Downtown, but if you shop online through AmazonSmile, you can also give back to Richmond Main Street…and it won't cost you a thing! Here's how:
Sign into your Amazon account and select Richmond Main Street as your preferred charitable organization.
Every time you shop, make sure you login and check-out via smile.amazon.com. This way .05% of the price of your eligible AmazonSmile purchases will be donated to Richmond Main Street.
Richmond Main Street Initiative, Inc. is a 501(c)(3) corporation.
Tax ID#: 68-0481132  |  CFC #: 76729  |  Donations are tax deductible to the fullest extend by law.