Downtown Richmond's Premiere Event
Spirit & Soul Festival
A true celebration of Downtown Richmond. Spirit & Soul Festival transforms historic Main Street into an outdoor bazaar filled with food and artisan vendors, live music from two stages, dancing in the street, a beverage pavilion with VIP seating, and youth zone.
10th annual Spirit & Soul Festival – Salute to Soul
Saturday, September 15, 2018
1pm – 5pm
Macdonald Avenue, Harbour Way – 13th Street
All Ages & Family-Friendly, Free Admission
Live Music on 2 Stages with a legendary line-up on the main stage *Official announcement coming soon*
Food & Artisan Vendors
Beverage Pavilion & VIP Experience
Resource Booths & Youth Zone
Giveaways, Dancing on Main Street, and more!
Main Stage
Salute to Soul
Vendors
Informational, Commercial Business, Retail/Artisan, and Food booth spaces available.
More info & registration coming soon!
Volunteer
Help us bring this event to life! From set-up to clean-up, there's something for everyone…and it's a lot of fun.
More info and sign-up coming soon!
Join us in our Salute to Soul!
The annual Spirit & Soul Festival—our grand finale for Celebrate Downtown—is just around the corner and we are planning something truly special: a Salute to Soul tribute lineup to commemorate the festival's 10th anniversary! You do not want to miss an afternoon filled with legendary performances, great food and beverages, shopping, and dancing on Macdonald Avenue. We invite you to save the date for dancing on Main Street and to send a message of caring and support for local arts, culture, and economic development by supporting Spirit & Soul Festival today!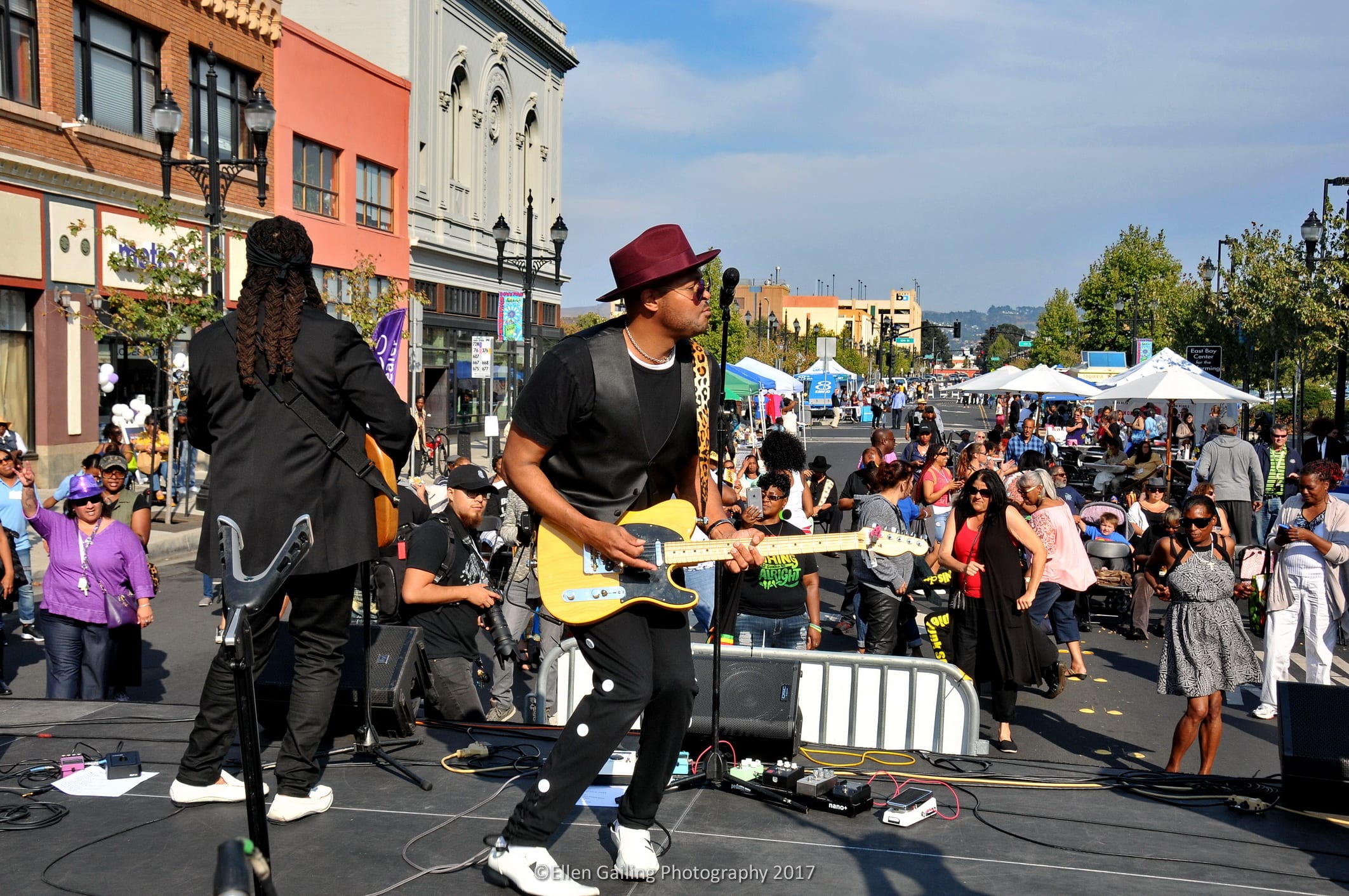 Go Digital
donate securely through PayPal
Go Old School
Check/Money Order/Cashier's Check
Payable to: Richmond Main Street Initiative
Mail to: 1015 Nevin Avenue, Suite 105, Richmond, CA 94801
Make sure to also send completed your Sponsorship Opportunity form (pg.2)
Thank You to our Sponsors
Interested in learning more or getting involved?
9th annual Spirit & Soul Festival
September 16, 2017 was an INCREDIBLE day in Downtown Richmond! We danced on Main Street, ate delicious food, enjoyed refreshing beverages, created art, made friends, and honored our Downtown Champions. Huge thanks to everyone who came out. Extra special thanks to our sponsors, community partners, vendors, downtown merchants, and volunteers!
Together we hosted our biggest Spirit & Soul Festival to date:
1200+ visitors of all ages
11 local bands & performers on 2 stages
1 super fun youth zone featuring lawn chess, sidewalk chalk, and mural painting
31 Food, artisan & interactive info booth vendors
Beverage pavilion serving up beer, wine & Main Street margaritas
8 Individuals honored as Downtown Champions
35 volunteers contributed 140+ hours of service