Healthy eating & active living in Downtown Richmond
Is a fun annual summer event all about health and wellness. This free community event takes place in the Community Green Space park located at the corner of Harbour Way and Macdonald Avenue. Richmond Main Street collaborates with local community groups and nonprofits, caterers, and businesses to provide delicious healthy food samples, recipes, cookbooks, fresh produce giveaways, educational and fun activities for kids, and access to information about living a healthier lifestyle.
"I am so impressed. There is a wealth of information available. New foods to sample."
"Es muy bueno para saber que comer y hacer ejercicio para estar mejor y saludable."
9th annual Healthy Village Festival
Saturday, June 23, 2018
10am – 1pm
Community Green Space
Harbour Way & Macdonald Avenue
Family-friendly. Free Admission. All are Welcome!
Health Tips & Resources
Fitness Breaks – ZUMBA!
Pop-up Farm
Music – Tatsumaki Taiko – 10:30am
Downtown History Hike with Karen Buchanan – 11am
Info Booths
Arts & Crafts
Lawn Chess
Food
Giveaways & Prizes
Hang out with Richmond Fire Fighters!
& More!
Interested in learning more or getting involved?
Keep scrolling or contact us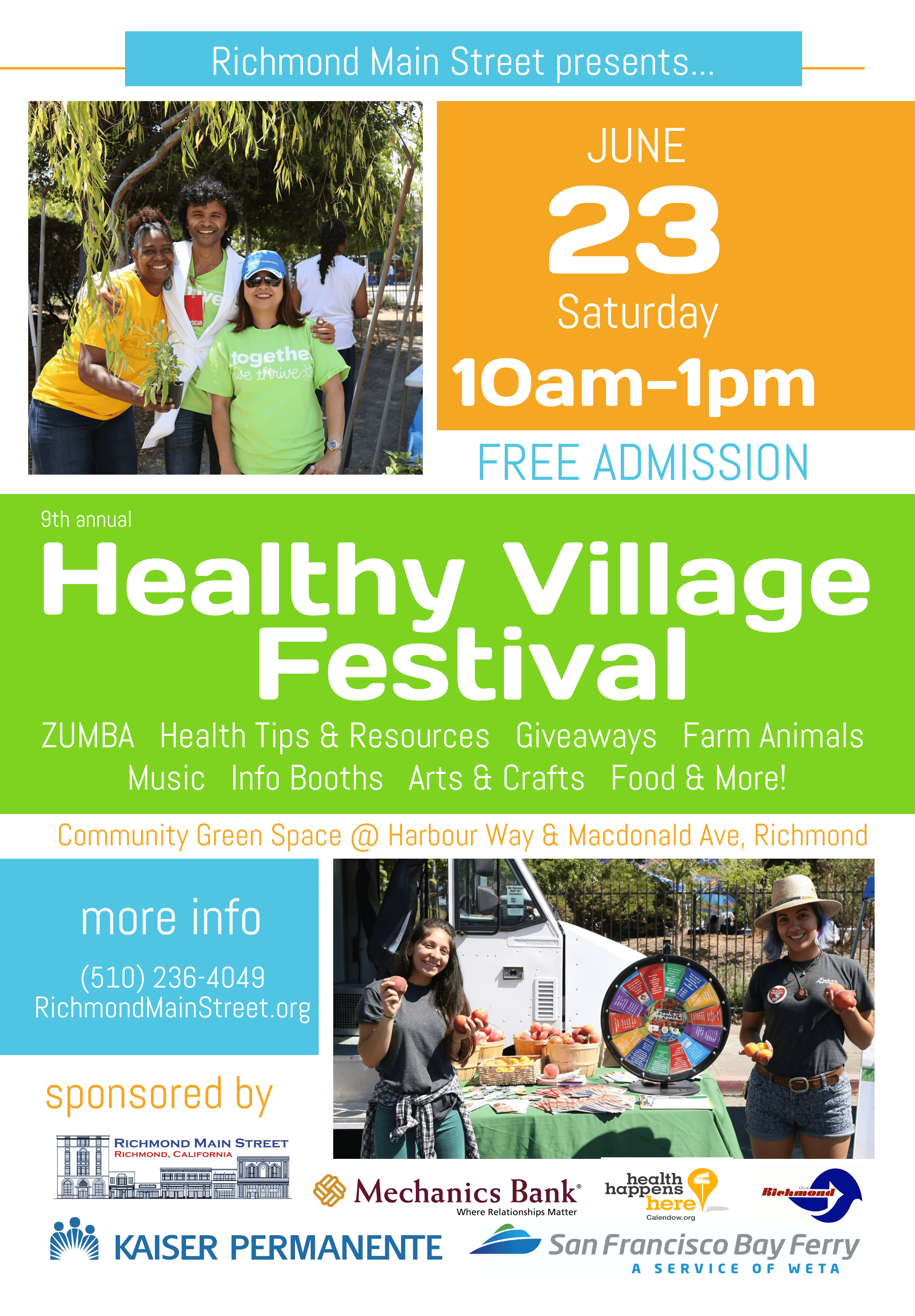 Vendors
Huge thanks to 25 resource, artisan & food vendors!
Learn more about booth spaces at this event: Check out the vendor info packet. Get notifications about future vendor opportunities:
Volunteer
This year 19 individuals helped us bring this event to life!
Be the first to know about next year's Healthy Village Festival event and other volunteer opportunities:
Thank You to Our Healthy Village Festival 2018 Sponsors!
Interested in learning more or getting involved?