On November 30: Shop Local, Shop Small, Shop Downtown Richmond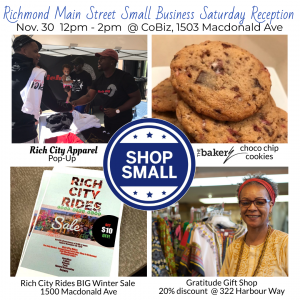 Check out our Small Business Saturday Reception
12pm-2pm @ CoBiz Richmond, 1503 Macdonald Ave, Suite A
FREE #ShopLocal swag, shopping bags & goodies
Rich City Apparel pop-up shop
The BakerE – free fresh baked cookies & launch of their Kiva loan backed by Richmond Main Street
Pick up your Downtown Richmond Small Business Saturday shopping guide
Music, Community & More!
Shop, Dine & Pamper
Rich City Rides Bike Shop – 10%-40% discounts
Gratitude Gift Shop – 20% discount
Hecticrew, Hacienda Grill, San Francisco Pizza, Butterfly Nails, T-Mobile & more!
About Small Business Saturday
Richmond Main Street is proud to be a Neighborhood Champion for Downtown Richmond! Join us in celebrating the 10th Annual Small Business Saturday on Nov 30 by supporting the local businesses we all love.
Why #ShopSmall? Small and independently owned businesses are the heart of our community. They are owned and operated by locals, provide jobs for residents, offer unique products and services, and give back to the community. By shopping small you support the local economy and get great gifts! *win-win!*