FOR IMMEDIATE RELEASE
July 16. 2019
WHAT: 18th annual Music on the Main Summer Concert Series
WHEN: Wednesday, July 24 & August 28, 5pm – 7:30pm
WHERE:  Parking lot at Marina Way and Macdonald Avenue, Downtown Richmond
FEATURING: Andre Thierry, BeaufunK with Michael Jeffries, SAMBAFUNK!, and GTS Band
Richmond Main Street Continues Celebrate Downtown & Kicks Off a "Salute to Soul 2.0"
with 18th annual Music on the Main Summer Concerts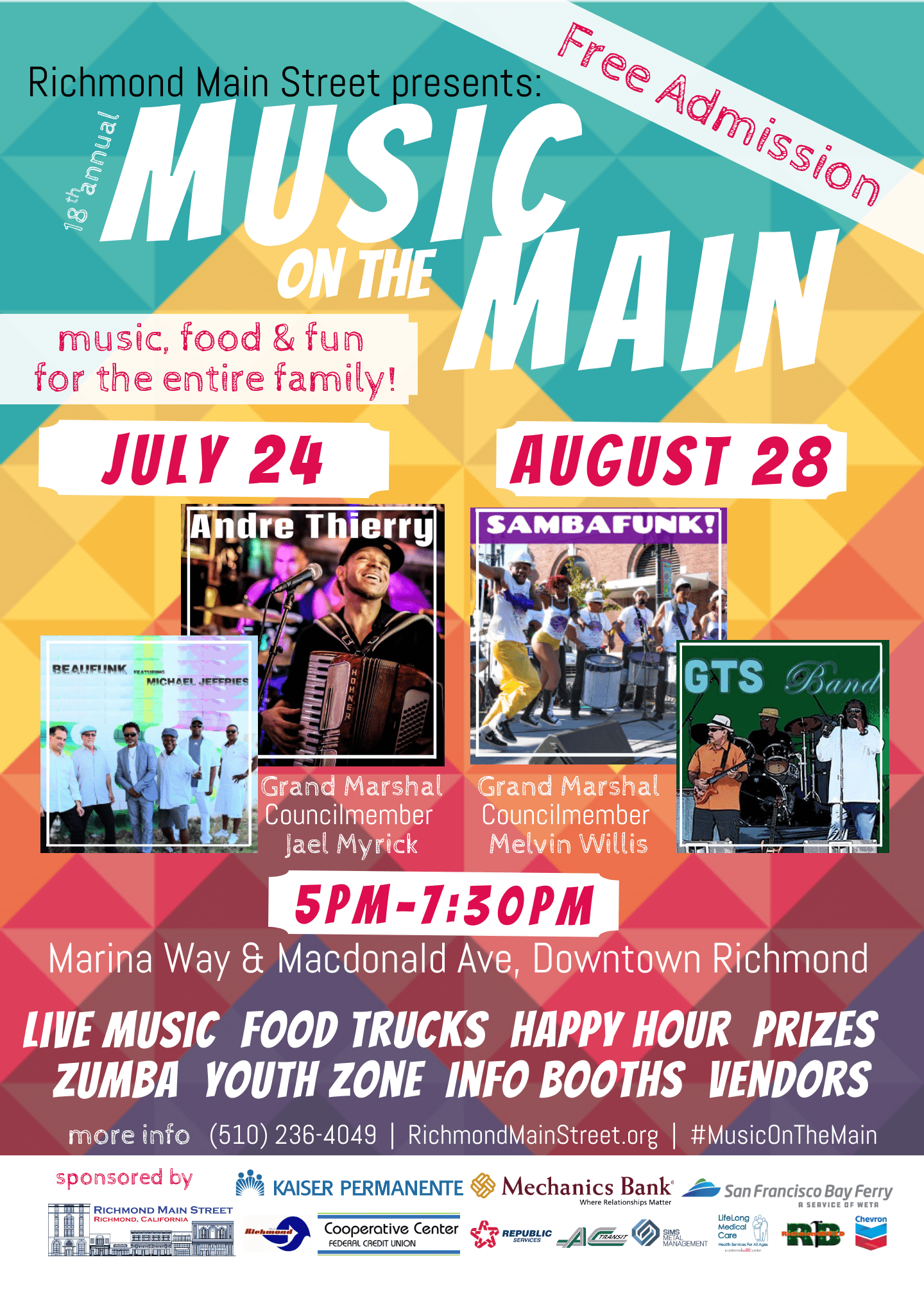 Richmond, CA—Downtown Richmond is set to come alive with soulful sounds of R&B, Funk, and Zydeco at the 18th annual Music on the Main summer concert series on Wednesdays, July 24 and August 28 from 5pm – 7:30pm.
Music on the Main, produced by Richmond Main Street Initiative (RMSI), is the organization's longest running community event, bringing together a diverse crowd people from Richmond and surrounding communities in the heart of Downtown Richmond.
RMSI invites everyone to Downtown to enjoy music, food, and fun for the entire family!
The series kicks off on July 24th with spirited music performances by the Richmond's own Zydeco King Andre Thierry bringing fresh accordion soul rhythms that always keep the crowd dancing and feeling good. Also taking the stage is the Bay Area's premiere Soul and R&B band, BeaufunK with Michael Jeffries – sure to serenade the crowd with classics that deliver a powerful Funk punch and will have everyone singing and dancing in the street.  The celebration continues on August 28th with a Carnival Explosion of African-Brazilian rhythms and African Diaspora cultural fusion courtesy of SAMBAFUNK! and local favorite GTS Band, serving up authentic Latin Funk and Soul.
Both concerts will also feature a beverage booth serving up refreshing Main Street Margaritas and hometown brews by East Brother Beer Company (proceeds of sales benefitting RMSI), a diverse array of local artisan and food trucks offering unique items and delicious eats, informational booths, interactive activities, youth zone, free book faire, giveaways, prizes, and more.
For the first time in the event series' history, Music on the Main will also feature Grand Marshals: Richmond Councilmembers Jael Myrick on July 24 and Melvin Willis on August 28.
Admission is Free. All are welcome. The event is conveniently located in the parking lot at Marina Way and Macdonald Avenue, just 1 block from the Richmond Transit Station, home to BART, Amtrak, and AC Transit. For more information, including stage line-up, directions, and ways to participate, visit www.RichmondMainStreet.org.
Music on the Main is sponsored by  Kaiser Permanente, Mechanics Bank, San Francisco Bay Ferry, Cooperative Federal Credit Union, LifeLong Medical Care, AC Transit, Republic Services, Chevron Richmond, Richmond Build, East Brother Beer Company, and City of Richmond. Additional support comes from volunteers and the Downtown Richmond Property and Business Improvement District (DRPBID).
Resources & Materials:    Flyer |  Webpage  |   Volunteer Sign-Up  |  Press Release (PDF)
Celebrate Downtown 2019 continues with:
11th annual Spirit & Soul Festival – A Salute to Soul 2.0
When: Saturday, September 21 | 1pm – 5pm
Where: Macdonald Avenue from Harbour Way – 13th Street
Main Stage: Pride & Joy, Top Shelf , Nicole "Buttah-Buttafly"
12th Street Stage: RPAL Music Program students, The Vocal Revolution, El Gaucho Dance Company, and more
###
CONTACT
Amanda Elliott
P: (510) 236-4049     F: (510) 236-4052
Email: aelliott@richmondmainstreet.org    Web: www.richmondmainstreet.org
1600 Nevin Plaza, Richmond, Ca 94801