Congressman Mark DeSaulnier (CA-11) announced via press release on February 12, 2019, that he will host a ceremony to officially rename the Richmond Main Post Office in honor of Harold D. McCraw, Sr. The ceremony will be held in conjunction with the United States Post Office and will feature remarks by Mr. McCraw's family and local leaders. A plaque honoring Mr. McCraw's 45 years of services, including time as Richmond Postmaster. This is a tremendous step forward in honoring Mr. McCraw Sr., as a public servant and community leader, and preserving the post office as a historic site. We offer tremendous thanks to Representative DeSaulnier and his team for their vision, perseverance, and dedication in this effort.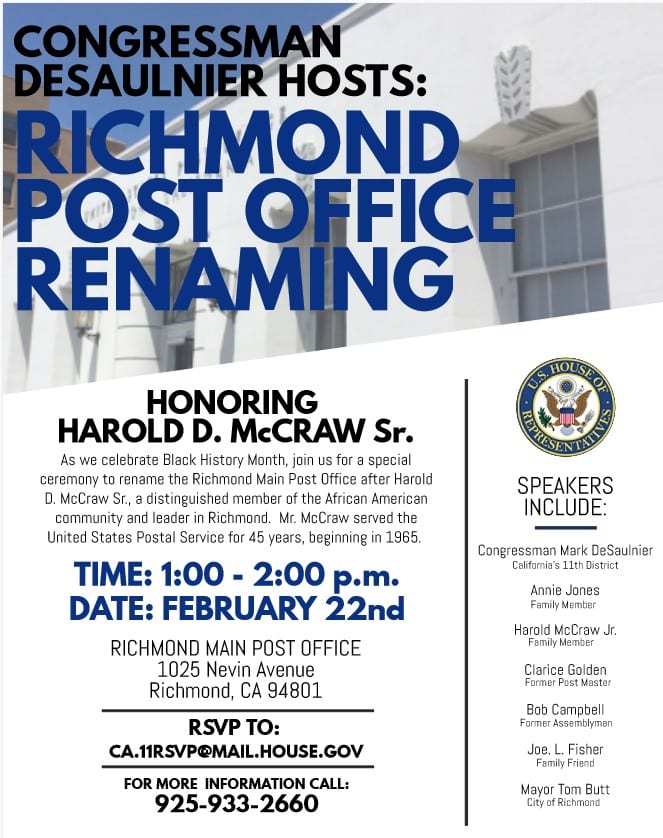 Harold D. McCraw, Sr. Post Office Naming Ceremony
Date & Time: Friday, February 22, 1pm-2pm
Location: 1025 Nevin Avenue, Richmond, CA 94801
Remarks by: Congressman DeSaulnier (CA-11), Annie Jones (family member), Harold McCraw Jr. (family member), Clarice Golden (former post master), Bob Campbell (former assemblyman), Joe L. Fisher (family friend), Mayor Tom Butt (City of Richmond)
RSVP to: CA.11RSVP@mail.house.gov
More more information: (925) 933-2600
This event is open to the public, press, and photographers.
Learn more about Downtown's historic post office and the community-led effort to save it from disposal by USPS here.