FOR IMMEDIATE RELEASE
August 20, 2019
Music on the Main Encore Bringing Funky Afro Samba Beats
& Latin Jazz Fusion to Downtown Richmond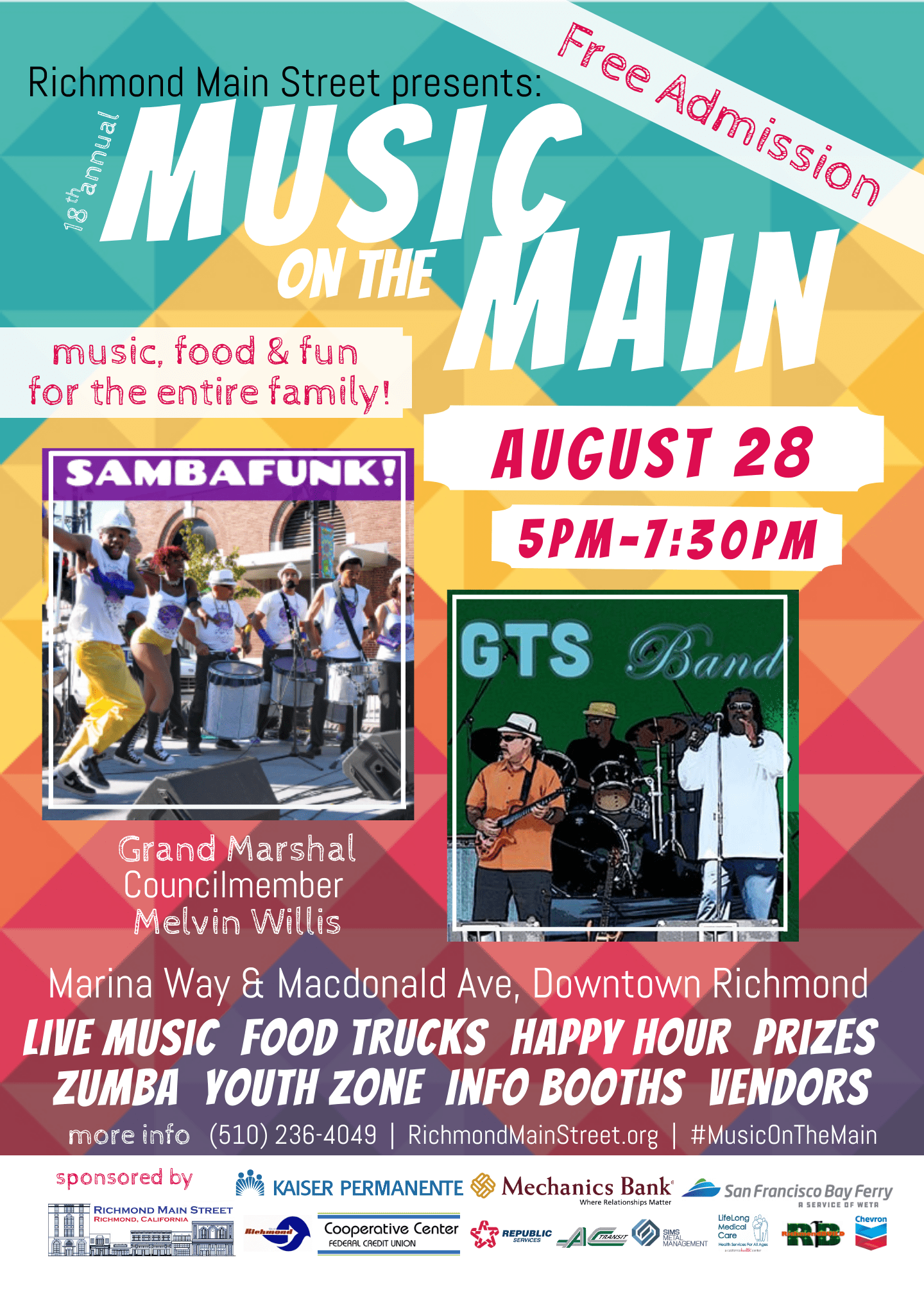 Richmond, CA—The stage is set for another successful and uplifting Music on the Main summer concert on Wednesday, August 28 from 5pm – 7:30pm.
Music on the Main, produced by Richmond Main Street Initiative (RMSI), is the organization's longest running community event, activating Downtown through art and music, bringing together Richmond residents of all backgrounds, and supporting local businesses. RMSI invites everyone to Downtown to enjoy music, food, and fun for the entire family!
The series kicked off on July 24th with 800+ Richomondians dancing to the spirited music performances by the Richmond's own Zydeco King Andre Thierry and Bay Area favorite BeauFunk with Michael Jeffries.
The celebration continues on August 28th with a Carnival Explosion of African-Brazilian rhythms and African Diaspora cultural fusion courtesy of SambaFunk! and local favorite GTS Band, serving up authentic Latin Funk and Soul.
This free, all ages concert will also feature special guest appearance by Grand Marshal Councilmember Melvin Willis. Just a few steps away from the dance floor, guests will find a diverse array of local artisan and food trucks offering unique items and delicious eats, beverage booth serving up happy hour specialties with proceeds benefiting RMSI, informational booths, interactive activities, youth zone, giveaways, prizes, and more.
Free organic yogurt, face painting, and fun educational activities will also be available courtesy of Stonyfield. Stonyfield is proud to participate in Music on the Main to promote their work with Beyond Pesticides and Osborne Organics to help the City of Richmond transition Nichol Park to organically maintained fields through their StonyFIELDs Initiative. Music on the Main guests are invited to stop by their booth to play games and learn more about how Stonyfield is helping communities all over the country transition away from harmful pesticides and chemicals to organically maintained landscaping.
Admission is free. All are welcome. The event is conveniently located in the parking lot at Marina Way and Macdonald Avenue, just one block from the Richmond Transit Station, home to BART, Amtrak, and AC Transit. For more information, including stage line-up, directions, and ways to participate, visit www.RichmondMainStreet.org.
Music on the Main is sponsored by  Kaiser Permanente, Mechanics Bank, San Francisco Bay Ferry, Cooperative Center Federal Credit Union, LifeLong Medical Care, AC Transit, Republic Services, Chevron Richmond, Richmond Build, East Brother Beer Company, and City of Richmond. Additional support comes from a team of dedicated volunteers and the Downtown Richmond Property and Business Improvement District (DRPBID).
CELEBRATE DOWNTOWN 2019 CONTINUES WITH…
11th annual Spirit & Soul Festival – A Salute to Soul 2.0
When: Saturday, September 21 | 1pm – 5pm
Where: Macdonald Avenue from Harbour Way – 13th Street
Main Stage: Pride & Joy, Top Shelf , Nicole "Buttah-Buttafly", and Kylah Dawn
12th Street Stage: RPAL Music Program students, The Vocal Revolution, El Gaucho Dance Company, and more
About the Richmond Main Street Initiative
Richmond Main Street Initiative is a community based non-profit dedicated to revitalizing historic downtown Richmond. RMSI partners with the City of Richmond, merchants, and residents to develop and improve downtown Richmond as a pedestrian-friendly urban village that offers products, services, arts and entertainment that reflect the community's rich and diverse heritage. The DRPBID district encompasses the core of the Historic Downtown area along the Macdonald Avenue corridor bounded approximately by 6th Street, Barrett Avenue, Bissell Avenue, and 16th Street. For more information and to read about the RMSI's events and programs, please visit www.richmondmainstreet.org and www.facebook.com/richmondmainstreet.
# # #
What: 18th annual Music on the Main Summer Concert Series
When: Wednesday, August 28
Time: 5pm – 7:30pm
Where: Parking lot at Marina Way and Macdonald Avenue, Downtown Richmond
Featuring: SambaFunk!, GTS Band, Grand Marshal Melvin Willis
Resources: Media Alert (PDF), Flyer
###