From our partners at Contra Costa County HOME/CDBG Consortium: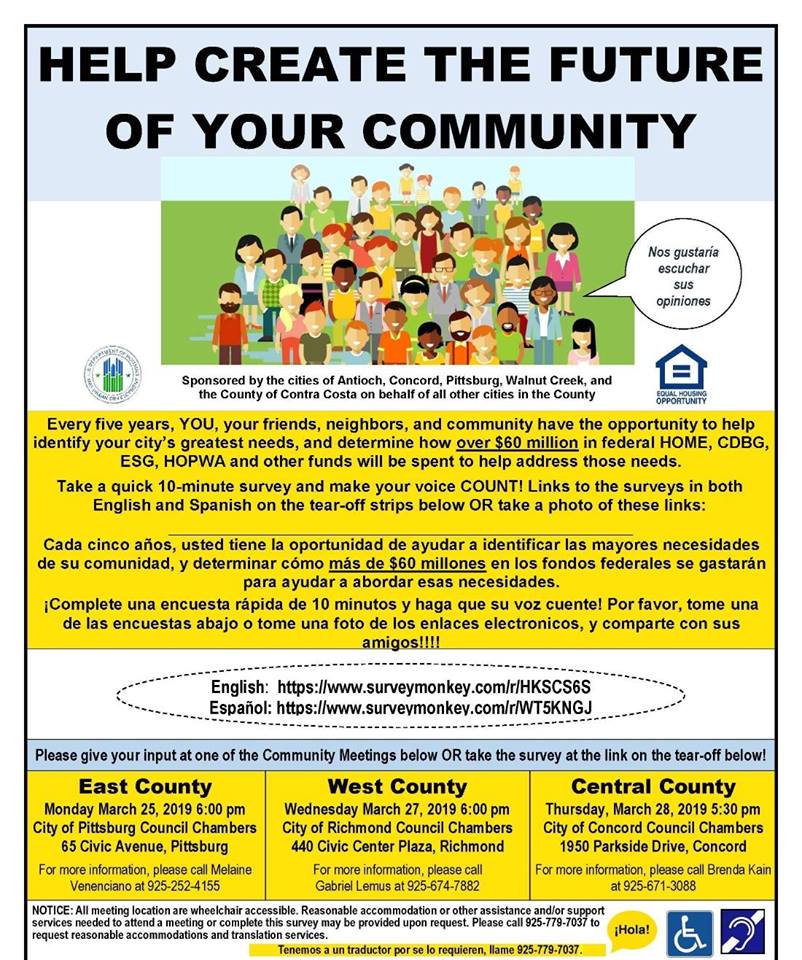 The Contra Costa County HOME/CDBG Consortium has begun planning for the expenditure of over $60 million in federal funds in Contra Costa County (including in the City of Richmond) over the next five years.
Please attend the Regional Meeting occurring in West County to provide your input.
West County Consolidated Plan Meeting – Wednesday March 27, 2019 – 6:00 PM
City of Richmond, City Council Chambers
440 Civic Center Plaza, Richmond
For more information, please call Gabriel Lemus at 925-674-7882
The Contra Costa County Consortium (Consortium) joins the cities of Antioch, Concord, Pittsburg, Walnut Creek, and the County of Contra Costa (on behalf of all the other towns and cities in Contra Costa including Richmond) in this planning effort. The 2020-2025 Consolidated Plan uses a variety of important demographic and other data to assess the needs in Contra Costa jurisdictions. This data helps inform local decision makers in their choice of priorities to fund in the coming five-year period.
The priorities contained in the Consolidated Plan will guide the investment of over $12 million each year in federal Community Development Block Grant (CDBG), HOME Investment Partnership Program (HOME), and Emergency Solutions Grant (ESG) funding. These versatile federal funding sources can build new affordable housing, rehabilitate existing affordable housing, modify and rehabilitate homes for lower income and senior homeowners, construct or improve public facilities and parks, improve infrastructure in lower income neighborhoods, provide employment training to lower income workers, offer financial and other assistance to small business owners, fund services to homeless persons, provide funding for a wide variety of services for lower income families and individuals; and much, MUCH more!
Others ways to participate:
Take the Survey.
English: https://www.surveymonkey.com/r/N9CKWX7
Spanish: https://www.surveymonkey.com/r/KNB2GJ5
Please contact Teri House at (925) 779-7037 if you need any other accommodations.