FOR IMMEDIATE RELEASE
September 5, 2018
A "Salute to Soul" at the 10th annual Spirit & Soul Festival Featuring Special Tributes to:
Aretha Franklin, Luther Vandross and Prince!
Richmond, CA— The Richmond Main Street Initiative (RMSI) will celebrate the 10th anniversary of the Spirit & Soul Festival with a special Salute to Soul lineup! RMSI is excited to end a super successful summer season with the phenomenal Spirit & Soul Festival offering rousing tributes to some of America's most celebrated performers including the recently deceased "Queen of Soul" Aretha Franklin on Saturday, September 15, from 1pm to 5pm on Macdonald Avenue, between Harbour Way and 13th Street. Downtown will be transformed into an outdoor bazaar featuring phenomenal entertainment on two stages, food and artisan vendors, a beverage pavilion, and youth zone.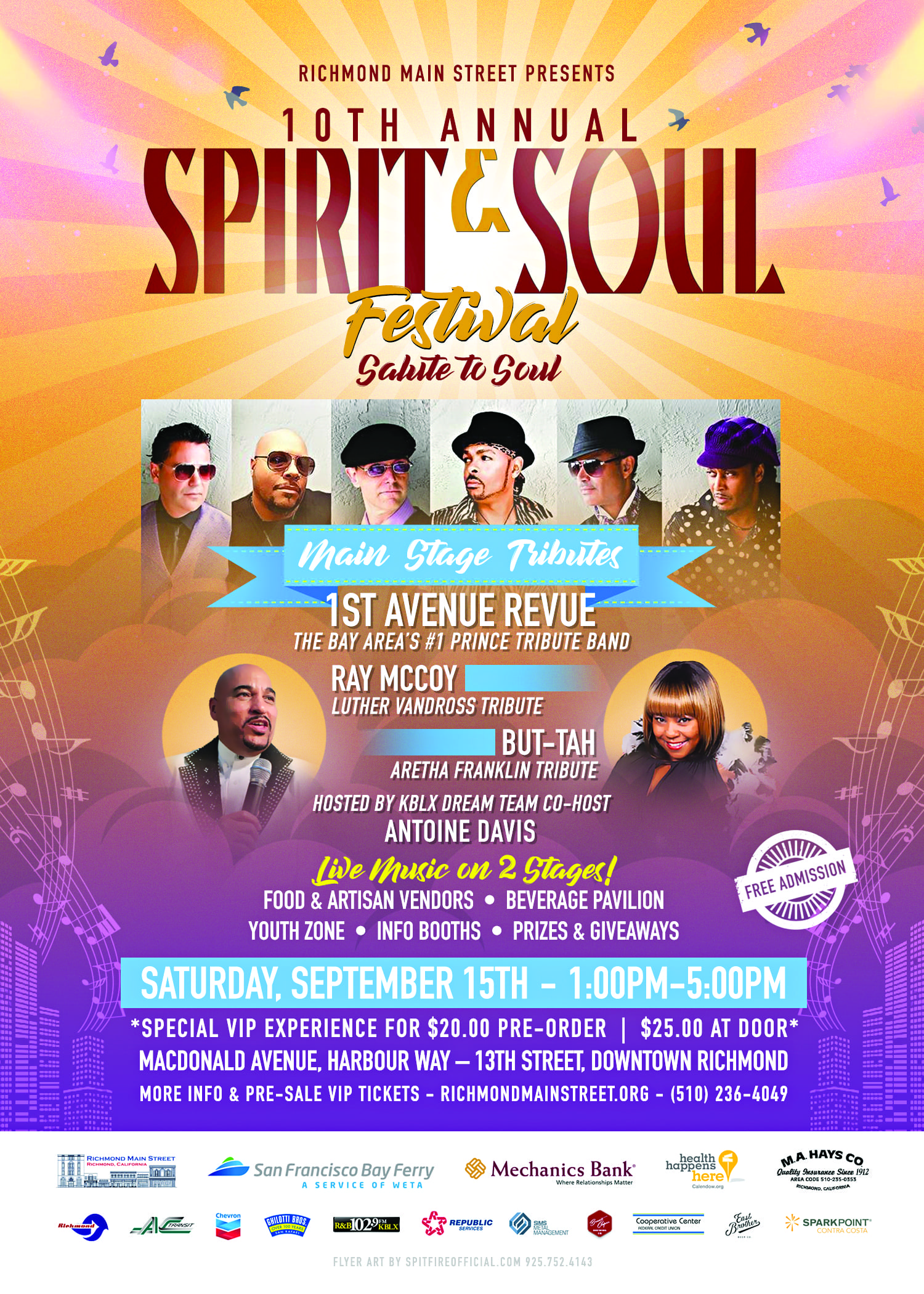 Richmond Main Street is preparing for the opening of the BART Retail/Business Hub and other significant changes that will transform Downtown into a thriving commercial district envisioned by its residents, property owners, and other stakeholders. The Spirit & Soul Festival will once again prominently display Downtown's often overlooked assets, opportunities, and heritage.
Friend and community advocate, Antoine Davis (102.9 KBLX, morning show host) and comedian Jed Redd, will serve as the MCs for the Main Stage, whose line-up includes electric performances by 1st Avenue Revue, the Bay Area's #1 Prince tribute band; Ray McCoy, with the smooth sounds of Luther Vandross, the sassy, jazzy soul by Richmond's own But-tah Buttafly honoring Aretha Franklin; and local Pop/Rock by 2morrows June.  
The 12th Street stage–hosted by Richmond Main Street Youth Committee–will feature some of Richmond's young performers from the Richmond Police Activities League Music Department, El Cerrito High School Dance Program, and the RYSE center.
In between the two stages, guests can enjoy the festival's outdoor marketplace featuring local food and artisan vendors offering an eclectic array of delicious food and unique items, and the beverage pavilion which will be pouring refreshing Main Street Margaritas, beer by East Brother Beer Company and Benoit Casper Brewing Co, and wine. A limited number of VIP Experience tickets are available for guests interested in enjoying the festivities in a reserved area with seating and shade available, and primo views of main stage. Tickets may be purchased online at Eventbrite.com.
Admission is FREE; all ages are welcome.
Spirit & Soul Festival is sponsored by Mechanics Bank, SF Bay Ferry, Sims Metal Management, The California Endowment, M.A. Hayes Co., Chevron Richmond, AC Transit, Ghilotti Bros., Republic Services, Cooperative Center Federal Credit Union, and City of Richmond, with generous support from SparkPoint Contra Costa, East Brother Beer Co., and Benoit Casper. Additional support comes from volunteers and the Downtown Richmond Property and Business Improvement District (DRPBID).
Contact: Amanda Elliott
Phone: (510) 236-4049;(510)236-4052 (fax)
Email: aelliott@richmondmainstreet.org
Web: www.richmondmainstreet.org
What: 10th annual Spirit & Soul Festival – FREE event
When: Saturday, September 15
Time: 1pm – 5pm
Where: Macdonald Avenue (Harbour Way – 13th Street), Downtown Richmond, CA
Featuring: 1st Avenue Revue; Ray McCoy; and But-tah Buttafly!