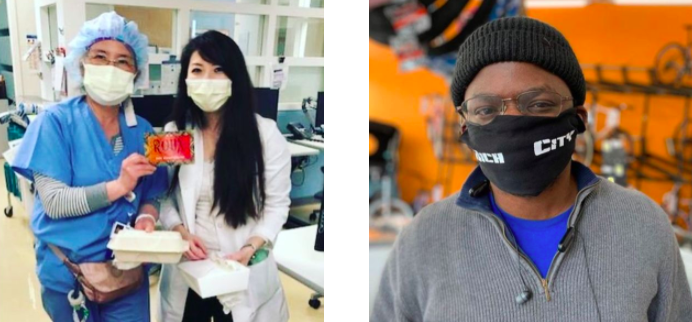 Downtown Richmond businesses are stepping up to support each other and the community during the COVID19 crisis. Rich City Rides Bike Shop is open offering essential services for cyclists of all ages and late last week they started offering reusable masks. They quickly sold out and are expecting more inventory hitting shelves by the end of this week. This past Friday, Chef Lydia of Roux donated 50 meals to medical and administrative staff at Kaiser Richmond. Despite temporarily closing her restaurant at the Richmond Food Hall, Lydia wanted to give back to those who have supported her. Both FoodsCo and Walgreens are offering special hours for seniors and others with special shopping needs right now. Leftside Printing continues to offer free customizable banners for Richmond businesses.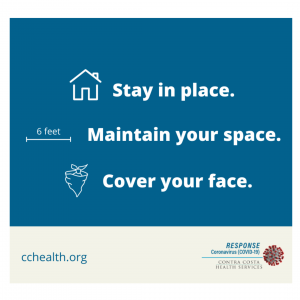 Join us in appreciating and thanking these businesses for all their hard work and efforts to think of others right now during this time of great need: shop online or in store, buy a gift card, write a review on their Yelp or Facebook pages, shout them out on social media.
And remember, no matter how you choose to support, please do so safely: Stay in Place (as much as possible), Maintain your space, and Cover your face! Take note: starting this Wednesday, April 22, face coverings are now mandatory for all individuals over the age of 12 when in public spaces. 
Photo/art courtesy of Kaiser Richmond, Rich City Rides, Contra Costa County Health Services.
THIS WEEK'S TOP #ShopLocalSafely SMALL BUSINESS PICKS
Downtown Restaurants & Cafes
Re-Opened!
Salsa Taqueria: Pick-up & take-out orders only. Call (510) 236-4528
Lee's Donuts: To go orders, 1 customer at a time. 1190A Macdonald Ave
Joy Cafe: Take out, Tuesday-Saturday, 9am-5pm, Call (510) 234-0573
Going Strong
Top COVID19 Resources for Small Business & Residents
For All
For Small Businesses
More Help: Check out Our COVID-19 Community Resource Directory