FOR IMMEDIATE RELEASE
April 9, 2020
Richmond Main Street & Leftside Printing
Offer Help for Brick-and-Mortar Richmond Businesses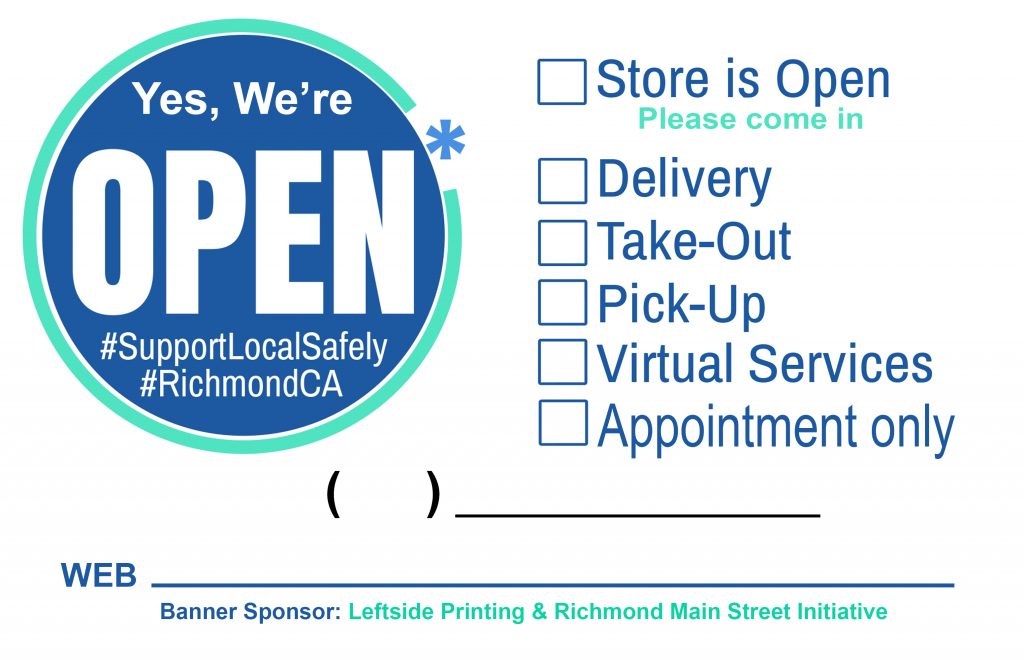 Richmond, CA – Richmond Main Street, in partnership with Leftside Printing, is providing a limited amount of complimentary 2'x3′ "Open for Business" banners for small businesses in Richmond. The customizable banners will greatly help many businesses during this challenging time by providing them with a resource by which they can promote their business and encourage customers to shop their favorite local establishments safely.
"I spoke with my wife, Gina, and even though we're suffering too, we want to donate $2,000 worth of 'Open for business' banners to our local businesses. We are all in this together!" says Diego Garcia, owner of Leftside Printing, which recently relocated from their original storefront on 23rd Street to 1418 Macdonald Avenue, in Downtown Richmond. 
"I am extremely grateful for how small business leaders, like Diego, empower others despite being in the same boat," says Vivian Wong, Executive Director of Richmond Main Street. "It is precisely people like Diego and his family that give us great hope that we can help our small business rally together and weather this storm. My staff and I are doing our best to empower our business community with current resources and digital marketing, thanks to a grant from Wells Fargo."
Any Richmond brick-and-mortar small business that is considered essential per the current health order and in good standing with the City of Richmond is eligible to request a complimentary banner by contacting Leftside Printing at (510) 965-9697 or leftsideprinting@hotmail.com. Pick-up details will be provided upon reservation. First come, first served, starting Friday, April 10. Businesses can preview and download a digital version of the banner here. Downtown businesses can also download additional marketing graphics here.
Vivian Wong continues, "We are also aware that many small businesses are in need for financial relief and assistance right now. We have pulled together a number of resources that we are very happy to share."
Resources for Businesses & Employers Impacted by COVID-19
Paycheck Protection Program Local Lenders Guide
Leftside Printing is a family-owned and operated custom printing and design business serving the Richmond community since 2006. www.leftsideprinting.com
Richmond Main Street Initiative is a community-based nonprofit organization dedicated to revitalizing historic Downtown Richmond. For more information and to read about the RMSI's events, programs, and impact, please visit www.richmondmainstreet.org.
####
CONTACT
Vivian Wong
P: (510) 236-4049     F: (510) 236-4052
Email: director@richmondmainstreet.org
Web: www.richmondmainstreet.org
1600 Nevin Plaza, Richmond, Ca 94801