FOR IMMEDIATE RELEASE
June 18. 2019
WHAT: 10th annual Healthy Village Festival
WHEN: Saturday, June 29, 10am – 2pm
WHERE:  Community Green Space, Harbour Way & Macdonald Avenue, Richmond, CA 94801
Summer in Downtown Richmond Starts with
Healthy Village Festival Featuring Grand Marshal Demnlus Johnson III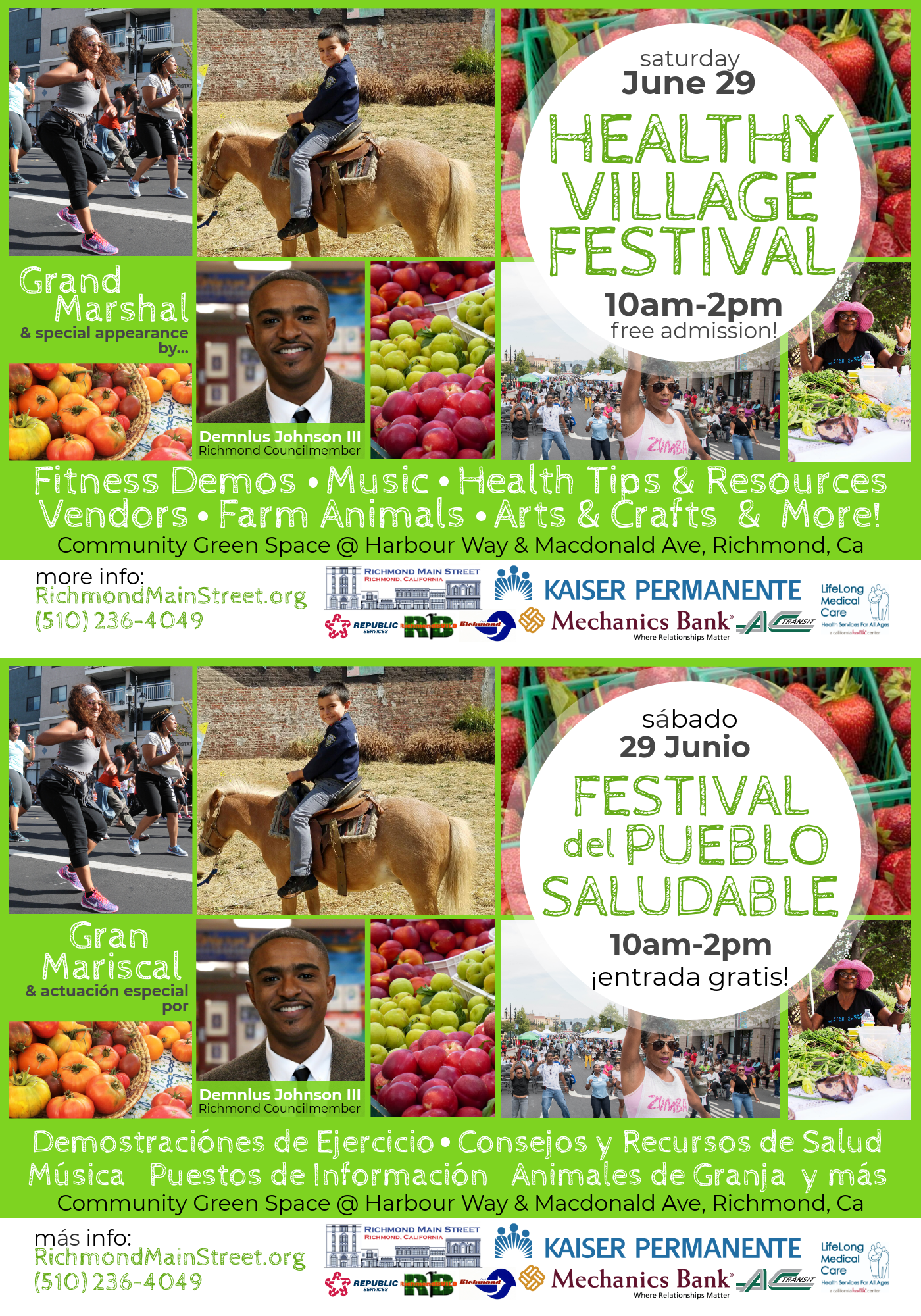 Richmond, CA—Richmond Main Street Initiative is proud to announce the return of Celebrate Downtown, an annual community event series hosted in Downtown Richmond. First up is Healthy Village Festival on Saturday, June 29.
From 10am – 2pm the Community Green Space (located at Harbour Way and Macdonald Avenue) and the 900 block of Macdonald Avenue will turn into a super fun, family-friendly festival, offering health and wellness resources, interactive activities, memorable experiences, and special appearance by Grand Marshal Demnlus Johnson III, Richmond councilmember.
Activities will include produce bag giveaways, artisan vendors, information and resource booths, Happy Lot Farm Pop-Up, and hanging out with Richmond Fire Fighters. Arts and crafts with NIAD Art Center and "Ask a Doc" with Kaiser Permanente physicians (12pm-2pm) are sure to please.
Downtown History Hike, led by local history buff Karen Buchanan, will meet at Richmond Museum of History at 10am and end at the festival just in time to enjoy performances by RPAL music program students, Zumba and Yoga demos, and lunch from Roux – one of Downtown's newest restaurants and the festival's exclusive food vendor serving up a delicious healthy Bay Area Bayou menu. Guests can also use their own pedal power to make delicious bike blender smoothies courtesy of Rich City Rides.
Admission is free. All are welcome. For more information, visit RichmondMainStreet.org, call (510) 236-4049, or email admin@richmondmainstreet.org. Healthy Village Festival is sponsored by Richmond Main Street Initiative, Kaiser Permanente, Mechanics Bank, San Francisco Bay Ferry, LifeLong Medical Care, AC Transit, Republic Services, Richmond Build, and City of Richmond.
Resources & Materials:    Flyer |  Webpage  |   Volunteer Sign-Up  |  Press Release (PDF)
Celebrate Downtown 2019 continues with:
18th annual Music on the Main Summer Concerts
Music, Food & Fun for the Entire Family
Wednesday, July 24: Andre Thierry (Zydeco-Accordion Soul) & Beaufunk featuring Michael Jeffries (Funkiest in the Area)
Wednesday, August 28: Samba Funk (Funky Carnival Explosion) & GTS Band (Latin Funk & Soul)
5pm – 7:30pm
Parking Lot at Marina Way & Macdonald Avenue
11th annual Spirit & Soul Festival
Downtown Richmond's Premiere Event
Saturday, September 21
1pm – 5pm
Macdonald Avenue from Harbour Way – 13th Street
Main Stage: Pride and Joy (Soul Dance), Top Shelf (Classic Soul), and But-tah (Aretha favorites)
12th Street Stage: Young performers from Richmond community
###
CONTACT
Alicia Gallo
P: (510) 236-4049     F: (510) 236-4052
Email: outreach@richmondmainstreet.org    Web: www.richmondmainstreet.org
1600 Nevin Plaza, Richmond, Ca 94801