FOR IMMEDIATE RELEASE
August 7, 2018
What: 17th annual Music on the Main FREE! Summer Concert Series
When: Wednesday, August 22
Time: 5pm – 7:30pm
Where: Marina Way at Macdonald Avenue, Downtown Richmond
Featuring: Andre Thierry, Steven Green & The Lifeline
17th Annual Music on the Main Summer Concert Series off to a Great Start,
Organizers Gearing up for Encore in August
Richmond, CA — Now in its 17th year, Music on the Main, produced by Richmond Main Street Initiative (RMSI), is Downtown Richmond's longest running community event, bringing together a diverse crowd people from Richmond and surrounding communities in the heart of Downtown Richmond.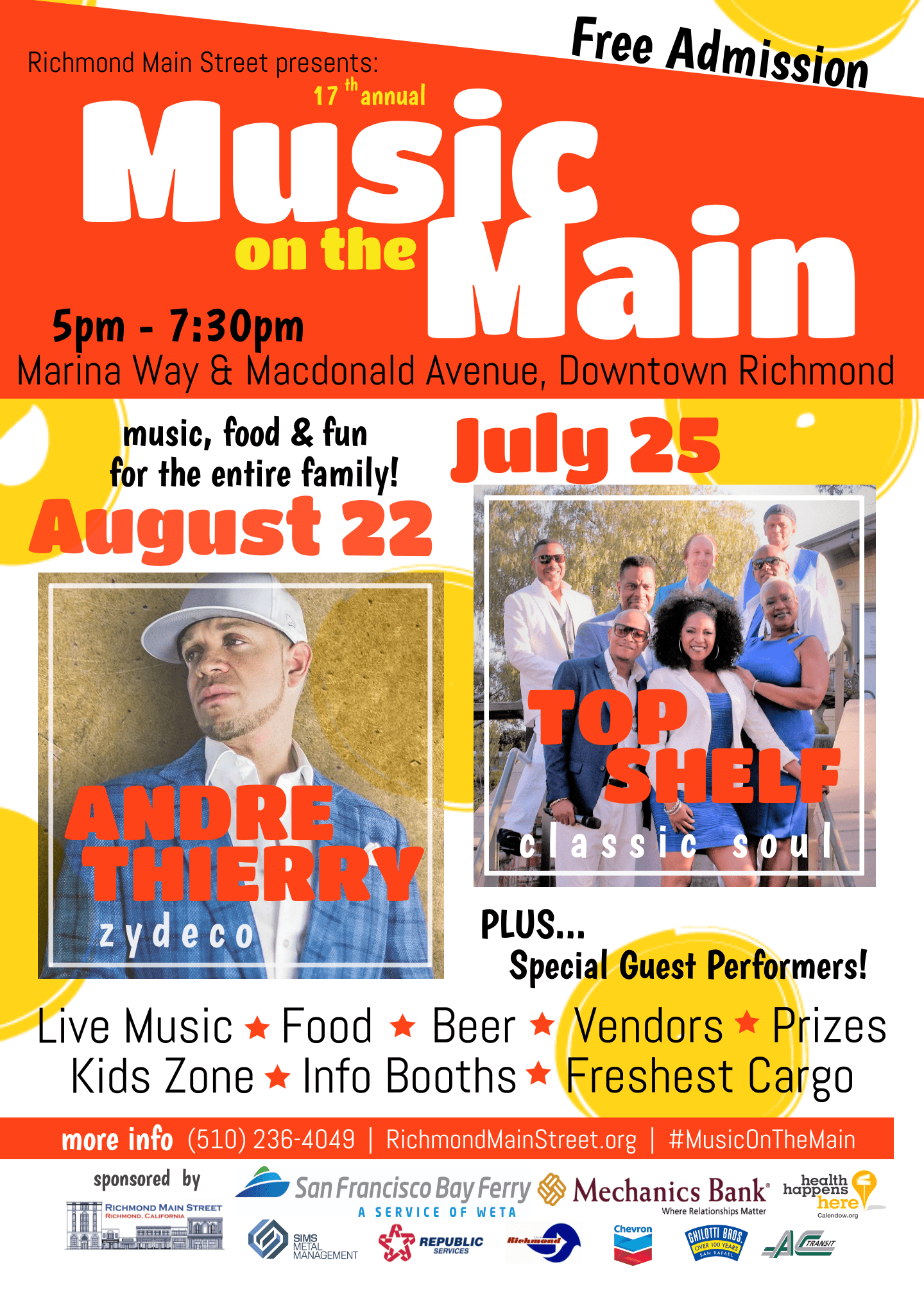 Organizers are gearing up for an encore on August 22. From 5-7:30pm the parking lot at Marina Way and Macdonald Avenue will again be home to Music on the Main featuring dozens of vendors, family activities, giveaways, prizes, food trucks, refreshing Main Street Margaritas and hometown brews by East Brother Beer Company (proceeds benefit RMSI), and an all-star lineup: local son turned world-renowned Zydeco king Andre Thierry and Steven Green & The Lifeline, serving up authentic and eclectic gospel stylings.
On Wednesday, July 25 Downtown Richmond came alive with soulful sounds of classic soul and joyful voices at the first Music on the Main concert of the summer. The parking lot at Marina Way and Macdonald Avenue was transformed into an outdoor dance hall brimming with 30 food, artisan, and resource booths, youth activity zone, and Freshest Cargo Mobile Farmers' Market. Nearly 900 guests mingled, shopped, dined, relaxed, and danced to incredible performances emanating from the stage: original spoken word by local rap artists, King Khai & Young Quis, R&B favorites by Kymberly Jackson (the Pied Piper of the Bay Area), and an incredible classic soul grand finale by Top Shelf.
Admission is FREE; all ages are welcome. The event is conveniently located one block from the Richmond Transit Station, home to BART, Amtrak, AC Transit, R-Transit, and BikeLink lockers. Free onsite bike parking courtesy of Rich City Rides, also available.
Music on the Main is sponsored by San Francisco Ferry WETA, The California Endowment, Mechanics Bank, Sims Metal Management, AC Transit, Chevron Richmond, Ghilotti Bros., EBMUD, Taithan Corp., Republic Services, and City of Richmond. Additional support comes from volunteers and the Downtown Richmond Property and Business Improvement District (DRPBID).
LOOKING AHEAD
What: 10th annual Spirit & Soul Festival – A Salute to Soul
When: Saturday, September 15, 1pm – 5pm
Where: Macdonald Avenue from Harbour Way – 13th Street
Featuring:
Main Stage Salute to Soul Tributes: 1st Avenue Revue (Prince), Ray McCoy (Luther Vandross), Nicole "Buttah-Buttafly" (Aretha Franklin)
12th Street Stage: Local youth performers, presented by M.A. Hays Insurance and Richmond Main Street Youth Committee
Outdoor Bazaar: Food & Artisan vendors, Beverage Pavilion, VIP Experience, Youth Zone, Resource and Activity Booths, Prizes, and more.
About the Richmond Main Street Initiative
Richmond Main Street Initiative is a community based non-profit dedicated to revitalizing historic downtown Richmond. RMSI partners with the City of Richmond, merchants, and residents to develop and improve downtown Richmond as a pedestrian-friendly urban village that offers products, services, arts and entertainment that reflect the community's rich and diverse heritage. The DRPBID district encompasses the core of the Historic Downtown area along the Macdonald Avenue corridor bounded approximately by 6th Street, Barrett Avenue, Bissell Avenue, and 16th Street. For more information and to read about the RMSI's events and programs, please visit www.richmondmainstreet.org and www.facebook.com/richmondmainstreet.
Contact: Amanda Elliott
Phone: (510) 236-4049; Fax (510) 236-4052
Email: aelliott@richmondmainstreet.org
1015 Nevin Avenue, Suite 105, Richmond, CA 94801
www.richmondmainstreet.org
# # #