Richmond Main Street Initiative is dedicated to strengthening Downtown Richmond's economic base through business retention, targeted recruitment, social entrepreneurship and financing, trend monitoring and education, and new equitable development.
We actively partner with the local business community, anchor institutions, and service providers to provide a wide range of technical assistance services to small businesses and emerging entrepreneurs. Whether you're the owner of an established enterprise who wants to revamp your business practices or you're an entrepreneur ready to take the next step, Richmond Main Street is here to help.
Our Current Small Business Assistance Calendar
Girl, Get Your Business Straight
Date: Mondays, November 4 & November 18
Time: 6pm – 8:30pm
Location: 1600 Nevin Plaza, Richmond, CA 94801
*Make sure you can find us: learn more about our location
Details: Business success doesn't happen by accident it requires BOLD radical truth telling, creative business modeling, authenticity and unstoppable momentum in creating a purposeful business. REGISTER NOW for this 2-part start-up series for women entrepreneurs to GET OUT of the commodity zone, build a profitable business, up-level your business, and design the business of your dreams! *Please prepare to attend both sessions as the content builds off prior sessions*
Session 1: Developing a winning mindset for business success; Disrupting, dismissing and destroying the Imposter Syndrome; Emotional Intelligence in business; Setting your 20/20 Vision and Mission
Session 2: The quick and easy 1-page business plan guide; Building a Bold, Big and Bad ™ business brand; Designing your revenue game plan; Maximizing momentum for sustainable success
Cost: Free! Registration required. Space is limited.

Hosted by: Richmond Main Street Initiative with generous support from Mechanics Bank, Wells Fargo, Renaissance Entrepreneurship Center, and City of Richmond.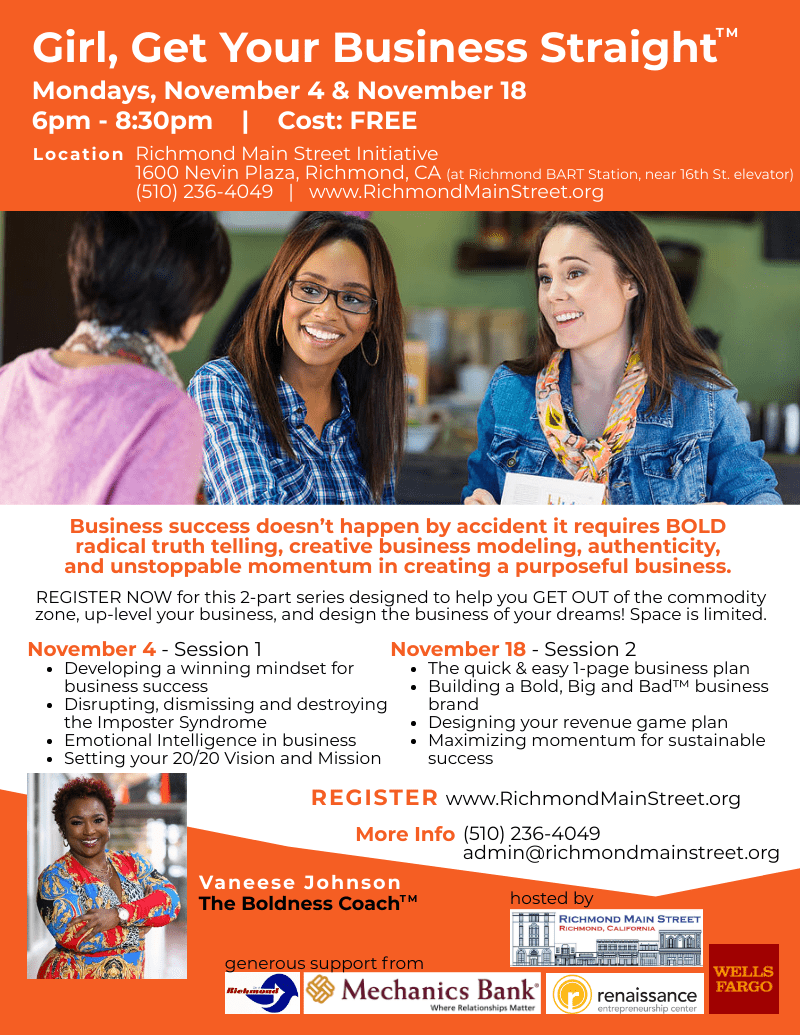 Thank you to our economic vitality sponsors and partners
Richmond Business Bites is a free workshop series offered throughout the year featuring panelists of small business owners, advisors, City of Richmond representatives, and others offering their expertise on a range of entrepreneurship topics. Our Get Certified! For Contracts with Anchor Institutions series is a hands-on course designed to get local, small, and minority-owned businesses certified and ready for doing business with anchor institutions.
In 2018 we hosted two Get Certified! For Contracts with Anchor Institutions workshop. We hope to offer these session again in 2019. Check out the "Small Business Certifications & Procurement Resources" section on our Business Resources page for copies of the handouts, materials, and slide decks from this workshop, plus links to websites and portals to certify your business. Join our Small Business Mailer to get updates on this workshop and other resources offered by our partners.
Want to start a business? Own a business but need some help?
Currently, Richmond Main Street is not able to offer ongoing, direct business services. However, we have very strong relationships and partnerships with a variety of service providers in the area. Whether you need help developing or revising your business plan, acquiring financing, finding a storefront space, or accessing other business resources, we are here to help! Tell us a little bit about your business needs and we will happily connect you with the resources you need.