FOR IMMEDIATE RELEASE
October 14, 2020
12TH ANNUAL SPIRIT & SOUL FESTIVAL REACHING
NEW HEIGHTS SATURDAY
Richmond Main Street's Signature Downtown Richmond Event Airing on KOFY TV20 and Streaming Live Online
What: 12th Annual Spirit & Soul Festival
When: Saturday, October 17, 2020, 10:30 AM – 12:00 PM
Where: KOFY TV 20, YouTube, Instagram, and Facebook
Who: Andre Thierry Accordion Soul Music, SambaFunk! Carnaval Explosion with King Theo, and Richmond youth performers
Richmond, CA – On Saturday, October 17, Richmond Main Street Initiative (RMSI) will present the 12th annual–and first ever virtual and televised–Spirit & Soul Festival, airing on KOFY TV 20 and RMSI's YouTube, Instagram, and Facebook channels from 10:30am-12pm. Since day one of shelter-in-place, RMSI has pivoted programs to meet the immediate needs of the Richmond business and residential communities.
"As the Contra Costa County health orders postponed our Celebrate Downtown community event series this summer, our staff and Promotions & Fundraising Committee really wanted to do something to offer residents an opportunity to celebrate, relax, and dance in a socially distanced and safe way," says Vivian Wong, executive director. "So we pivoted to turn our signature Spirit & Soul Festival event from a street festival to a virtual concert streaming live on multiple platforms."
Spirit & Soul Festival, presented by Richmond Main Street and LeChat Nail Care Products, will feature performances by Grammy-nominated Andre Thierry Accordion Soul Music, SambaFunk! Carnaval Explosion with King Theo, and four talented youth performers from the Richmond area: RPAL Youth Ensemble, Julian Montes, Tai-Ge & Jo-Yi Min, and Ryan Karnsouvong.
Ronnie Mills, RMSI Project Manager will emcee the event from various locations around Downtown Richmond, highlighting the performances, opportunities for viewers to participate by entering to win a $500 cash prize, patronizing Macdonald Avenue businesses, honoring our 2020 Downtown Champions, and becoming a Friend of Main Street.
Additionally, RMSI is partnering with five Richmond businesses to bring the festival experience to them through exciting Festival Specials available throughout the weekend: discounts on purchases at Kaleidoscope Coffee and Gratitude Afrocentric Gift Store, special menu items at San Francisco Pizza and Roux, and East Brother Beer Company's unique "brewery-in-a-box". Viewers are encouraged to stay tuned to RMSI's social media for daily specials shout outs and to download the passport via Eventbrite.
All information can be found at www.tinyurl.com/spiritsoulfest2020.
Spirit & Soul Festival 2020 is presented by Richmond Main Street and LeChat Nail Care Products with generous support from LifeLong Medical Care, Mechanics Bank, Kaiser Permanente, Square, AC Transit, MCE Clean Energy, Republic Services, MA Hays Insurance, SAA|EVI, 1st Nor Cal Credit Union, Sims Metal Management, and Bridge Storage and ArtSpace.
# # # # #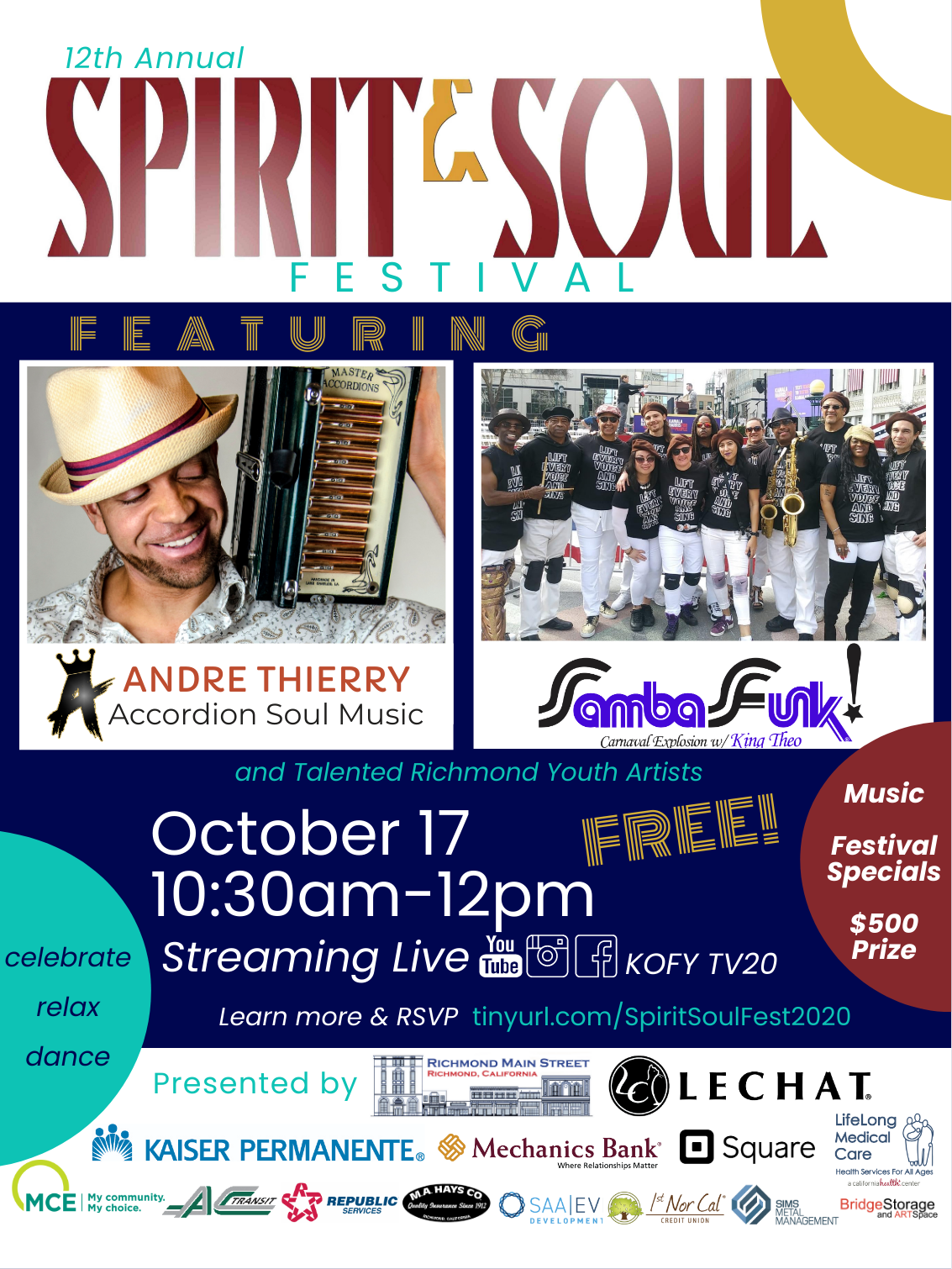 Richmond Main Street Initiative is a community based 501(c)3 nonprofit organization dedicated to revitalizing historic Downtown Richmond. We partner with a diverse set of stakeholders including the City of Richmond, merchants, property owners, and residents to develop and improve downtown Richmond as a pedestrian-friendly urban village that offers products, services, arts and entertainment that reflect the community's rich and diverse heritage. We also manage the Downtown Richmond PBID which supports a variety of economic vitality, clean and safe, and promotions initiatives.
For more information and to read about the our events, programs, and impact, please visit www.richmondmainstreet.org.