Business:
 Leftside Printing
Voice:
Diego Garcia, Owner, with sons Raul & Quetzal
How has the COVID-19 crisis impacted your business?
Yeah, COVID19 has impacted us significantly. I would say our sales are down by close to about 70%. Most of our business that we do is small runs…one or two shirts or banners or stickers that people would like to have. So, because we're closed to the public and we can only take orders online or by phone, that has dropped business significantly.
What is the meaning of your business to you? to the community?
I would say a lot is not just the business as a financial standpoint where I can support my family. It's about the time that I spend with my family with my kids. Leftside Printing is a family business — not just owned, but operated by my family; my three kids and I. Even though we work here together having this business also takes a lot of that time away from my family. 
The most important thing is that we all provide services to this community from this business. Not having a business impacts, you know, all areas of my life — my family, my financial situation, and of course what I do a lot for the last 20 years, which is contributing to this community, providing support and services. 
A lot of people just come by and give us ideas of what they would like to see. I give the community a ball and we just make it happen. You know, I'm not just providing that service. But also, I would say the maintenance of a lot of the stuff that goes on, you know, helping people fill out applications, doing the community cleanups, getting the people involved to be aware of new ordinances in the city or what type of assistance they need. So I would say Leftside Printing, and Richmond SOL, you know, mean a lot to this community.
What are your current operations/services/specials & how people can shop local safely?
All of our printing services are available, you know, from t-shirts and apparel to banners and signs. A lot of organizations, nonprofits, and religious groups come here, so they can inform either their customers or their members or the community about what's going on. So, because a lot of the work that I do is for the community, they come to me and I either provide a discount to what they need or sometimes we donate. I'm not saying we're rich or we have a lot of money, but we do have some supplies that we normally donate or give it a discount price. That's what we provide.
What new safety/health protocols have you implemented since the shelter in place order?
Oh, definitely, of course. We follow the county and state regulations and safety precautions. We implemented all of that, you know, having the place more sanitized and clean, social distancing, and wearing face masks.
Actually, our business has shifted a little bit towards that side because now we have been providing a lot of social distancing stickers and banners to other businesses that don't have the ability to make their own signs or that they weren't even aware of these new rules. Our business has shifted a little bit towards that and we've been a little busy on that front.
How do you feel that you are continuing to foster the spirit of Richmond's motto "Pride & Purpose" amidst this COVID-19 crisis? 
You know, pride and purpose, that's something that we definitely have in mind. Not just because we live in Richmond, because it's just a common sense for us…you know, having pride and purpose of where you live. Just because you live in a community that is below poverty in certain areas, or there's a lot of need here, doesn't affect our sense of pride. We still have that pride because we are from here. You know, we definitely want to make sure that we provide that service and that purpose and that pride of our community. We miss seeing our Richmond SOL students, our service projects, saying "let's go out there and give it a helping hand to whoever's needed". Finding purpose is always in the heart.
Find Online: www.leftsideprinting.com, Instagram 
How to Support Local Safely: Call (510) 965-9697 or email leftsideprinting@hotmail.com to place your order. Curbside pick-up available.
Good Deal: Leftside Printing has you covered for all your social distancing signage needs! Custom decals & laminated signage for all types of interior & exterior surfaces. Contact them today to get your business ready to reopen safely!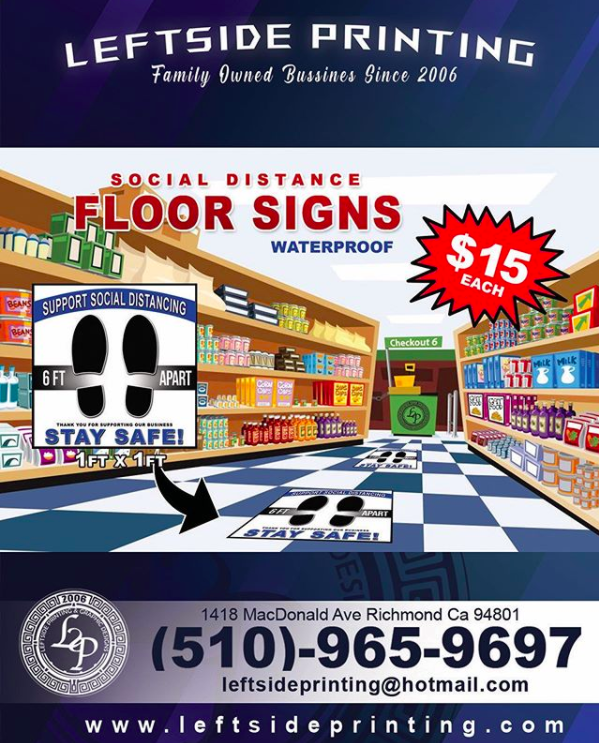 About Heart of Richmond
Heart of Richmond is a digital storytelling and marketing series designed to lift up the voices of our local entrepreneurial community. Over the course of 4 weeks we are sharing the stories and voices of 12 women-owned, food & beverage, Latinx-owned, and Black-owned Richmond businesses, and sponsoring promoted posts for them through our social media channels. Read, listen, stay tuned to our social media, and support local safely. 
Interviews conducted by Richmond Main Street. Responses lightly edited for clarity with careful attention to maintaining the integrity of the participant's time and insight. Photos by R.D. López/Shots From Richmond. 
Generous support for the Heart of Richmond series provided by Wells Fargo.