FOR IMMEDIATE RELEASE
September 10, 2019
Celebrate Downtown Grand Finale and "Salute to Soul 2.0" with Bay Area's Best Bands
set for September 21 at 11th annual Spirit & Soul Festival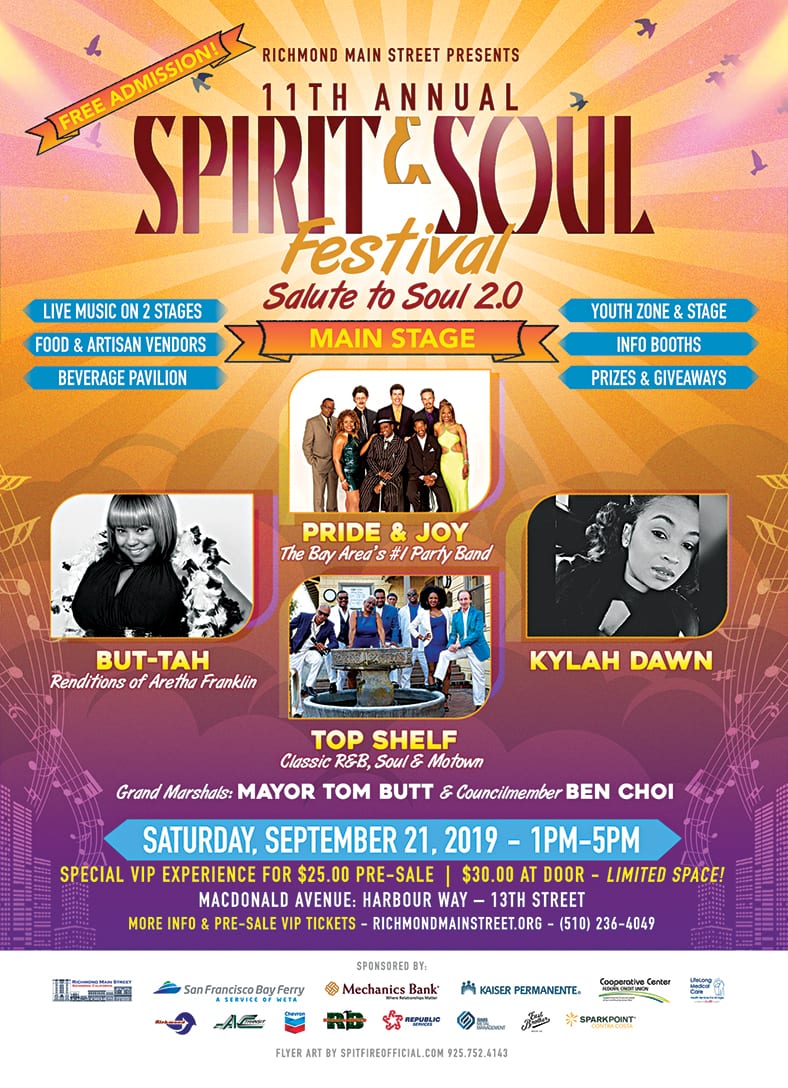 Richmond, CA—Downtown Richmond is set to come alive with soulful sounds from some the Bay Area's most coveted R&B, Soul, and Funk bands at the 11th annual Spirit & Soul Festival on Saturday, September 21, 1pm-5pm.
Richmond Main Street Initiative (RMSI) will once again bring the community together at their signature Spirit & Soul Festival on Saturday, September 21 from 1pm- 5pm with the Bay Area's favorite party band Pride & Joy and classic Soul and R&B with Top Shelf. Other show stoppers include Soul diva But-tah & The Buttahluv Band with her renditions of Aretha Franklin. And taking the Spirit & Soul Festival main stage for the first time is rising neo-soul songstress Kylah Dawn. Dynamic and diverse performances from the RPAL Music Program, El Cerrito High School Dance, Vocal Revolution (Richmond High School), and other local youth groups are set for the 12th Street Stage.
RMSI will also honor several Downtown Champions who have contributed to the revitalization of Downtown including Adonna O'Sullivan and Dr. Animesh Sinha (Kaiser Permanente), Lucinda Bazile (LifeLong Medical Center), Charlene Smith (East Bay Center for Performing Arts), Bessanderson McNeil (Snazz Enterprises) and the Aparicio Family (Your Way Pizza). Past honorees include, Betty Reid Soskin (National Park Service) and Janet Johnson (City of Richmond).
RMSI invites everyone to come down to Macdonald Avenue to enjoy music, food, and fun for the entire family and their Celebrate Downtown grand finale and the biggest Spirit & Soul Festival to date, featuring: 40+ artisan, food, and resource vendors, youth zone, giveaways, prizes, dancing, and Spirit & Soul Beverage Pavilion serving up refreshing Main Street Margaritas, hometown brews by East Brother Beer Company, wine, and more.
For the first time ever, Spirit & Soul Festival will also feature not one, but two Grand Marshals: Mayor Tom Butt (Main Stage) and Councilmember Ben Choi (12th Street Stage).
Admission is FREE; all ages are welcome. The Spirit & Soul Festival is conveniently located near the Richmond Transit Station on Macdonald Avenue home to BART, Amtrak, and AC Transit. Special paid VIP Experience seating is also available via Eventbrite. More event details, including band previews and vendor list available at www.richmondmainstreet.org/spirit-soul-festival.
Spirit & Soul Festival is sponsored by Kaiser Permanente, Mechanics Bank, San Francisco Bay Ferry, Cooperative Center Federal Credit Union, LifeLong Medical Care, AC Transit, Republic Services, Sims Metal Management, Chevron Richmond, Richmond Build, SparkPoint Contra Costa, East Brother Beer Company, The Living Apothecary, Your Way Pizza, and City of Richmond. Additional support comes from dedicated volunteers and the Downtown Richmond Property and Business Improvement District (DRPBID).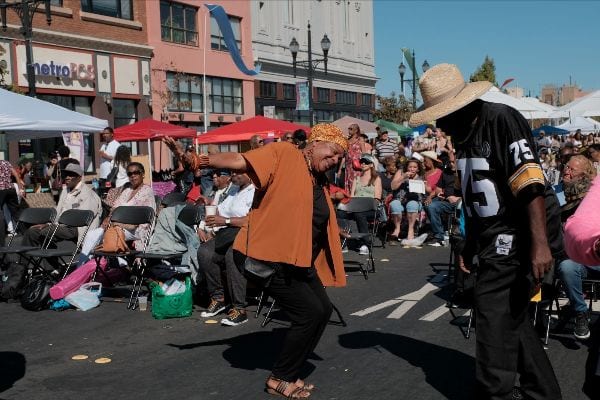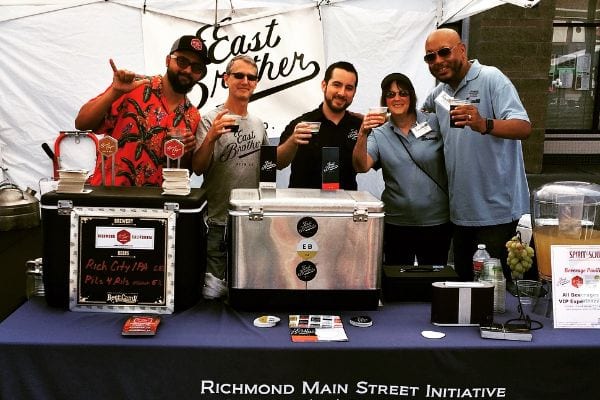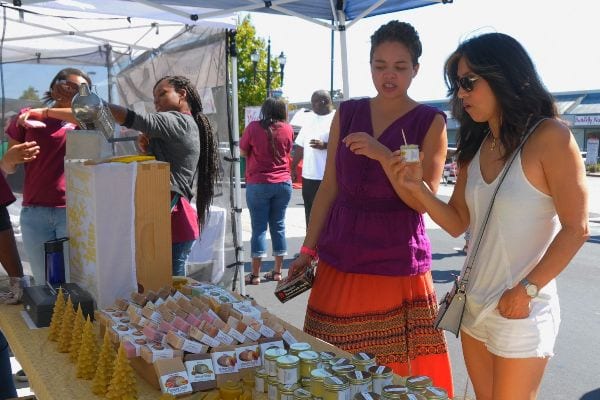 About the Richmond Main Street Initiative
Richmond Main Street Initiative is a community based non-profit dedicated to revitalizing historic downtown Richmond. RMSI partners with the City of Richmond, merchants, and residents to develop and improve downtown Richmond as a pedestrian-friendly urban village that offers products, services, arts and entertainment that reflect the community's rich and diverse heritage. The DRPBID district encompasses the core of the Historic Downtown area along the Macdonald Avenue corridor bounded approximately by 6th Street, Barrett Avenue, Bissell Avenue, and 16th Street. For more information and to read about the RMSI's events and programs, please visit www.richmondmainstreet.org and www.facebook.com/richmondmainstreet.
# # #
What: 11th annual Spirit & Soul Festival
When: Saturday, September 21, 1pm-5pm
Where: Macdonald Avenue & Harbour Way Downtown Richmond
Featuring: Pride & Joy, Top Shelf, But-tah & The Buttahluv Band, and Kylah Dawn
Resources: Media Alert (PDF), Flyer
###