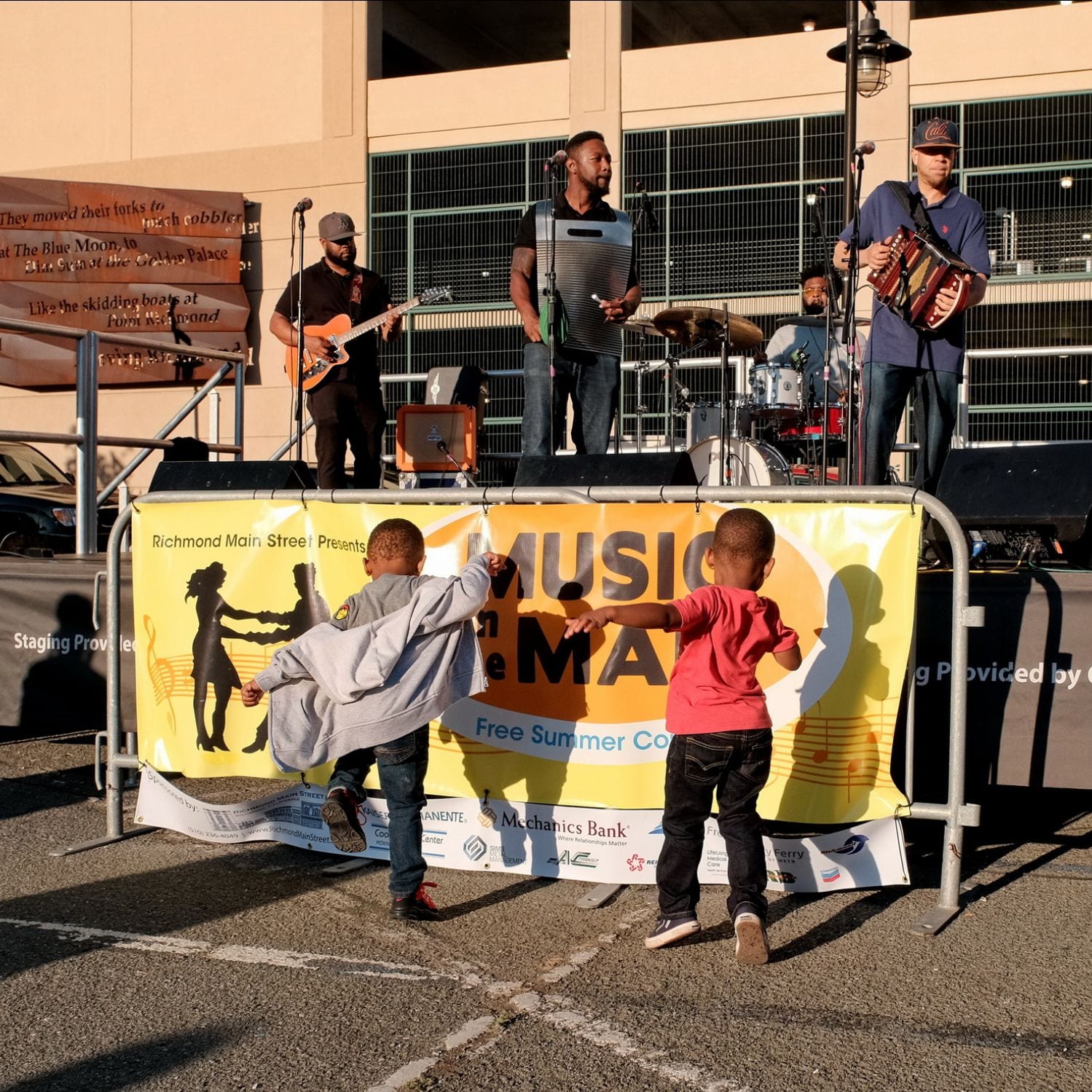 Last week's Music on the Main was fabulous! The weather was perfect and we had excellent attendance from visitors and vendors. About 800 residents came out to enjoy fantastic live music, dancing, youth zone and free books, 25 vendor and resource booths, and 'happy hour' hosted by our board of directors. Councilmember Jael Myrick made a special appearance serving as grand marshal. Rising vocalists of the RPAL music program-based trio KLM started us off with soulful songs, followed by BeaufunK with Michael Jeffries, and an invigorating Zumba break. Richmond's own "King of Zydeco" Andre Thierry took us home with an incredible set that had everyone on the dance floor.  Check out this Richmond Standard article and video for highlights.
Huge thanks to everyone who came out to dance with us and big LOVE to all our volunteers, vendors, performers, partners, and sponsors for making this event possible:  Kaiser Permanente, Mechanics Bank, San Francisco Bay Ferry, Cooperative Center Federal Credit Union, LifeLong Medical Care, AC Transit, Republic Services, Chevron Richmond, Richmond Build, and City of Richmond.
Big kudos also to Maya Taqueria, Happy Lot Farm and Garden, Snazz Enterprises, and California Delicious for donating raffle prizes. And extra special thanks to East Brother Beer Company, Your Way Pizza, and The Living Apothecary for stocking our beverage booth and keeping our volunteers nourished and hydrated, respectively. We're doing it again on August 28 with GTS Band and SAMBAFUNK!
Make sure to also check out two other super fun events happening in August: National Night Out Block Party at Richmond BART on Tuesday, August 6 and Chill with a Cop on Saturday, August 17. If you're looking for business help, we got you covered in August, too: we're bringing back our Small Business Planning workshop series, starting with First Steps to Successful Start-Ups on August 15.