FOR IMMEDIATE RELEASE
July 12, 2018
Richmond Business Hub to Break Ground
July 17, 2018, 9am, 16th Street & Macdonald Avenue, Downtown Richmond
Richmond, California – SAA|EVI Development (www.saaevi.com) is thrilled to announce the ground breaking of the Richmond Business Hub on July 17, 2018 at 9:00am. The Richmond Business Hub will be the first downtown mixed development project to include a co-working business incubator, coffee shop, and food business.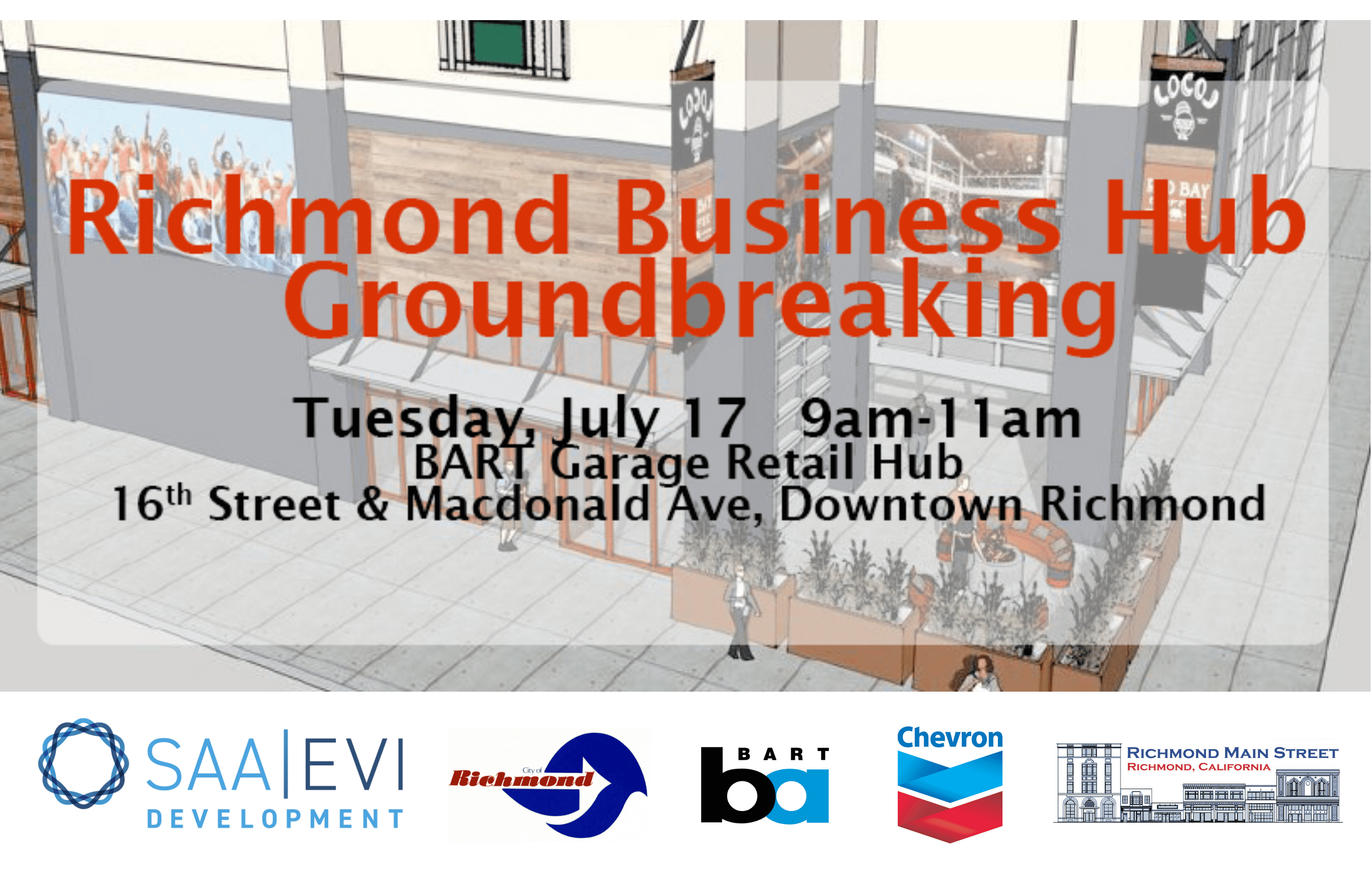 The nearly 10,000 square foot retail space located on the ground floor of the Richmond BART parking garage will be home to CoBiz Richmond business incubator, a project of Chevron's eQuip Revitalization Initiative, Red Bay Coffee, and Locol.
Red Bay Coffee and Locol will be fitted out in shipping containers within the space adding a unique and innovative design to the space. CoBiz Richmond will be the largest tenant in the space and will serve the needs of the small businesses, entrepreneur, and the freelance creative workforce in Richmond, North Richmond, and surrounding areas. Amanda Elliott, executive director of Richmond Main Street Initiative says "this project will be transformational for downtown. We see this as a catalyst that will help to spark more positive development that serves Richmond's diverse community."
Ernst Valery, SAA/EVI developer, has been interested in Richmond for several years. In addition to developing the Richmond Business Hub, he is in final negotiations on a mixed use housing and retail development at 12th & Macdonald, a project that will add nearly 400 units of housing and 60,000 square feet of retail to downtown. The City of Richmond, BART, business owners and the community at large are excited to see the Richmond Business Hub break ground and genuinely excited about this important project that will bring more vibrancy downtown.
Contact
Jane Daniel, SA+A|EVI Development
P: 410-962-5460
Email: jdaniel@saaevi.com
Groundbreaking Details:
What: Richmond Business Hub
When: July 17, 2018 9:00am-11:00am
Where: 16th Street & Macdonald Ave, Downtown Richmond
RSVP here
# # #