A Farmers' Market on Wheels!
A Fresh Approach program. Bringing You the Freshest Cargo from California Farmers.
Richmond & San Pablo Routes
*modifications starting March 18*
Due to the national and local responses to help control the spread of the coronavirus (COVID-19), Fresh Approach has consolidated the West County routes of their Mobile Farmers' Market to one stop per day:
RICHMOND: Wednesdays, 10am – 1pm @ 

Richmond Public Library (

325 Civic Center Plaza, btwn Macdonald & 

Nevin Ave)

SAN PABLO: *this stop ended July 3*
50% discount available to EVERYONE during shelter in place.
CalFresh, EBT, WIC, cash, credit/debit card accepted.
For more info about this decision, tips for shoppers, and to view the full mobile market schedule:
Visit www.freshapproach.org/covid-19-update 
Call (925) 771-2990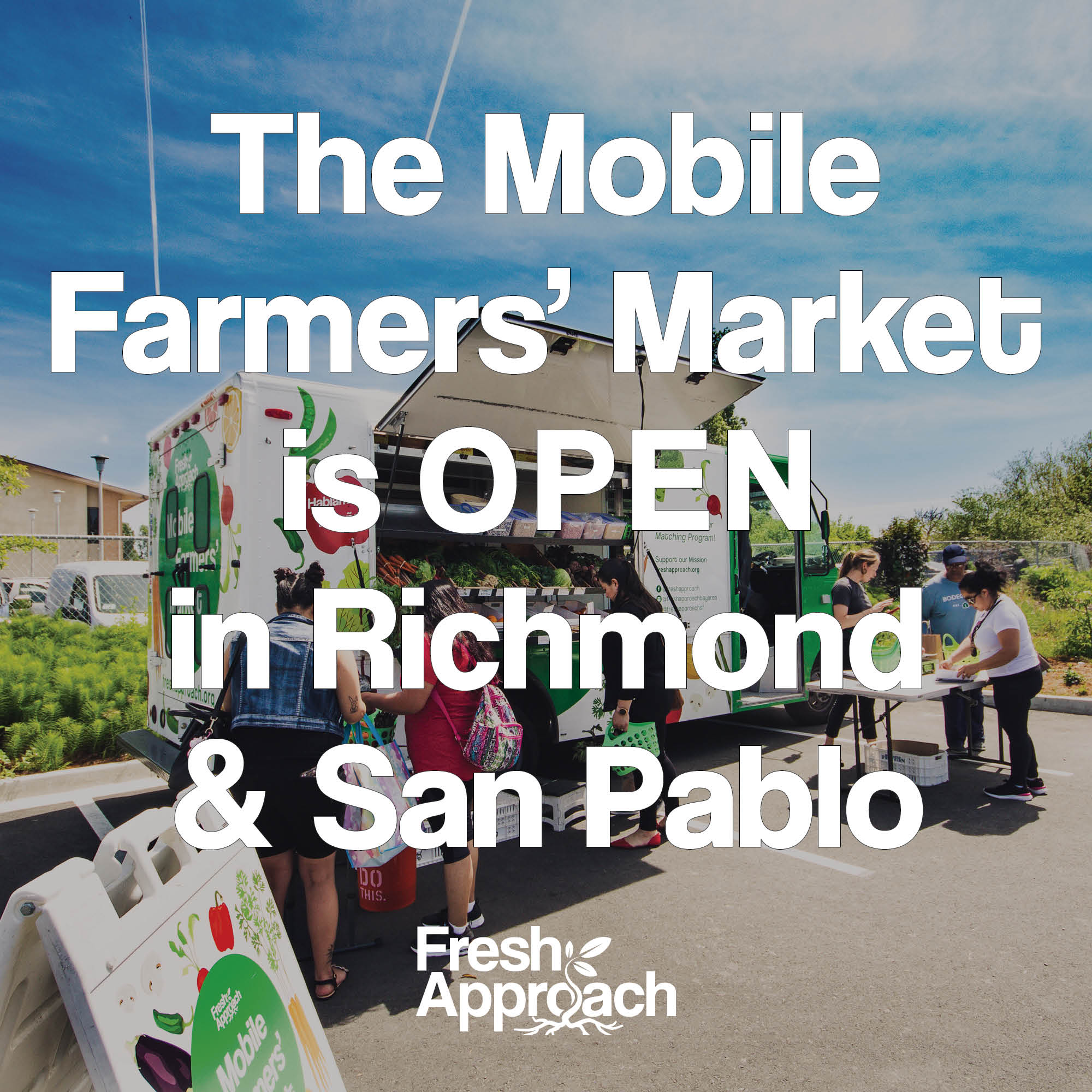 The Fresh Approach Mobile Farmers' Market is a seasonal farmers' market on wheels that rolls into Richmond every Wednesday, February – December. A program of Fresh Approach, the truck sources produce directly from local farmers to sell at sites across the Bay Area with a mission to increase access to fresh, quality produce in areas where it is not otherwise easily accessible. All stops are open to the public. Cash, debit & credit cards, CalFresh/SNAP, WIC, SSI & SSDI, Medi-Cal accepted.
Learn why the mobile market is a seasonal program and gain access free/low-cost food resources here.
For more information and to sign-up for updates, visit www.FreshApproach.org
Fresh Approach Mobile Faremrs' Market Downtown Richmond Stop (currently on hiatus due to COVID19 shelter in place) is made possible through a partnership between Richmond Main Street and Fresh Approach. Richmond route supported by Kaiser Permanente.  
Questions? Comments? Contact us:
Fresh Approach (925) 771-2990
Richmond Main Street (510) 236-4049