A Farmers' Market on Wheels!
A Fresh Approach program. Bringing you the Freshest Cargo from California Farmers.
Richmond Route
Final Market Date of 2020 Season is December 9. The Route will Resume February 2021.
The Fresh Approach Mobile Farmers' Market RICHMOND Route
Schedule: Wednesdays, 10am – 1pm @ 

Richmond Public Library (

325 Civic Center Plaza, btwn Macdonald & 

Nevin Ave)*

Accepted: CalFresh, EBT, WIC, cash, credit/debit card
Shopper Discounts: 50% discount is available to eligible customers who receive federal benefits like WIC, SNAP, SSI/SSDI, MediCal, or Unemployment. If you do not meet any of the above requirements, but feel you need the extra support, please reach out to programs@freshapproach.org.
For more info about the truck, tips for shoppers, and to view the full mobile market schedule:
Visit www.freshapproach.org/covid-19-update 
Call (925) 771-2990
*as of July 3, 2020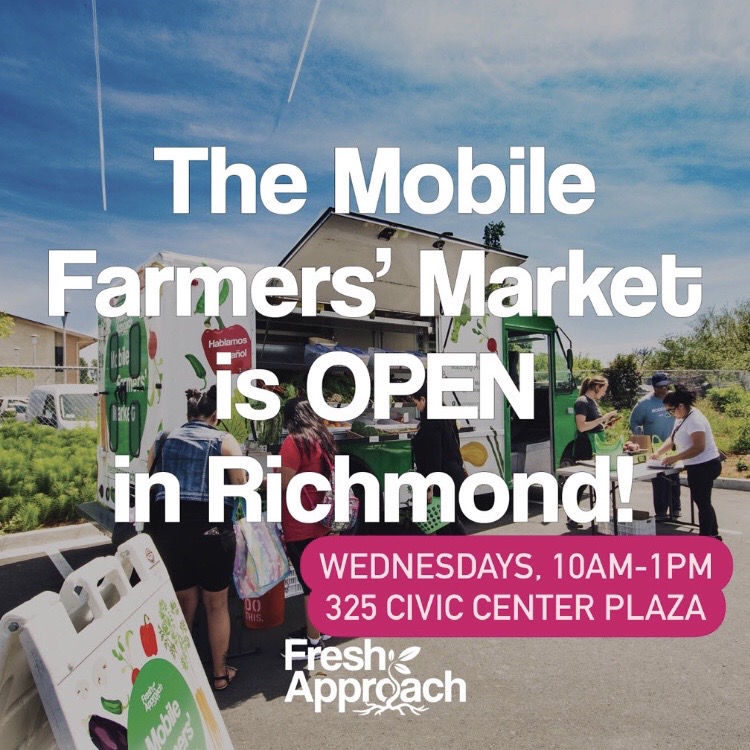 The Fresh Approach Mobile Farmers' Market is a seasonal farmers' market on wheels that rolls into Richmond every Wednesday, February – December. A program of Fresh Approach, the truck sources produce directly from local farmers to sell at sites across the Bay Area with a mission to increase access to fresh, quality produce in areas where it is not otherwise easily accessible. All stops are open to the public. Cash, debit & credit cards, CalFresh/SNAP, WIC, SSI & SSDI, Medi-Cal accepted.
Learn why the mobile market is a seasonal program and gain access free/low-cost food resources here.
For more information and to sign-up for updates, visit www.FreshApproach.org
Fresh Approach Mobile Faremrs' Market Downtown Richmond Stop (currently on hiatus due to COVID19 shelter in place) is made possible through a partnership between Richmond Main Street and Fresh Approach. Richmond route supported by Kaiser Permanente.  
Questions? Comments? Contact us:
Fresh Approach (925) 771-2990
Richmond Main Street (510) 236-4049