FOR IMMEDIATE RELEASE
September 8, 2021
13th Annual Spirit & Soul Festival Returns September 18th, with a Twist!
Airing on KOFY TV20 & Streaming Live Online
VIP Watch Party hosted by Richmond Main Street & El Garage
Richmond, CA – On Saturday, September 18, Richmond Main Street Initiative (RMSI) will present the 13th annual Spirit & Soul Festival, in a unique hybrid virtual/in-person format. 
RMSI is partnering again with KOFY TV20 to broadcast an exciting virtual program featuring performances by the Bay Area's top Show and Party band Top Shelf, the local legendary band Los Cenzontles with Los Originarios, and rising singer-songwriter Wanda Gonzalez. 
Ronnie Mills, RMSI Project Manager, will emcee the event from various locations around Downtown Richmond, highlighting the performances, festival sponsors, and opportunities for viewers to patronize local businesses, and join the movement to bring back Richmond's historic downtown. The virtual program will also stream live on RMSI's YouTube, Instagram, and Facebook channels.
Additionally, RMSI is partnering with El Garage, one of the Bay Area's hottest new restaurants, to host an in-person VIP Watch Party where guests will enjoy the virtual festival broadcast, plus an exclusive food and beverage menu, prizes, and after party performance by 1st Avenue Revue, the Bay Area's #1 Prince Tribute Band. Tickets are $50, with proceeds benefiting Richmond Main Street Initiative and their vitally important work fostering economic opportunity and cultural activity in Downtown Richmond.
Event details and links to purchase tickets can be found at https://tinyurl.com/SpiritSoulFest2021. 
Spirit & Soul Festival 2021 is sponsored by Richmond Main Street, with generous support from LifeLong Medical Care, Mechanics Bank, Kaiser Permanente, Square, AC Transit, MCE Clean Energy, Republic Services, MA Hays Insurance, Sims Metal Management, Maria Gallo, East Brother Beer Co, El Garage, and Bridge Storage and ArtSpace.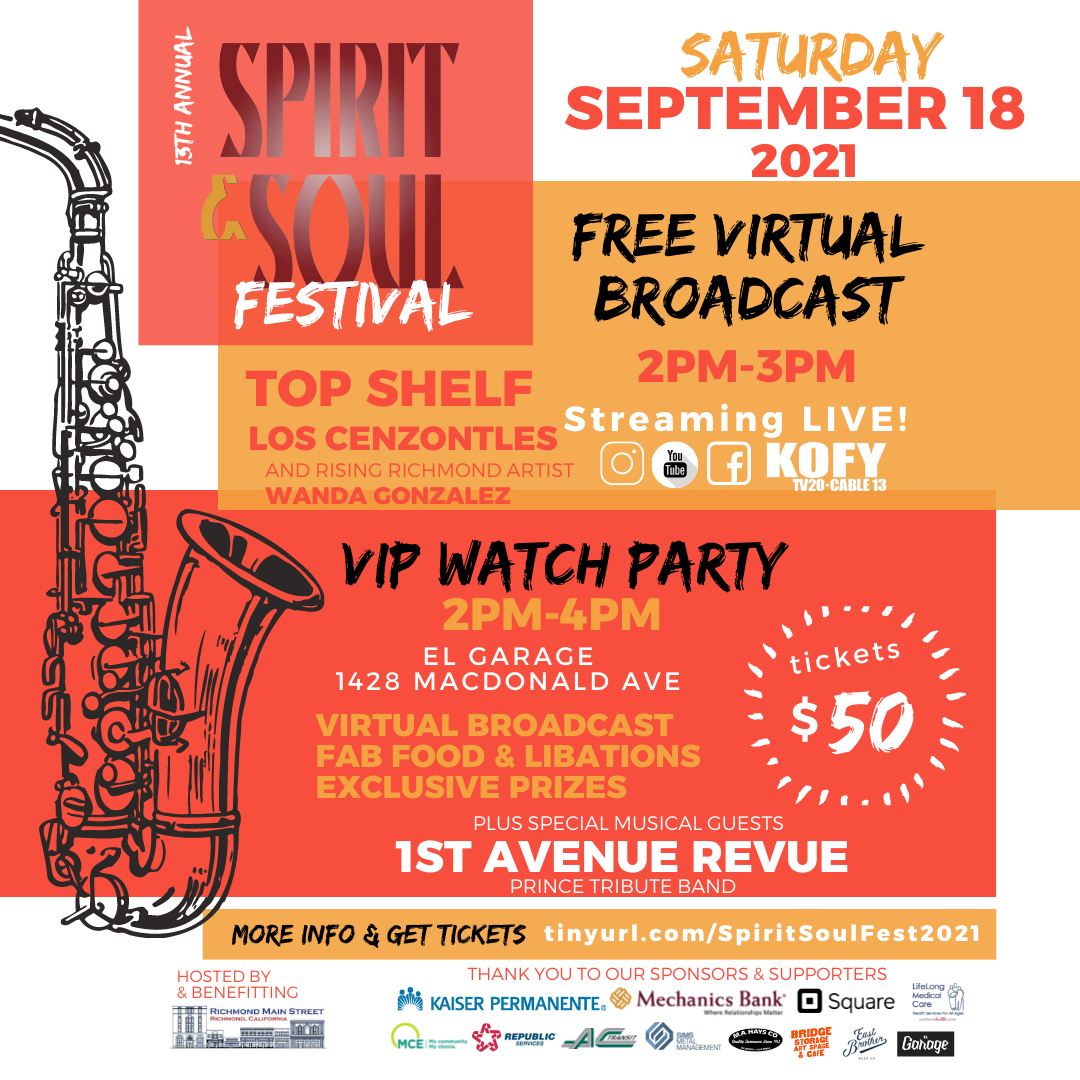 ​Richmond Main Street Initiative is a community-based nonprofit organization dedicated to revitalizing historic Downtown Richmond, California as a vibrant, pedestrian-friendly urban village offering products, services, arts and entertainment that reflect our community's rich and diverse heritage. Since 2001, we've worked collaboratively with a broad group of stakeholders to implement our transformation strategy designed to ensure a clean and safe neighborhood, preserve businesses and foster entrepreneurship, and position Downtown Richmond as the center of the community and hub of economic and cultural activity.  www.richmondmainstreet.org.
Contact: Alicia Gallo, Interim Executive Director
P: (510) 236-4049