FOR IMMEDIATE RELEASE
May 24, 2021
Re-Activating Green Spaces and Sense of Purpose 
Two Organizations Launch New Community-Building Partnership in Downtown Richmond
Richmond, CA – On Saturday, May 8, Richmond Main Street Initiative (RMSI) and Reentry Success Center (RSC) co-hosted the inaugural work day and launch of a new partnership to adopt the Community Green Space at Harbour Way & Macdonald Avenue. 
Alicia Gallo, RMSI Interim Executive Director and Pat Mims, RSC Director began envisioning this partnership in late 2018. Since the Community Green Space was established in the early 2000s, RMSI has partnered with the City of Richmond to help maintain the space, through the Neighborhood Ambassador Program, sponsoring bi-annual community clean-ups, and hosting community events. The space is an oasis in the middle of Richmond's historic Downtown, filled with eclectic art, roses, trees, botanicals, and tables decorated with mosaic board games. 
"This space is very special and important to the community. It has been challenging to find ways to give it the love and care that it really needs. When the Reentry Success Center opened its doors Downtown and I met with Pat, one of the first things we talked about was the Community Green Space and how we could work together to activate it more," reflects Gallo.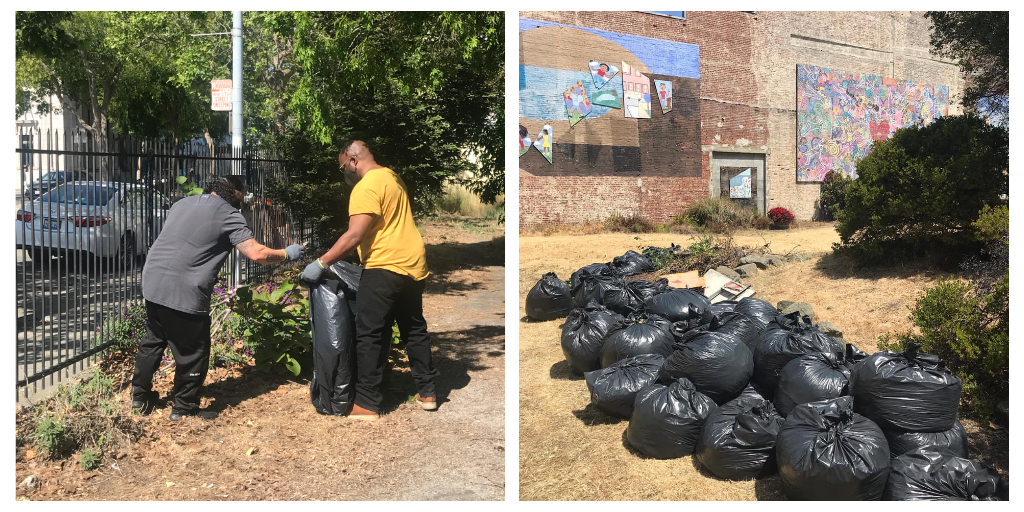 The RSC serves justice-impacted individuals and their families as they return to the community from incarceration. Men's Group is one of many community building support groups facilitated at the RSC as a means for participants to share openly in a safe space and receive support from their peers. Members of this Tuesday evening group were searching for ways to give back to the community in which they once took from. 
In deep discussion with the men about what would be a meaningful way to support the community for the group, a member stated to Mims, "I wish we could take back our city one block at a time." This partnership between the RSC and RMSI has resulted in just that. Although the pace was slower than expected for the work to begin due to the pandemic, the RSC Men's Group was able to officially adopt this space for the community to enjoy free of debris and destruction. "Community healing is the result of partnerships such as these," says Mims.
On May 8, 19 individuals worked together to cut weeds, rake leaves, and remove trash. In just 3 hours, they collected an astounding 65 bags of debris and 2 yards of bulky yard waste. 
The re-activation  of the Community Green Space is underway, through monthly caretaking work days and socially-distanced activities for RSC members and residents. Equally impactful are the opportunities for personal growth and community building, as expressed by RSC member Stephen Miner who raised his hand at the start of the work day to share his perspective on this new venture: "I would rather be here than anywhere else."
​Richmond Main Street Initiative, is a community-based nonprofit corporation dedicated to revitalizing historic Downtown Richmond as a pedestrian-friendly urban village, offering products, services, arts, and entertainment that reflect the community's rich and diverse heritage. www.richmondmainstreet.org
Reentry Success Center is a beacon of hope, healing, and justice for justice-impacted people and their families. Working with a community of partners, we provide free, integrated, and effective services  to justice-impacted men and women and their families in one welcoming hub. www.reentrysuccess.org
Images of the work day may be accessed online: https://drive.google.com/drive/folders/1v0Dp8p0XFzDQIExZVMyukRqvUPH8yXm6?usp=sharing
Photo credit: Richmond Main Street Initiative
Contact: Alicia Gallo, Interim Executive Director
P: (510) 236-4049