FOR IMMEDIATE RELEASE
May 6, 2021
The Pandemic Can't Stop Art
Renewed Collaboration Expands Art In Windows Program in Richmond
Richmond, CA – Art In Windows, the annual storefront exhibitions program pioneered by Richmond Main Street Initiative, returns this year through a pilot collaboration with Richmond-based NIAD Art Center, a progressive art studio for adult artists with intellectual and developmental disabilities. Funded by the Richmond Arts and Culture Commission's Neighborhood Public Arts Mini-Grant (RACC NPA), the collaboration includes two exhibitions in Downtown Richmond windows, a free online opening reception, featuring participating artists and family-friendly workshop kits to accompany the exhibition, and a small business development workshop in June for up to 25 artists.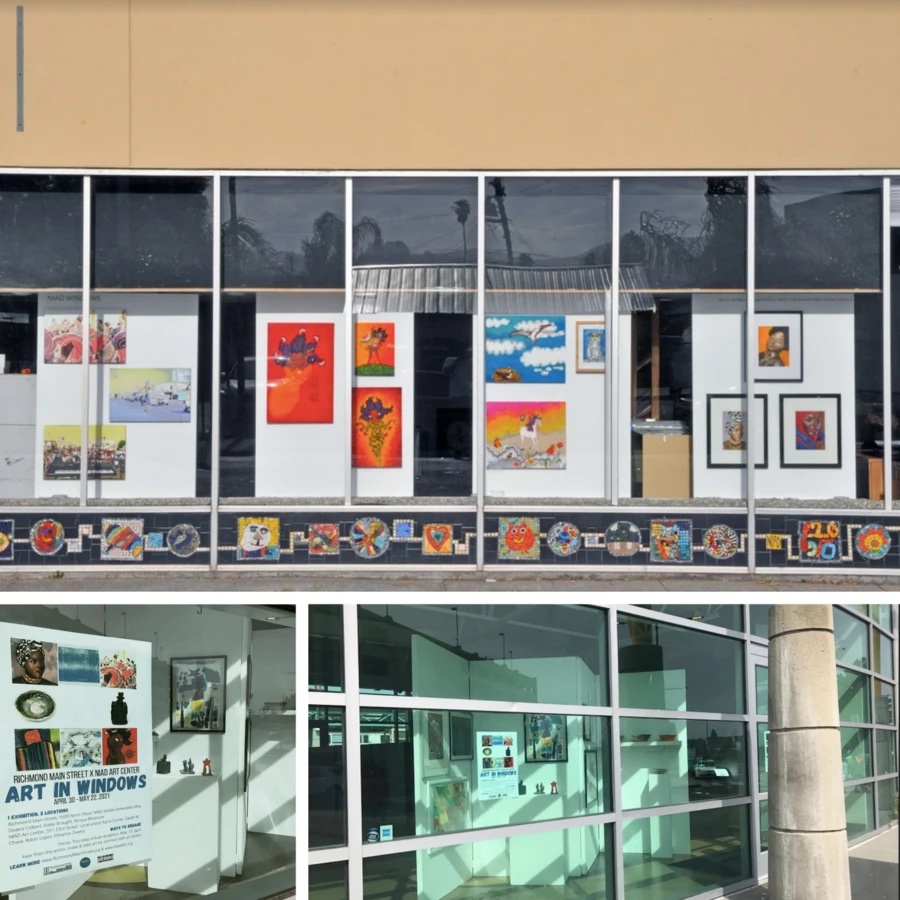 In March, NIAD (Nurturing Independence Through Artistic Development) and Richmond Main Street Initiative (RMSI) collaborated on a call for artists that resulted in 34 submissions from 26 artists. Running from May 1–22, 2021, Art In Windows 2021 includes the work of artists Mireya Betances, Eddie Braught, Sarah Waite Chase, Deatra Colbert, Robin D. Lopez, Elmarise Owens, Esmeralda Silva, and Karin Turner. All artists selected for the exhibition have lived, worked, and/or exhibited in Richmond. Ranging from photography and ceramics, to drawing, painting, and oil pastel, the artwork will be shown in two simultaneous exhibitions in NIAD and RMSI's windows. Both exhibitions are visible from the street.  
"Nearly 10 years ago we collaborated with NIAD on our first Art In Windows exhibition," reflects RMSI's Alicia Gallo. "It is a beautiful thing to be working with NIAD again, breathing new life into the program and expanding it to include more artists, more windows, and more ways to engage." 
"Partnerships like the ones we have with Richmond Main Street Initiative and Richmond Arts and Culture Commission's Neighborhood Public Arts Mini-Grants Program help NIAD realize its mission of supporting artists with the professional recognition and supports they deserve," adds Amanda Eicher, NIAD's Executive Director.
Art In Windows 2021 free, online opening will take place during NIAD's monthly Thirsty Thursday program on Thursday, May 13, 2021 from 6-7:30PM. The first 25 ticket holders will receive a make-and-take art workshop kit that includes some of the materials that the 8 artists used to make their artwork. All of  the artists will talk about their art practices during the opening. Tickets are available at: https://niadart.myshopify.com/collections/online-event-thirsty-thursday-art-in-windows-workshop
Art In Windows 2021 is on view May 1-22, 2021 in two locations:
NIAD Art Center – 551 23rd Street, Richmond, CA 94804
Richmond Main Street Initiative – 1600 Nevin Plaza, Richmond, CA 94801
About Richmond Main Street Initiative
Richmond Main Street Initiative, Inc. is a community-based nonprofit corporation dedicated to revitalizing historic Downtown Richmond as a pedestrian-friendly urban village, offering products, services, arts, and entertainment that reflect the community's rich and diverse heritage. Website: https://www.richmondmainstreet.org/
About NIAD Art Center
In 2022, NIAD Art Center will celebrate 40 years of progressive studio programs in its downtown Richmond, CA studio and galleries for adult artists with intellectual and developmental disabilities. NIAD's visual arts programs provide the time, space, art marketing, education, and teaching opportunities all artists need to maintain a thriving contemporary practice. Website: https://niadart.org
High-res images of both Windows available to download: 
https://drive.google.com/drive/folders/19X8N0U_9Uz8-ED6JUto-ih4aTqJG1j-t?usp=sharing
Media Contact: 
Amanda Eicher, Executive Director, NIAD Art Center
551 23rd Street 
Richmond, CA 94804
Office:  (510) 620-0290
Email: gallery@niadart.org