FOR IMMEDIATE RELEASE
August 25, 2020
Richmond Main Street Initiative & Travis Credit Union Foundation Fundraiser
Protecting Local Lives & Livelihoods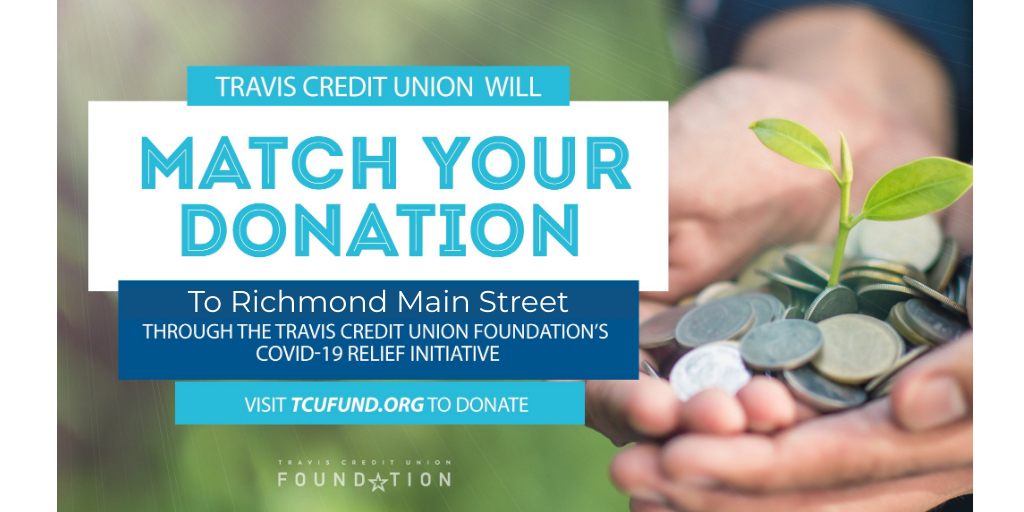 Richmond, CA – Richmond Main Street Initiative has partnered with Travis Credit Union Foundation and four local Richmond-based manufacturers to raise funding to provide PPE to local residents and businesses in need. Travis Credit Union Foundation will be matching each donation to Richmond Main Street Initiative, up to $20,000 through September 30, with the goal of raising $40,000 in funding for PPE production. The local businesses include:
LeChat Nails producing FDA-approved hand sanitizer
Leftside Printing printing cloth face masks with a unique logo designed by a local young artist
Five Star Cleaners sewing cloth face masks  
Fab Lab at Kennedy High School producing face shields
These local manufacturers have not only pivoted their businesses during the pandemic, but combined have also been able to employ 57 Richmond residents while they work to keep the local community safe. With $20,000 in donations and Travis Credit Union Foundation's match, Richmond Main Street Initiative will be able to provide the local community with up to 3,000 branded cloth face masks, 3,000 bottles of hand sanitizer, and 960 face shields. 
"This campaign is about protecting lives and livelihoods", says Richmond Main Street Initiative executive director, Vivian Wong. "The COVID19 pandemic has created hardships for our communities. From speaking with our residents and businesses we saw a need to increase access to PPE, create opportunities for local manufacturers to operate, and engage youth in the campaign to slow the spread of COVID19. This partnership with Travis Credit Union Foundation is a win-win, three ways!"
Donations can be made at tcufund.org/ways-to-give (select Richmond Main Street Initiative) through September 30, 2020.  
Richmond area residents, ages 14-24, are also invited to submit an original logo design. The first 20 submissions will get their design printed on a T-shirt for free. The winning design will be printed on the cloth face masks and the artist will be featured across Richmond Main Street's digital platforms. Deadline to submit designs is Friday, September 4. Learn more and submit a design at tinyurl.com/MaskLogoContest.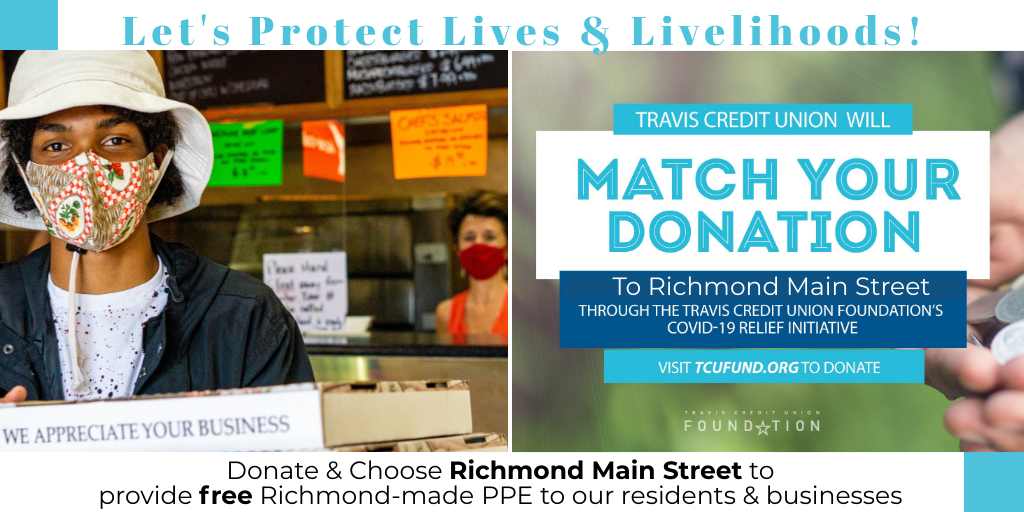 ###
CONTACT
Alicia Gallo
Programs & Communications Manager, Richmond Main Street Initiative
E: outreach@richmondmainstreet.org 
ABOUT
Richmond Main Street Initiative is a community based nonprofit dedicated to revitalizing historic downtown Richmond. RMSI partners with the City of Richmond, merchants, and residents to develop and improve downtown Richmond as a pedestrian-friendly urban village that offers products, services, arts and entertainment that reflect the community's rich and diverse heritage. For more information and to read about the RMSI's events, programs, and impact, please visit www.richmondmainstreet.org.
Travis Credit Union Foundation is dedicated to lifting communities through financial wellness. Financial wellness looks different today than it did earlier this year.  While business shutdowns, self-quarantines and "shelter in home" orders have kept people safe from the virus, they have also limited the capacity of families to access income, food and much needed resources. To meet this demand for support in our communities, the Travis Credit Union Foundation is raising funds for local charities. Learn more about the COVID19 Relief Initiative here.