Business:
 The Rich Clothing Company
Voice:
Osaretin Ogbebor, Owner
How has the COVID-19 crisis impacted your business?
In January, we had our grand opening [and started running the store at the Richmond Visitor Center, which we share with Richmond Main Street]. In March, we were part time, or ramping up to full time hours, and making sure that we had a retail space that was booming. Due to COVID-19 of course, we had to close our doors. In March, we were anticipating to be full strength going into April. Now, COVID-19 has actually stopped our progress. Once this is over we'll be at full strength.
What is the meaning of your business to you? to the community?
Well, we're defining that at this moment. So the hope is that we are the representative apparel company for the city of Richmond.
What motivates you to continue to provide your services to the community?
Yeah, this is my stomping grounds. You know, I'm from Richmond. I went to school at DeAnza High School, I grew up here my whole life. To be doing business in the city of Richmond and bring some light to the city in which I'm in…a lot of other cities have stuff that's going for it and we want to do the same thing here.
What are your current operations/services/specials & how people can shop local safely?
Our online store is open 24/7. We offer shipping and curbside pick-up, Monday-Friday 11am-2pm.
What do you want people to know about your business?
We are selling online and all the different products that we have are available in the store. Some of the new items that we're providing in light of COVID-19 is a facemask for people to be able to fully protect themselves from spreading [or contracting] the virus. [We listen to the needs of our customers.] People were requesting things like hats [so we added those]. Most of the people who are buying our product are local. 
How do you feel that you are continuing to foster the spirit of Richmond's motto "Pride & Purpose" amidst this COVID-19 crisis? 
So with the pride part, we are putting apparel out there – we're still putting new stuff out. That shows that "hey, Richmond, there's still pride in where we are from in the midst of this." And then what is the purpose. You know, that's the part that we're like, "Hey, you know, we want to make sure that there is a purpose." And so working with essential workers and the police department is showing that [our business has] purpose. It's not just a business, but we have a community aspect accordingly. 
We have designs and we have shirts…what can we do with those? We have stock, you know, businesses slowed down, but we still have stock. So what can we do with that stock? Are we willing to donate that? And it's like, yes. So those are the things in which you know, our company is doing. We are in a position ourselves to be like, "well, you know, even if it is a [financial] loss, it's affecting the community in a positive way." 
During this time, you know, we're all, we're all in this together in a sense that we're all sharing the burden of having to shelter in place. People are losing their jobs, some people are shutting down. Other people literally don't have food to eat. So it's like, you know, how can you help? And then some people have to risk their lives by going to work, you know? So it's like, thinking about, "how can we help you?" Well, you know, because we're a clothing company, we have clothing that shows where you're from, and that's the way that we can support and in a purposeful way. [One way is] donating our clothes to people who are essential workers.
Find Online: richcityapparel.com, Instagram
How to Support Local Safely: Shop online richcityapparel.com, choose shipping or curbside pick-up
Good Deal: Rep Richmond with The Rich Clothing Co apparel! Check out the new line of "The Rich" hats and the flagship Retro Richmond, Cross My Heart & Dual Rich shirts.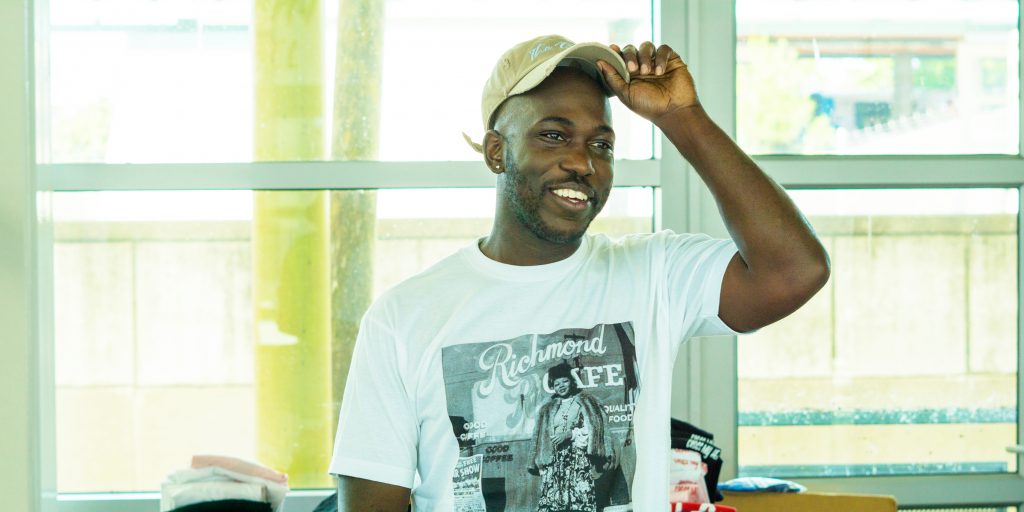 About Heart of Richmond
Heart of Richmond is a digital storytelling and marketing series designed to lift up the voices of our local entrepreneurial community. Over the course of 4 weeks we are sharing the stories and voices of 12 women-owned, food & beverage, Latinx-owned, and Black-owned Richmond businesses, and sponsoring promoted posts for them through our social media channels. Read, listen, stay tuned to our social media, and support local safely. 
Interviews conducted by Richmond Main Street. Responses lightly edited for clarity with careful attention to maintaining the integrity of the participant's time and insight. Photos by R.D. López/Shots From Richmond.
Generous support for the Heart of Richmond series provided by Wells Fargo.