Business:
 Rich City Studios 
Voice:
 Charles "ChuckT" Turner Jr., Founder/Owner/Engineer/Producer/Songwriter
How has the COVID-19 crisis impacted your business?
Since the COVID-19 crisis resulted in the statewide shelter in place my client flow has slowed because many people are staying home in fear of the virus and some are off work or had their work hours cut short due to the virus and can't afford studio time, which has decreased my income. I've had to shorten my own hours of operation, hire a cleaning company to come by regularly to disinfect the studio, and I am no longer able to throw my artist showcases in Richmond. I've also noticed that some of my clients who live in cities outside of Richmond have begun recording at studios located within their own cities to avoid traveling far distances during the quarantine.
What is the meaning of your business to you? to the community?
To me, my business represents the sum of over a decade of hard work and planning. In 2004, when I started making beats, I realized that none of my friends nor I knew anyone who was an audio engineer, and although many people I knew were rappers or singers they all lacked a professional and reliable engineer. 
So at the age of 16 I made the decision to not only pursue a career as a music producer, but to also become the go-to audio engineer for recording artists, film directors, and anyone else that I know who needed audio work done. After graduating from Oakland Technical High School I was accepted into Howard University in Washington D.C., where I earned a Bachelor's degree in radio, TV, and film production with a focus in audio production. While in college I interned for different people and companies within my field to hone my audio engineering skills such as Howard University's student radio station WHBC 830AM, Gary Drew (Raheem Devaughn's former manager & audio engineer), and MTV. I also created a home studio and began recording music for people who I went to college with for a fee. 
After graduating from college, I had music that I produced featured on the show BET's Black Carpet as well as be featured in The Source Magazine. I also moved back to the Bay Area after graduating where I began recording and producing music for local artists as a second job. During this time I worked for different non-profit organizations teaching children how to use audio and music production software and I also worked for Academy of Art University within their music production and sound design for the visual media department. 
After a few years of gaining more knowledge and experience as well as building my clientele, I decided that it was time to cash in on all the time and effort that I invested into learning audio engineering by opening and establishing 10,000 Hours Of Music, LLC. & Rich City Studios. 
While still a teenanger I made a big decision for my life that I sought out with plans and goals and now as an adult I'm able to act on and achieve what I set out to do. 
To the community of Richmond I would like to think that my business offers an affordable, convenient, community-based, and uncensored outlet for the people. I say we're affordable not only because we offer recording packages, such as 3 hours of recording time with 1 song mixed and mastered for $100 to give our clients more bang for their buck, but because we also offer discounts for minors. As far as being convenient & community-based, I'm speaking to the fact that we're located in Downtown Richmond in the historic Market Square Mall which is less than a mile from the Richmond Bart Station and also because we allow same day appointments as long as you call at least 3 hours before the time you would to schedule. 
I also say that we're community-based because since being in business we have held 2 artist showcases and one online showcase. With each showcase we had Richmond residents performing, vending, and/or working as a photographer. These events also included residents of other Bay Area cities so we were able to help artists and businesses of Richmond and other places network and grow. 
Lastly, to explain what I meant by having an uncensored outlet for the city is the fact that the city of Richmond has very limited venues for the artists of the city to showcase themselves and to make matters tougher some of the venues or programs which create performance and other opportunities for artists have guidelines or rules as to what performers/clients can and can't do or just aren't always open to everyone's lifestyle or opinions. For example, some of my under 18 clients come to my studios and record really edgy songs that a youth organization might not allow or want recorded but I allow my clients no matter their age, gender, or sexual preference to freely express themselves. 
Another example of how we're uncensored and open to people is the fact that we're a LGBT friendly business that actually works with our clients to have good songs and projects, rather than just rushing them in and out of the door because something that they might have recorded isn't relatable to our engineers.
What motivates you to continue to provide your services to the community?
My motivation comes from being able to create, motivate, and collaborate. I love making new things and I especially love seeing someone's reaction when being introduced to something new. So working with clients daily to turn ideas into reality gives me a sense of accomplishment each time. Since being in business I have worked with a lot of clients who were just starting to make music so being able to help motivate them to pursue their dreams feels good as well.
What do you want people to know about your business?
That we're open daily, taking all of the proper safety precautions including disinfecting the room after each client visits, and that we have affordable prices for everyone, especially minors. Our services are affordable, convenient, and community-based. Our studio provides an uncensored outlet for the people, especially youth, and is a LGBT-friendly space.
What new safety/health protocols have you implemented since the shelter in place order?
We have masks available for any clients who might need one as well soap, hand sanitizer, and Lysol. We also disinfect the studio after each client visit.
How do you feel that you are continuing to foster the spirit of Richmond's motto "Pride & Purpose" amidst this COVID-19 crisis? 
Since opening our doors we've never gone away from our original goal which was to provide the Bay Area and especially Richmond, with an affordable, professional, and reliable recording studio. And although COVID-19 has temporarily changed the world we are still continuing with our purpose and giving Richmond residents an outlet to show their pride.
Find Online: richcitystudios.com, Facebook, Instagram, Twitter
How to Support Local Safely: Book a session: (510) 374-6061, richcitystudios@gmail.com 
Good Deal: Audio recording, mixing & mastering, radio edits, workshops…Rich City Studios can do it all! Studio sessions, online music industry fundamentals courses, and gift cards available richcitystudios.com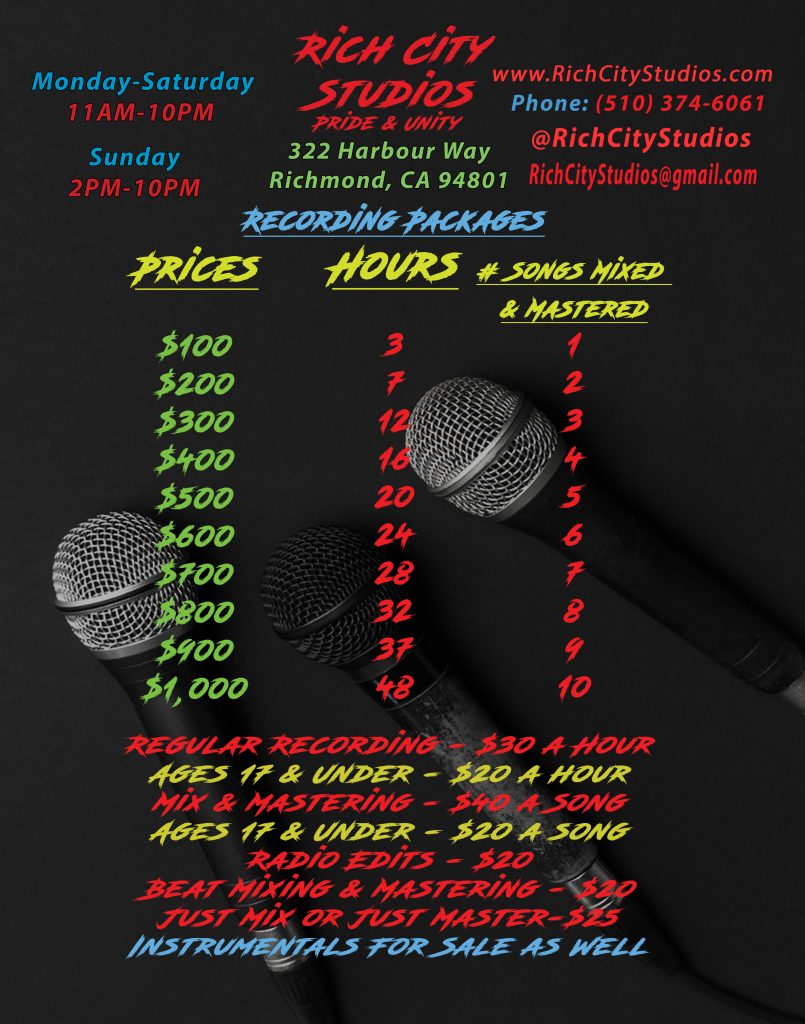 About Heart of Richmond
Heart of Richmond is a digital storytelling and marketing series designed to lift up the voices of our local entrepreneurial community. Over the course of 4 weeks we are sharing the stories and voices of 12 women-owned, food & beverage, Latinx-owned, and Black-owned Richmond businesses, and sponsoring promoted posts for them through our social media channels. Read, listen, stay tuned to our social media, and support local safely. 
Interviews conducted by Richmond Main Street. Responses lightly edited for clarity with careful attention to maintaining the integrity of the participant's time and insight. Photos by R.D. López/Shots From Richmond.
Generous support for the Heart of Richmond series provided by Wells Fargo.