Business:
 The BakerE
Voice:
Evangeline McKilligan, Owner
How has the COVID-19 crisis impacted your business?
I'm doing contactless delivery, pick up, and payment. Instead of being a weekly vendor at the farmers' market that I was participating in [earlier in the year] I am now on call if another vendor can't show.
What is the meaning of your business to you? to the community?
My business is my passion job. I love baking and people. I'm working hard to earn the money to open a brick and mortar store here in Richmond. My goal is to be able to have a storefront that is warm and inviting. A friendly delicious smelling place that will draw people in and make them smile.
What motivates you to continue to provide your services to the community?
My love of baking, Richmond, and bringing a brightness to someone's day.
What are your current operations/services/specials & how people can shop local safely?
I am open 7 days a week and everything is made to order.  I offer free delivery in Richmond, as well as contactless payment and pick-up. People can order through my website www.thebakererichmond.com or by calling (415) 691-1976.
What do you want people to know about your business?
I am a home based business operating out of my permitted kitchen. My packaging and way of baking is different and unique. All of my products are served in reusable, recyclable, or compostable packaging, so it's a little bit greener. And actually the way that I bake my pies is very different than most people. I bake them in a metal ring, so they don't have that aluminum tin. Instead they go out in a cardboard box, so there's a little less waste there.
I'm excited to open a physical bakery for the community to enjoy. People can help me open my store through  GoFundMe.
What new safety/health protocols have you implemented since the shelter in place order?
Contactless ordering, payment, pick-up and delivery. I also follow all health, safety, and food handling protocols required by the County's Health Department.
How do you feel that you are continuing to foster the spirit of Richmond's motto "Pride & Purpose" amidst this COVID-19 crisis? 
I am extremely prideful of what I do, it's very personal to me. The baked goods that I do, it's like an extension of me. And it's going out there and sharing that with the community. 
Especially during this time, it's allowing people to still have that warm, homey, comforting pecan pie or sweet potato pie…things that I love to make. Right it's a lot of strawberry rhubarb. And just bringing that to the community. I've got a little purpose of giving people back that good feeling and being a part of the community. And I love it. 
I'm a sole proprietor right now. One of the things, when I form my business as a corporation, it's been deemed a social purpose corporation. So a big piece of it for me is to give back to mental illness. A portion of my sales will go towards that. All my leftovers will go towards people in need in Richmond, to food centers or other places.
Location:
 Marina Bay, Richmond, CA
Find Online: www.thebakererichmond.com, Instagram
How to Support Local Safely: Order for pick-up or local delivery: (415) 691-1976, thebakererichmond@gmail.com 
Good Deal: Fresh, delicious  pastries, pies & cookies for any occasion. Currently offering contact-free pick-up, delivery & payment. Plus free local/Richmond delivery. Explore the menu & order www.thebakererichmond.com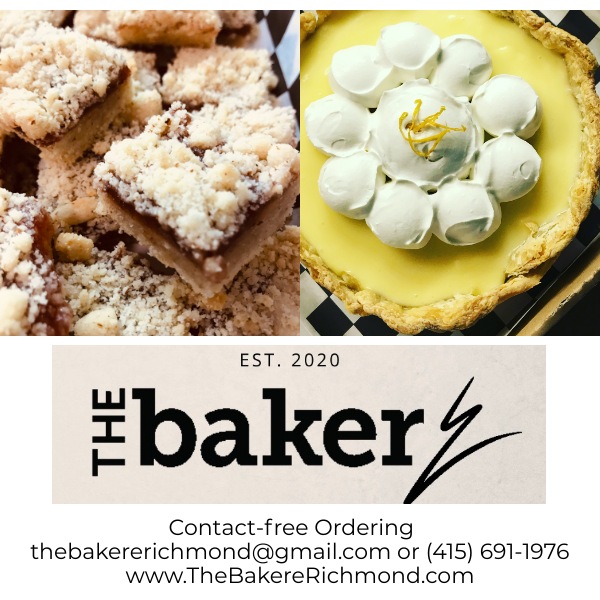 About Heart of Richmond
Heart of Richmond is a digital storytelling and marketing series designed to lift up the voices of our local entrepreneurial community. Over the course of 4 weeks we are sharing the stories and voices of 12 women-owned, food & beverage, Latinx-owned, and Black-owned Richmond businesses, and sponsoring promoted posts for them through our social media channels. Read, listen, stay tuned to our social media, and support local safely. 
Interviews conducted by Richmond Main Street. Responses lightly edited for clarity with careful attention to maintaining the integrity of the participant's time and insight. Photos by R.D. López/Shots From Richmond.
Generous support for the Heart of Richmond series provided by Wells Fargo.