Business:
 East Brother Beer Company
Voice:
 Rob Lightner, co-founder, with taproom manager, Steven Phillips
How has the COVID-19 crisis impacted your business?
You know, a lot of our business has been, in many ways, shut down. But we started this curbside pick-up program and launched our Pride and Purpose beer [in mid May]. That's where we're contributing a portion of those sales to the Richmond Rapid Response Fund. But it's been nice. It's been cool to see how many people actually come out and pick up beer that want to support their local business. But people love this particular beer, because, you know, it's got a broader purpose to it.
What is the meaning of your business to you? to the community?
We're a manufacturing organization. So I feel like in some ways, even though it's beer, we're still making a product. You know, we're making a lot here. And someone asked me about the importance of local manufacturing. And you know, not to denigrate any other sort of job, I've been working kind of desk jobs and office jobs in my life, but I'm making a product in a place and having and feeling like there is a relevance to that place. 
Another aspect is the type of beers we make. The beers we make are [styles that you're] probably familiar with…they're not super trendy styles or really experimental stuff, but really that classic traditional easy drinking, you know, enhancing friendships and social occasions kind of beer where you don't really think about it that much. They're understated, they're humble. They're kind of hard working, you know, and we feel like those values we share with the City of Richmond. 
What are your current operations/services/specials & how people can shop local safely?
Well, the major change we made was to offer, I guess you could call it, direct to consumer options. You used to be able to come into the tap room, sit down, have a pint, and then you could walk out with a four pack or a case. And so we really just extended that now so that you order online, get it three ways you can have it. Well, it's really two ways. You can pick it up or you can have it delivered.
What do you want people to know about your business?
I was going to send this note to a marketing manager saying we should do a series of "thank you" posts, just let the community into our vendor network. You know, a lot of people are suffering and it's been kind of amazing the extent to which people are willing to be flexible. I mean, I had this one vendor–it's called a C.D. Boiler–and we incurred a big bill with them because we had a problem and we couldn't pay it. And yeah, I got on the phone with them [about our bill], and they're just like, "We want you to stay in business. Let us know what works for you,"  and we got a payment plan going." I hung up the call I was just like, so happy. Normally, people want their money and they get kind of aggravated, and you get pissy about it. And now, almost without fail everyone is like being very understanding. And it's like, it's like, wow, it's almost like Christmas, you know. I think everyone is really trying to be there. their empathy, their degree of being empathetic to other people's intuitions have increased dramatically. 
I would just say thank you to everyone and especially all the taproom regulars that we have and customers driving out here picking up cases of beer. What you are doing–that's helping credibly. We're just, we're just really, grateful. And I mean to [Richmond Main Street] doing this kind of stuff for us like this, you know, reaching out and thinking of us and saying, "Hey, we think this is an important business and we want to feature you guys and help you out." And it's just, it makes us feel really good. And I feel really good to be here and proud to be part of the city that we're in.
What new safety/health protocols have you implemented since the shelter in place order?
We've got the orange cones that say, "drive here and stop there." The employees wear gloves, and masks, and will wipe that door handle. So we're very careful about the [curbside pick-up] transaction.
How do you feel that you are continuing to foster the spirit of Richmond's motto "Pride & Purpose" amidst this COVID-19 crisis? 
Well, you know, [the Pride and Purpose beer] was one of those things where a couple things lined up fortuitously: we had had a beer that was slated to be what we call a taproom exclusive. So we don't put it in cans, we don't sell it out to the market, we just do it for our taproom customers. And you kind of do that to little experimentation, trying new styles, we saw that people liked it and then see if you want to make it, you know, bigger after that. 
But we only had it in kegs. And we were going to release it just before the shutdown. And then the shutdown happened. Now we've got, you know, 600 gallons of beer, that we can't sell, right? And so we're like, "what should we do with this?" At the same time, you're seeing all these [hardships], and we're, frankly, we're struggling to stay alive…keep people on payroll and keep the wheels turning. But at the same time, you know, of course people in this kind of situation become, I don't know, they start they come become more magnanimous and start looking beyond their own issues and how can I help all these other people that are suffering because, "Hey, I got a tough but the other people that have a tougher." 
We saw all these funds that are starting up to help different sectors of society: bars, bar and restaurant workers, service workers, frontline health care. And for us, we said, "Okay, we want to do something we don't know what yet but for us, Richmond has always been super important to us." [Richmond] is where we are, where we decided to locate our business and establish ourselves. We've got so many good friends and connections and family here in Richmond. We said, "Yes, let's do something Richmond focused" and Steven, our taproom manager, I think was looking around trying to figure out some ideas about how we could sell this beer and then donate a portion of proceeds. Then he talked to Chis Whitmore, the Mayor's Chief of Staff. Right then Chris said "Perfect timing: we have this Richmond Rapid Response Fund with Ed Fund West and RYSE Center and Richmond Promise." And we thought this was perfect! We named the beer Pride and Purpose because we started doing some t-shirts and caps with "pride and purpose"…it's such a great motto…and also our blog [with the same name] we have featured a number of different people in Richmond–businesses, nonprofits–people who are doing cool stuff and we want to shine a spotlight on people in Richmond. 
Normally we don't name beers. We said, "let's just call this Pride and Purpose," it's perfect for this time. The response has been amazing. Again, it gives people the opportunity, and for us certainly, to get our heads out of the weeds, out of our own little world here and participate in our own little way in the broader efforts to help people who are suffering. 
Find Online:  www.eastbrotherbeer.com, Instagram, Facebook, Twitter
How to Support Local Safely: Order online for curbside pick-up or CA shipping. Bonus: 20% of proceeds from Pride & Purpose Belgian Pale Ale are donated to Richmond Rapid Response Fund.
Good Deal: Save the date for the East Brother Beer Company taproom reopening on July 1! In the meantime, you can continue to support EBBC by buying their awesome craft beer at your local retailer (big & small!) or order online for curbside pickup or shipping anywhere in CA.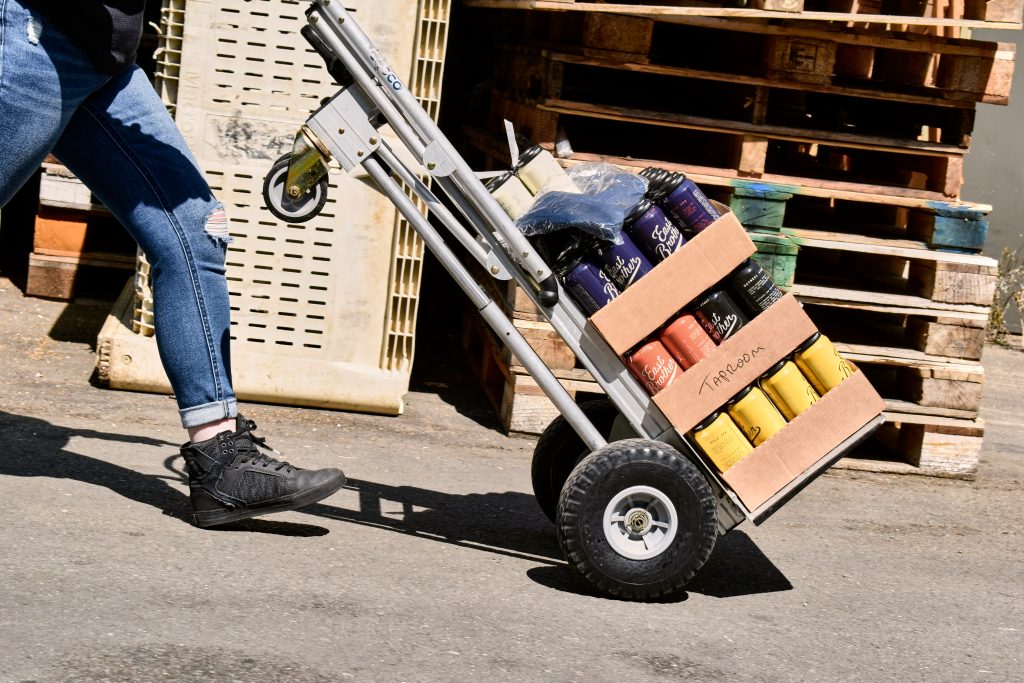 About Heart of Richmond
Heart of Richmond is a digital storytelling and marketing series designed to lift up the voices of our local entrepreneurial community. Over the course of 4 weeks we are sharing the stories and voices of 12 women-owned, food & beverage, Latinx-owned, and Black-owned Richmond businesses, and sponsoring promoted posts for them through our social media channels. Read, listen, stay tuned to our social media, and support local safely. 
Interviews conducted by Richmond Main Street. Responses lightly edited for clarity with careful attention to maintaining the integrity of the participant's time and insight. 
Generous support for the Heart of Richmond series provided by Wells Fargo.