Guest post by Amtrak San Joaquin: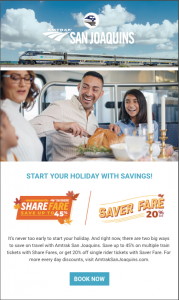 Start your Holidays with Savings!
It's never too early to start your holiday. And right now, there are two big ways to save on travel with Amtrak San Joaquins.
Save up to 45% on multiple train tickets with Share Fares or get 20% off single rider tickets with Saver Fare.
For more information and every day discounts, visit AmtrakSanJoaquins.com.