Last week was a delightful whirlwind of activity! On Tuesday, we joined our partners in officially cutting the ribbon for the Richmond Business Hub. Words cannot adequately describe this momentous occasion, but we will try: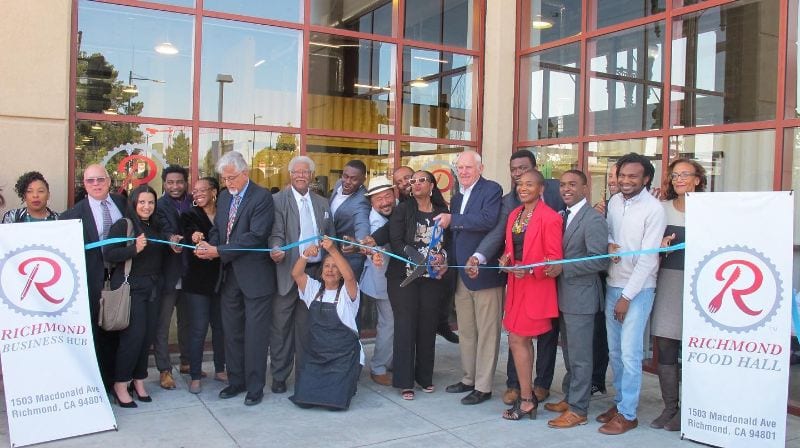 It all started with a need, an idea, and a pitch contest. Nearly 3 years later, the seed that planted the idea of establishing a co-working space in Downtown has blossomed into something bigger. 250+ Richmond residents and community members flocked to Downtown on April 30, 2019 to get a first look at the Richmond Business Hub, located in the street level retail space of the Richmond BART parking garage on Macdonald Avenue. Music and the delicious aroma of spiced sweet potatoes and collard greens wafted throughout the space. Friends (old and new) chatted over signature Downtown sangrias courtesy of Mobile Lush Bar and small groups were led on tours of the Hub, getting a first look at recently completed space that had been a raw space just eight months prior. The Richmond Business Hub is made up of two components: Richmond Food Hall featuring two anchor tenants—Roux and Red Bay Coffee—and a pop-up space designed to incubate local food entrepreneurs. The adjoining venture is CoBiz, an eQuip Richmond Initiative funded by Chevron. Once open in August, CoBiz will provide much needed co-working office space and incubation support to the Richmond and Contra Costa County business community.
Then, a few days later, we hosted our monthly Business Master Mind for Women Entrepreneurs meet-up and One-On-One Business Advising appointments, providing crucial support to our local business community.
This Thursday we are celebrating National Small Business Week with back-to-back events: First up, we are hosting a free Grow Your Business: Get Online! Workshop. Experts from our partners at Contra Costa SBDC and Renaissance Richmond will provide simple, affordable, and powerful tips on how to create a web presence. Then we are off to co-host the May Business Mixer with Richmond Chamber of Commerce at Concourse Education. Also this Thursday, Bike to Work Day is making a strong presence Downtown: Cyclists are invited to swing by the Energizer Station at Richmond BART in the morning, then stop by the Richmond Food Hall for a super fun Happy Hour in the afternoon.