Downtown Richmond's Premiere Event
A true celebration of Downtown Richmond! Spirit & Soul Festival transforms historic Main Street into an outdoor bazaar filled with food and artisan vendors, live music from two stages, dancing in the street, a beverage pavilion with VIP seating, and youth zone.
Spirit & Soul Festival 2019 was a Smashing Success!
Saturday, September 21, 2019
1pm – 5pm
Macdonald Avenue, Harbour Way – 13th Street
We had a blast at Spirit & Soul Festival 2019! Rising Neo-Soul vocalist Kylah Dawn warmed up the crowd and then the Main Stage got real hot with Soul and Motown favorites from Pride & Joy, Top Shelf, and But-tah & The Buttahluv Band. Before long, music lovers of all ages to the dance floor and people we dancing in their seats.
This year's event was the largest to date and broke records in just about every way: 51 superhero volunteers, 44 vendors, 8 performances on the 12th Street Stage, 2 Grand Marshals, and 1 additional full block of fun—all enjoyed by 2200+ residents and community members.
We also honored Adonna O'Sullivan and Dr. Animesh Sinha (Kaiser Permanente), Lucinda Bazile (LifeLong Medical Care), Charlene Smith (East Bay Center for Performing Arts), Bessanderson McNeil (Snazz Enterprises), and the Aparicio Family (Your Way Pizza) as Downtown Champions for their contributions to the revitalization of Downtown.
In case you missed it, or if you want to relive the festivities, check out these awesome videos by Supervisor John Gioia's office and Mark Lampkin.
Stay tuned for our official photo album and video!
We offer massive thanks and gratitude to all our volunteers, vendors, and sponsors for making this event possible!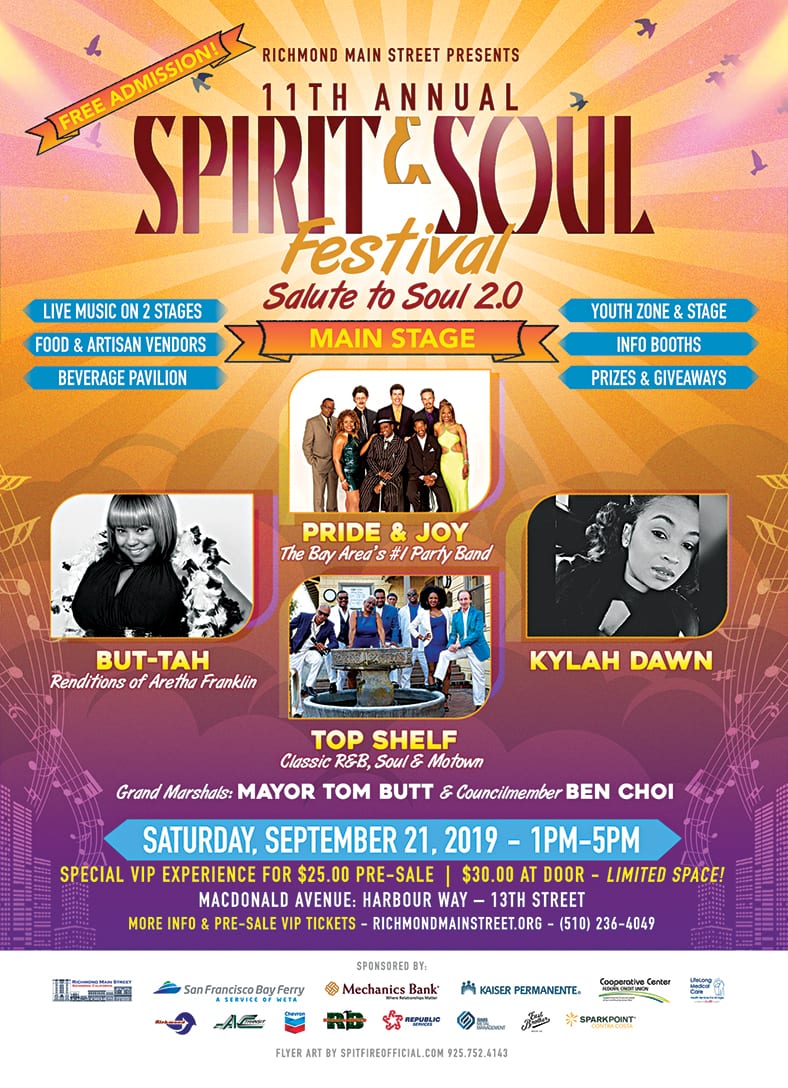 Thank You to Our Spirit & Soul Festival 2019 Sponsors!
Very generous in-kind support from
Interested in learning more or getting involved?