Downtown Richmond's Premiere Event
A true celebration of Downtown Richmond! Spirit & Soul Festival transforms historic Main Street into an outdoor bazaar filled with food and artisan vendors, live music from two stages, dancing in the street, a beverage pavilion with VIP seating, and youth zone.
Don't Miss the 11th annual Spirit & Soul Festival!
Salute to Soul 2.0
Saturday, September 21, 2019
1pm – 5pm
Macdonald Avenue, Harbour Way – 13th Street
All Ages & Family-Friendly. Free Admission!
Live Music on 2 Stages
Main Stage: Pride & Joy, Top Shelf, But-tah, and Kylah Dawn
12th Street Stage: Young performers from Richmond
Beverage Pavilion
Our famous Main Street Margaritas, Beer, Wine, Chilled Teas
Dine & Shop
Food Booths & Trucks, Artisan Vendors
Family Fun
Dancing, Info Booths, Prizes, Giveaways & Youth Zone…and more!
Grand Marshals
Mayor Tom Butt and Councilmember Ben Choi
VIP Experience
Hosted reserved area with seating and shade, plus drink vouchers, primo views of the main stage, and more! Space is limited; tickets at the door are not guaranteed. Pre-sale purchases highly recommended!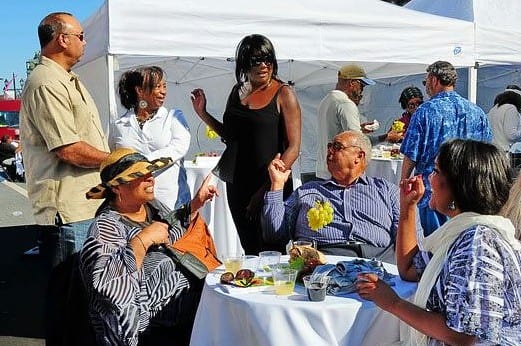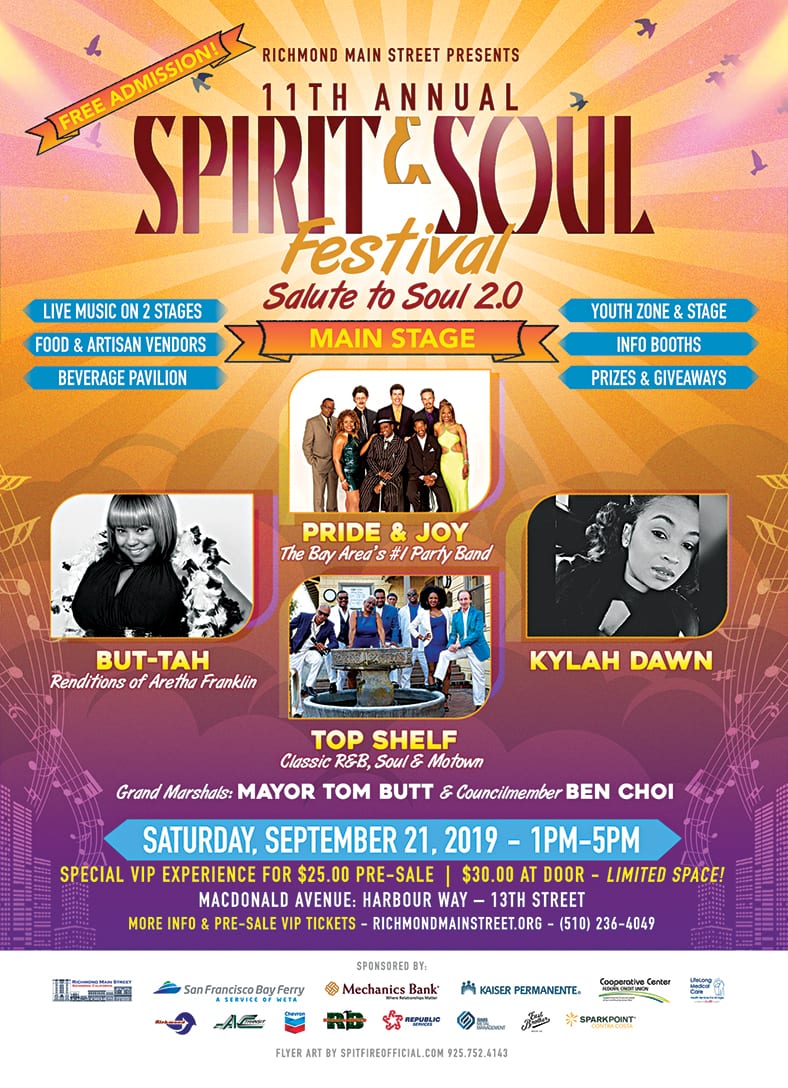 Spirit & Soul Festival 2019 is hosted with generous support from Zellerbach Family Foundation, Kaiser Permanente, Mechanics Bank, San Francisco Bay Ferry, Cooperative Center Federal Credit Union, LifeLong Medical Care, AC Transit, Republic Services, Sims Metal Management, Chevron Richmond, Richmond Build, SparkPoint Contra Costa, East Brother Beer Company, The Living Apothecary, Your Way Pizza, and City of Richmond.
Get Ready to Dance on Macdonald Avenue
Shopping
GRATITUDE, Rich City Apparel, Toss and Throws, The Black Market Group, Luscious Lathers Soaps, Your Special Piece, Brenda K. Jewelry, Aquarius Enterprise, Bling'N The Message, Veronica Greene Gifts, Mystique Enterprises, Plenty of Tees N Things, The Wardrobe Works, Ruby Red Dee's Boutique, Designs By IvoryB, T-Mobile
Activities
Dance floor, youth zone, arts & crafts for all ages, free book faire, 20+ info & resource booths, chess, raffle prizes, and more!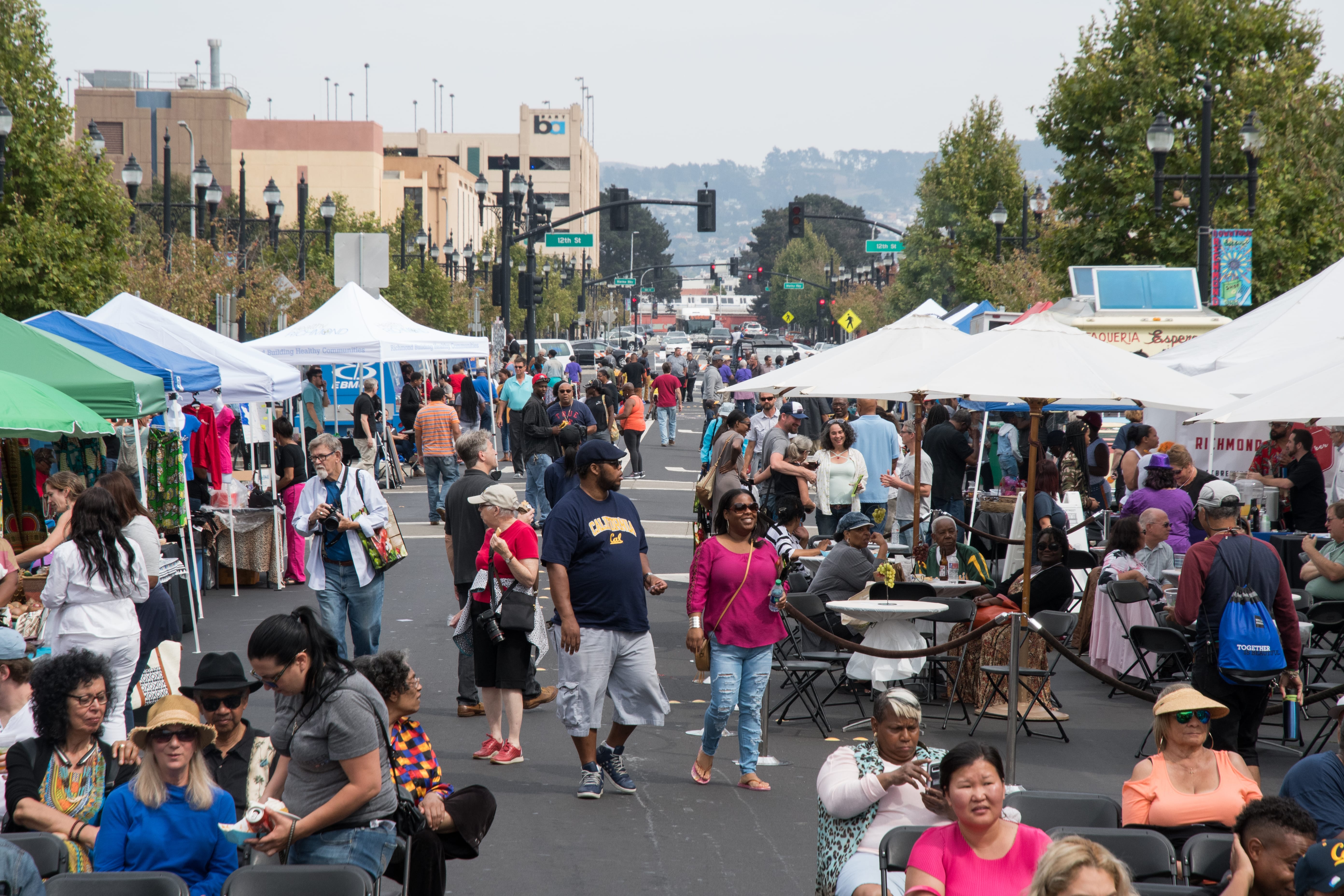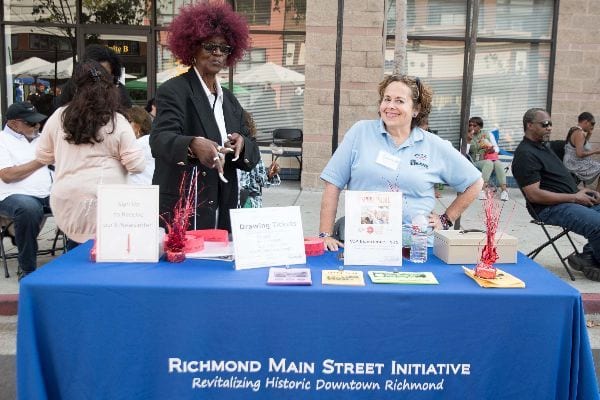 From set-up to clean-up, there's something for every music event volunteer at Spirit & Soul Festival.
Volunteers needed: 8am-8pm.          Groups and youth volunteers welcome. Community service hours honored.
Thank You to Our Spirit & Soul Festival 2019 Sponsors!
Interested in learning more or getting involved?