Creating access to healthy foods and exercise activities is an important component to improving our business district and the community. We are pleased to offer the following fitness classes!
Limited Edition Classes |  Summer 2019 Schedule
When: Wednesdays, August 14 & 21
Time: 6pm – 7pm
Where: 1600 Nevin Plaza, Richmond Main Street office
Cost: Free! Suggested donation $5 – $8  per class
*Sliding scale. No one will be turned away for lack of funds* Cash only, please
Certified Instructor: Willa Willis-Jacobs
DETAILS
What to wear: Comfy, loose fitting clothing; shoes optional
What to bring: Water bottle, towel (both optional)
Open to: Adults of all ages & capabilities, Chidren, with guardian, 12+
New Participants: Please arrive 10 minutes prior to class to complete the one-time registration form. You may also bring a completed registration form with you. Download it here: English, Spanish
A Note About the Fee Schedule: The current fee schedule is $5-$8 per class. However, we will not turn away anyone who is unable to pay. In lieu of payment, kindly consider helping us to spread the word: share this webpage with your friends and family or forward our email reminders (sign-up below). More participation helps us keep the classes going…and classes are more fun with more people, too!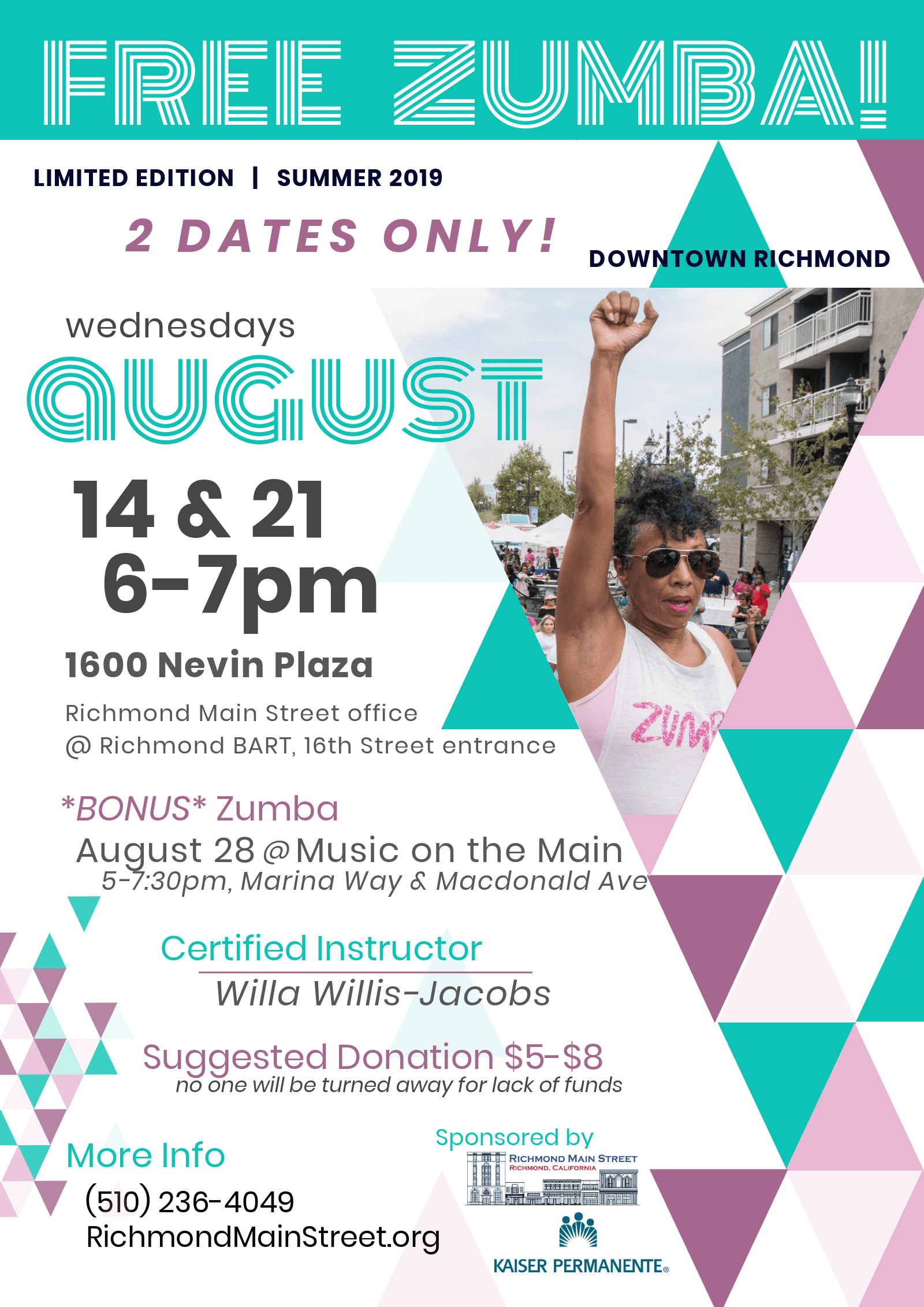 Zumba takes the "work" out of workout, by mixing low-intensity and high-intensity moves for an interval-style, calorie-burning dance fitness party. A total workout, combining all elements of fitness – cardio, muscle conditioning, balance and flexibility—with invigorating Latin and World rhythms.