Join the Movement: Make a One Time or Recurring Donation
Check/Money Order/Cashier's Check
Make payable to: Richmond Main Street Initiative
Mail to: 1015 Nevin Avenue, Suite 105
Richmond, CA 94801
Support our Fall Fundraiser: Taste with Main Street 
We are making great strides toward realizing our goal of creating a vibrant Downtown— new businesses, new housing, and cleaner streets. We are proud of our success and determined to keep the momentum going. Like most nonprofits, our mission is big and our resources are limited.
It is no small feat to continue to thrive in this ever changing environment. It's because of support from friends and partners like you that make it possible. Your giving makes the difference!
We are very excited to offer you an opportunity to support us once again (or maybe for the first time ever) with our Taste with Main Street wine bus trip fundraiser, on Saturday, November 3. It's a super fun way to join the revitalization effort! Taste with Main Street is an excursion to the Sonoma County for tasting and touring some of California's most desirable wine country destinations.
But wait, there's more! Learn more about our Taste with Main Street sponsorship opportunities and choose the partnership level that fits your fancy!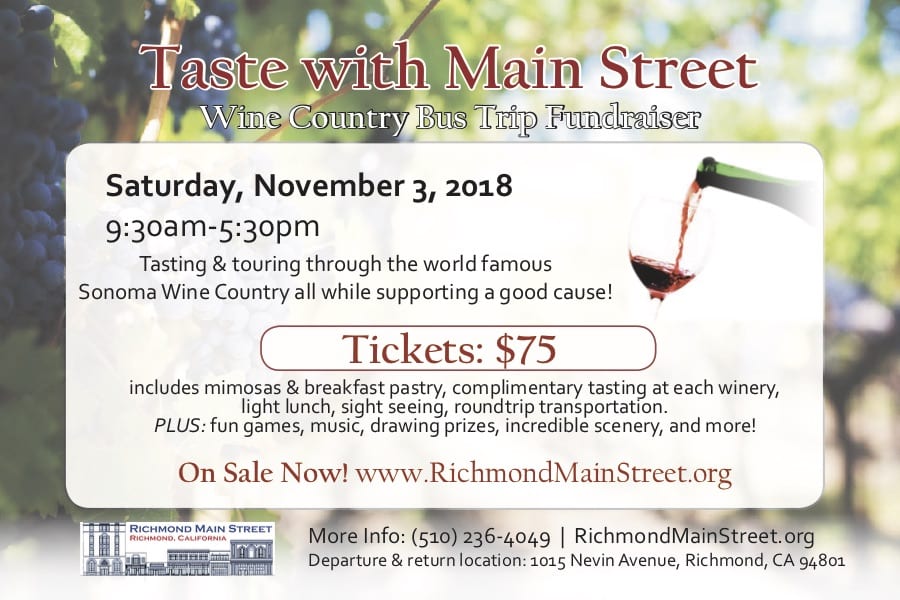 Get on Board with Taste with Main Street!
Go Digital
donate or buy your tickets securely through Eventbrite
Go Old School
Check/Money Order/Cashier's Check
Create a Custom Package
Contact us today!
Join the Movement: Make a One Time or Recurring Donation
Downtown Richmond is the historic commercial center of the City of Richmond. And today, after 15+ years of the Main Street Approach, Downtown Richmond is poised for a new chapter. Our community-based initiatives, targeted programs, and strategic outreach are yielding results and new projects that will transform our Downtown into the vibrant urban village all of us envision are underway.
And you are part of the success that has kept the dream of a revitalized Downtown alive.
Maybe you come to our events—to dance on Main Street at the Spirit & Soul Festival or light up Macdonald Avenue at the Downtown Holiday Festival.
Or, perhaps you have benefited from our business services, designed to help Richmond entrepreneurs to create and grow their own businesses.
If you come Downtown to shop, dine, or just take a stroll, you are part of this movement to revive Richmond's Main Street, too.
Or, maybe you are one of our community or business partners, providing vital support and services towards our mission of ensuring a clean, safe, and vibrant Downtown for all.
We need your help to keep this going.
Your personal contribution, no matter the size or frequency, will help us keep this momentum going by strengthening our ability to deepen community involvement and support, increase awareness of our mission, and add to our institutional stability. The impact of your giving is important and vital to our continued success.
Check/Money Order/Cashier's Check
Make payable to: Richmond Main Street Initiative
Mail to: 1015 Nevin Avenue, Suite 105
Richmond, CA 94801
Combined Federal Campaign
If you are a federal, county, or city employee, postal worker, or member of the US military, you can give to Richmond Main Street Initiative through the Combined Federal Campaign (CFC). Our CFC number is 76729.
Federal employees, postal workers, or members of the US military can request a CFC pledge form by contacting the local CFC office. You may search for your CFC office by using the U.S. Office of Personnel Management website's  Campaign Locator tool.
City and county workers should check with the payroll office for workplace giving options to support Richmond Main Street Initiative. City of Richmond employees can also check the workplace giving campaign brochure which lists Richmond Main Street Initiative.
America's Best Local Charities
Making your donation through our ABLC account gives you another
way to donate and make it count even more. Here's how:
Make a one time gift
Set-up a recurring donation
Easily request a match by your employer
AmazonSmile
Of course we encourage you to shop Downtown, but if you shop online through AmazonSmile, you can also give back to Richmond Main Street…and it won't cost you a thing! Here's how:
Click here to sign into your Amazon account and select Richmond Main Street as your preferred charitable organization.
Every time you shop, make sure you login and check-out viasmile.amazon.com. This way .05% of the price of your eligible AmazonSmile purchases will be donated to Richmond Main Street.
Richmond Main Street Initiative, Inc. is a 501(c)(3) corporation.
Tax ID#: 68-0481132
CFC #: 76729
Donations may be tax deductible.